Article based on an interview on Bill Kelty's comments that Australia needed to become more "Asianised", published in The Sun-Herald [Sydney] 11 August 1991, p. 19.
In a recession we need to be sensitive to the employment market. But, generally, immigration is good for Australia.
I think it is inevitable that the source of those migrants will be from the educated in south east Asia and possibly in the future from north east Asia. I think that is a good thing.
I think demographically, it will take a while probably for Australia to become significantly "Asianised". This will mean Australia having a significant Asian population as distinct from our current complexion, but that is something I'm totally relaxed about.
It's important thing for people to be proud of our achievements and culture and I think it is possible to retain what is good about Australia as well as learning from new arrivals – whatever their colour.
I believe Australia should continue to utilise the skills of migrants, but I think we should be much more selective about who we allow into the country.
I'm in favour of more skilled migration as being the most important component of the intake.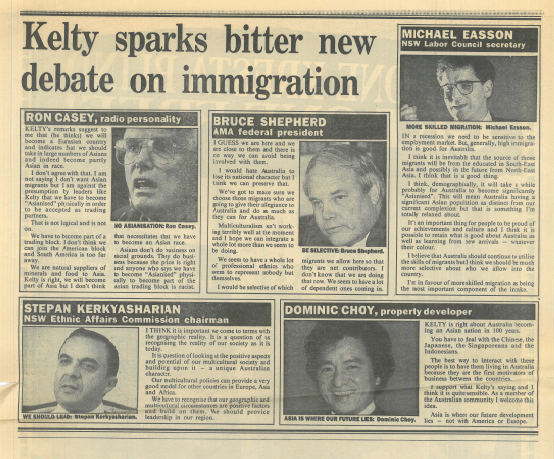 Postscript (2015)
If only I was more articulate in expressing myself, with fewer "I think" and "I's".
This short article encapsulated my conclusions were: "colour neutral" immigration is good for Australia, especially if we focus on skills as the primary criteria for intake.