Published in Tocsin, journal of the John Curtin Research Centre, Issue 16, July 2022, Melbourne, Australia, https://www.curtinrc.org/the-tocsin-issue-16/#defending-democracy.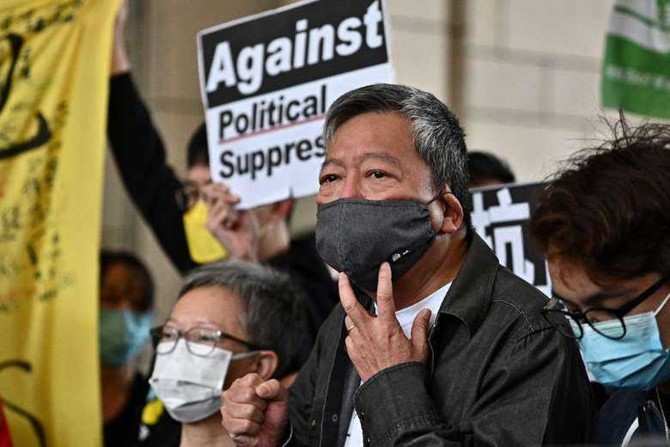 Of course, everyone wants better relations with China. Australians pine for even pre-2015 normalcy. But China under its increasingly authoritarian dictator has changed. Consider the plight of unions and their imprisoned leaders in Hong Kong. This article focuses on the case of Lee Cheuk-yan (1957- ) who much like Greg Combet (1958- ) in Australia [the former Secretary of the Australian Council of Trade Unions, 2000-07, and Minister in the Rudd/Gillard Labor governments, 2009-13], is an engineer turned union leader, labour movement politician, and social justice advocate.
More than 30 years ago, Lee instigated the formation of the Hong Kong Confederation of Trade Unions (HKCTU) which grew to around 100 affiliated unions and represented around 145,000 members and thereby was one of the two most influential labour groups in Hong Kong. The other being the pro-Beijing Federation of Trade Unions (FTU).
Lee is a former member of the Legislative Council of Hong Kong, where he represented the New Territories West constituency from 1998 to 2016. In December 2011, Lee co-founded the HK Labour Party and served as chair until December 2015, when he assumed the vice-chair role. An affront to Chinese Communist Party (CCP) ideologues, the small in numbers and struggling HK Labour Party declares its core principles are based on "Democracy, Justice, Sustainability, and Solidarity" and demands universal suffrage, legislation of competition law and maximum weekly working hours, rehabilitation of the Tiananmen protesters of 1989, and against the imposition of features of national security legislation imposed on Hong Kong from Beijing.
When Chinese President Xi Jinping visited Hong Kong on 30 June and 1 July this year to celebrate the quarter century anniversary of the British handover to the mainland, among the hundreds of political protestors under lock and key was Lee, imprisoned under state security laws as well as for convictions for his peaceful participation in demonstrations for democracy in 2019 and 2020.
At the 1 July swearing-in ceremony of former police and security chief John Lee as the new chief executive in the Hong Kong Special Administrative Region, President Xi declared: "All Hong Kongers should be able to respect and safeguard the fundamental socialist system of the nation." No challenge to communist rule will be tolerated. In tatters is the 'one country – two systems' formula that paramount leader Deng Xiaoping negotiated with British Prime Minister Margaret Thatcher for 50 years of semi-autonomy for Hong Kong which envisaged – even if vaguely – progressively enlarged spaces for citizens' participation into public affairs. Despite curbs on transfers of wealth, a steady brain-drain out of Hong Kong is costing the economy and society. It is not the same, vibrant "Honkers" as Australians affectionately call this oasis of seven million people crowded into a corner at the south-eastern tip of China. Hong Kong's reputation as a civil society tolerant of pluralist and free expression, despite its limitations on labour and voting rights, is vanquished, perhaps forever.
What changed? Two things. First, in retrospect, it seems the Communist Party of China never intended to be anything other than what it is. This is now obvious. In John Fitzgerald's felicitous phrase (the title of his recent book), China is the "cadre nation". Everything is of, for, and by the Party. Second, the relentless creep of 'mainland' control, particularly since the introduction of 'national security laws' to Hong Kong, is intended to snuff the life out of local democratic trends. Let's briefly explore these two points, which are highly relevant to Lee Cheuk-yan's circumstances.
First, the 'one country, two systems' formula of 1997 requires further explication. Time yields clarity. From the start, its meaning was equivocal. In the West, explicitly or implicitly, the 'two systems' was taken to mean systems of government, a liberal and partially democratic system versus an authoritarian one. But Beijing's interpretation was always through a Marxist lens – the two are the socialist and capitalist economic systems — i.e., about relations of production. Perhaps this ill-defined or ambiguous meaning was a necessary fudge by the British and Chinese diplomats at the time; but the rest of us might have had more of a grip on the situation if we were more acutely conscious that it was always a fudge, that the two sides never really envisaged the same future for HK — even as, over the years, their visions as to what that future would be diverged even further.
Second, the national security law on Hong Kong was adopted by the Standing Committee of the National People's Congress in Beijing on 30 June 2020. The law was inserted into the Basic Law of Hong Kong effective from 1 July 2021 as a new "third annex". This mini constitution governs the city. The "national security law" is intended to gag Hong Kong's once fledgling democracy, including its relatively free press and its independent unions. Xi Jinping has emptied the local parliament of dissidents, reduced the number of members of the Legislative Council, increased the percentage of nominated members, curbed voting qualifications, gerrymandered electorates, and restricted eligible members and candidates to "patriots".
The national security law introduces into Hong Kong the crimes of secession, subversion, terrorism, and collusion with foreign forces which endanger national security. Although these four crimes are harshly penalised in most countries, in China the mere accusation of any is instrumental in repressing all forms of dissent, regardless of whether it is even peaceful and legitimate. In bookstores political titles were pulled from public library shelves, public protest slogans banned, and students prohibited from political activities in schools and universities. Even before the new security laws, alleged subversive booksellers were being kidnapped and interrogated in mainland China. There are no tanks on the streets in Hong Kong, but just as assuredly, Hong Kong is no longer free.
Unheeded was the call on 19 June 2021 by the UN Human Rights chief Michelle Bachelet that security laws in Hong Kong must never be used to criminalise conduct and expression protected under international human rights law, including International Labour Organisation Conventions. Yet this is what has happened.
Undoubtedly, the authorities took advantage of the turmoil that followed inconclusive debates in 2019 onwards in the HK Legislative Council on extradition to the mainland from HK for criminal charges and the stalemate concerning Beijing's call for anti-sedition legislation. In 2020, the coronavirus pandemic gave the authorities the opportunity to crack down on demonstrations.
Also clear, is that the politically inexperienced Carrie Lam, the Hong Kong Chief Executive from 2017-22, was unable to govern effectively, troubled by Beijing's insistence on exerting greater political control and the resultant domestic opposition. Pre-dating her arrival in the top job were the "umbrella movement" protests in 2014 onwards where umbrellas were used as a tool of passive resistance to shield protesters from the police's use of pepper spray to disperse crowds during a 79-day occupation of the city when Hong Kongers demanded more transparent elections, sparked by Beijing's insistence of selective pre-screening of candidates.
More than 10,000 people were arrested during the 2019 protests, and to date around another 200 were arrested under the national security law promulgated by Beijing to apply from 1 July2021.
In 2020, on the 13th consecutive weekend of protests, a 31 August rally was originally called off by the organisers after police arrested pro-democracy lawmakers and activists, but crowds still gathered and protested regardless.
Starting as a peaceful march earlier that day, the demonstration descended into violence and confusion, as protesters and police clashed throughout the city. Police used water cannon, teargas, pepper spray and "warning shots" of live rounds in response to protesters surrounding government and police headquarters, burning barricades of road barriers and other debris. In the chaos, riot police stormed Prince Edward metro station and used batons to beat passengers. Video footage showed police pepper-spraying protesters who were inside a train carriage and chasing and arresting others on the platform. Police arrested at least 40 people.
This turmoil frightened many Hong Kongers. Some of the younger protesters, by calling for Hong Kong independence, had pulled the tail of the tiger. Fr. Gianni Criveller a veteran China-watcher, China scholar, and Research Fellow at the Chinese University of Hong Kong, and friend of Lee, in a 2020 article 'Hong Kong Taken Over by the National Security Law' perceptively commented on the protests in 2019 and 2020:
It is a grave responsibility not to have listened to the peaceful voice of the people. Some of the 2019 demonstrations had terrible episodes of violence and vandalism. Violence by some police agents; violence by mafia and political infiltrators, violence by a minority of protesters. The latter have perhaps acted out of desperation; perhaps out of youthful political incompetence; perhaps because they are simply and inexcusably violent… violence is always wrong.
Yet he noted that responsible leaders including Lee Cheuk-yan:
…were not convicted of violent acts. On 31 August 2019, they allegedly organised a march of 1.7 million people, peaceful but unauthorised. At that time there was no national security law. The condemned people contained and moderated this major spontaneous demonstration. They did their utmost to maintain calm and order. They are not reckless activists but political leaders and protagonists in public life for decades.
Lee is derided by the authorities as a traitorous enemy. His wife, Elizabeth, leader of the Domestic Workers' Union, and their daughter, fled Hong Kong in September 2021. The Hong Kong Alliance in Support of Patriotic Democratic Movements of China (the Alliance), of which Lee was Chair, which was first formed in 1989, voted to dissolve itself in September 2021; the HKCTU was disbanded in October 2021; the HK Labour Party operates as a pale shadow of itself, with many colleagues and union leaders in prison and/or under investigation for allegedly being foreign agents (a common Chinese Communist Party refrain about those it perceives as rivals) under National Security laws promulgated from Beijing; the China Labour Bulletin, a non-governmental organisation that monitors and promotes labour rights in China, is another body whose activities in Hong Kong are stilled.

Though less globally famous than some other Hong Kong Chinese dissidents, Lee is feared as more formidable than state propaganda suggests. His incarceration signals that the authorities see him as a troublemaker whose potency springs from his deep connections and authenticity with workers in Hong Kong.
Despite atrocious labour laws and a largely unregulated industrial relations system, Lee has often proved very effective in championing workers' rights. In 2013, interviewed for the journal International Union Rights magazine he focused on the 40-day strike at Hong Kong International Terminals from March to early May that year. The strike pitted workers against Asia's richest man, billionaire Li Ka-shing, who controls more than 70 percent of the city's port traffic. The result was a 9.8 percent pay increase, the first for the hundreds of dock workers in more than a decade, and a promise to improve conditions for workers doing 12-hour-plus shifts, often without breaks. This was the longest strike held in HK since 1949. Success was only partial, because union recognition was denied, and a collective bargaining agreement never materialised. Instead, management met with union representatives and unilaterally 'gifted' the settlement.
Lee observed: "After the handover, [the Communist Party] had a coalition with big business. They want big business to be on their side. Their concern is overwhelmingly stability. They want to cooperate with the capitalists, and that the capitalists should cooperate with them. That is the political deal…" Hong Kong continues to operate with sub-standard collective bargaining laws.
This thorn in the side of unfettered CCP rule in HK is certainly paying a high personal price. Hong Kong Watch, an independent human rights organisation, summarised the leading charges and convictions of Lee of recent years:
Charge: Organising and participating in an unauthorised assembly.
Incident: Causeway Bay march on 18 August 2019.
Sentence: 12 months imprisonment.
Charge: Participating in an unauthorised assembly.
Incident: Chater Garden rally on 31 August 2019.
Sentence: additional 2 months of imprisonment (A total of 14 months imprisonment including the sentencing for the 18 August 2019 march.)
Charge: Organising and inciting others to participate in an unauthorised assembly
Incident: Protest on Hong Kong Island on 1 October 2019.
Sentence: 18 months imprisonment.
Charge: Organising, participating, and inciting others to participate in an unauthorised assembly.
Incident: June 4th Candlelight Vigil on 4 June 2020.
Sentence: 14 months imprisonment.
On the latter, each June 4th since 1990, the Hong Kong Alliance has held a candlelight vigil in Victoria Park in remembrance of the dead Tiananmen Square protestors of 1989. In 2020, for the first time, the police refused to authorise the vigil by citing the pandemic.
"To honour the memory of the June Fourth Massacre is a long-held sentiment of mine. As Milan Kundera wrote in The Book of Laughter and Forgetting, 'the struggle of man against power is the struggle of memory against forgetting.' This is the struggle of memory against forgetting…"
– Lee Cheuk-yan
In the journal Bitter Winter, A Magazine of Religious Liberty, and Human Rights (November 2019), Lee recalled that in 1989 one million people marched in Hong Kong to support democracy; he led a delegation to bring messages of support from Hong Kongers to Beijing and visited the students, workers, and intellectuals in Tiananmen Square on 30 May 1989. Lee witnessed the beginning of the Peoples Liberation Army storming in: "Dead and injured bodies were carried across the street. It was the darkest hour in my life…" On 5 June a flight for journalists and Hong Kong students and activists was chartered to leave Beijing to tell the world what had happened: "I boarded the plane but was forced to leave it when security personnel got on board to arrest me. I was detained for three days and was allowed to leave only after signing a confession letter… Ever since, I dedicated my life to support democracy in China…" After he was pulled away from the Beijing airport tarmac, mass demonstrations in Hong Kong called for his release. Contemporaneously, in Australia, the Municipal Employees Union in NSW and the Labor Council of NSW in June 1989 put a ban on garbage collection from the Chinese consulate in Sydney, demanding that he be set free.
On 4 June 2020, a face-masked Lee held a press conference. The public assembly law limits unauthorised gatherings to 50 people, less than the number of people present, so arguably the press conference was lawful. After Lee's speech, some of those present lit a candle. Some members of the Alliance broke into small groups and walked to Victoria Park.
In his speech, Lee reportedly urged the public to light candles across the city, hardly a tocsin call. Nonetheless, the Department of Justice charged Lee and many of those present with inciting others to attend the unauthorised assembly that later formed in the park.
In mitigation, prior to sentencing, Lee Cheuk-yan defiantly declared: "To honour the memory of the June Fourth Massacre is a long-held sentiment of mine. As Milan Kundera wrote in The Book of Laughter and Forgetting, 'the struggle of man against power is the struggle of memory against forgetting.' This is the struggle of memory against forgetting…"
Magistrate Amanda Woodcock in her reasons for judgement claimed that the defendants "exhibited a blatant disregard of another serious risk to the entire community," alluding to the coronavirus pandemic. That month in April 2021, besides Lee, veteran activists Martin Lee, Margaret Ng, and Jimmy Lai received sentences for their involvement in Hong Kong's protest movement. They are internationally recognised than Lee Cheuk-yan.
Martin Lee, 84, is a barrister and former leader of the HK Democratic Party, one of 23 Hong Kong people invited to join the drafting committee on Hong Kong's mini constitution, the Basic Law (but expelled from the committee after he criticised the massacre of Tiananmen Square protesters) and served in HK politics until his retirement in 2008.
Margaret Ng, 74, is a barrister, former magistrate, and ex-politician in Hong Kong. Internationally renowned, in 2019 she was jointly awarded the International Bar Association's human rights award, along with Martin Lee, for their lifelong defence of freedom, democracy and the rule of law.
Jimmy Lai, 74, is a millionaire tycoon who made his money with the clothing company Giordano before founding the popular Apple Daily tabloid (now shut down) and various digital media firms. Jailed since late 2020 he too is held on national security charges. Chinese state media has described Lai as a "genuine traitor" and a conspirator against Beijing, accusing him of inciting protests and inviting foreign meddling in Chinese affairs.
The charges keep coming. In an article in the Hong Kong Standard on 29 April 2022, 'Balloon stunt bursts for Lee', the reporter noted the extension of Lee Cheuk-yan's prison term for another three weeks as well as a fine of HK$3,500 because Lee released a lightweight hydrogen balloon in restricted airspace above Admiralty outside the Legislative Council with the words "Free Political Prisoners" during a protest on New Year's Day in 2021.
Magistrate Jacky Ip Kai-leung convicted Lee. The prosecution argued that "as soon as the balloon left the ground, it could be counted as flying and was already an aviation violation even though Lee was still holding a thread that was tied to it." One cannot be sure if the reporter's accuracy was deliberately meant to be subversive. But the facts speak for themselves. As if a tethered balloon deserved three week's imprisonment.
Every Chinese student encounters the poem 'Climbing Stork Tower' by Wang Zhihuan (688-742): Here is an expressive translation:
Sunlight reclines on the mountains and ends,
The Yellow River flows on, to the sea.
If you desire to see all of a thousand leagues,
Come up another flight of the tower with me.
This eight-century poem conveys a Chinese characterisation of culture as like a continuous river. From ground level, bends and far away tributaries can only be imagined, its course unfathomable. From each level of Stork Tower are revealed the twists and turns of a persistent flow. From on high all is clearer.
In similar vein, Cheuk-yan's balloon, decorated with protest calligraphy, fluttered outside the offices of the authorities. The figures below wanted to show to any officials pressing their noses to their windows (revealing the vast throng of demonstrators outside) that they understood that liberticide was in-motion.
Lee was due to complete his prison sentence this September but now with this extra load, in October 2022. The authorities, however, warned he would remain behind bars indefinitely while awaiting trial under the national security law for allegedly inciting subversion in his role as union leader and as chair of the now-defunct Hong Kong Alliance.
According to reports in 2021 in the South China Morning Post, Hong Kong national security officers are targeting former HKCTU chairman Joe Wong Nai-yuen, vice-chairman Tang Kin-wah, treasurer Chung Chun-fai and general secretary Lee Cheuk-yan. The same publication has also alleged that the group colluded with foreign forces, hinting the HKCTU was suspected of receiving funding from donations from organisations in the Germany, Norway, and the United States since 1994 in support of labour movements in Asia. The report mentioned that on 1 July 2020, Lee attended a US Congressional hearing via video and claimed the Hong Kong national security law had undermined the city's high degree of autonomy.
Menacingly, the South China Morning Post added that the HKCTU "actively promoted the establishment of trade unions in different industries during the 2019 social unrest, and some of those new groups jointly launched citywide strikes and encouraged large anti-government activities, creating social divisions and inciting hatred against the government." Since time immemorial, unions the world over have been charged with subversion for publicly defending and advocating the rights of their members.
Earmarked for investigation by the security forces are other unionists including former chairman of the Hong Kong Confederation of Trade Unions, Carol Ng, a British Airways flight attendant who was general secretary of the airline's Hong Kong cabin crew union and Winnie Yu Wai-ming, a Hong Kong nurse and the founder and chair of the Hospital Authority Employees Alliance (HAEA), representing Hospital Authority employees. Both are accused of political subversion. According to reports in late June and early July 2022 in the on-line Hong Kong Free Press, the HAEA announced on June 26 that it would dissolve – the latest civil society group to disband following the security legislation.
Since 2021, at least 58 organisations – including unions, churches, media groups, and political parties – were shut down. These include the Government Non-Civil Service Staff General Union, The General Union of Hong Kong Speech Therapists, Hong Kong Information Technology Workers' Union, Hong Kong Professional Teachers' Union, Financial Technology Professional Services Personnel Union, Hong Kong Pharmaceutical and Medical Device Industries Employees General Union, Maritime Transport Services Industry Trade Union, and the Next Media Trade Union, as well as the HKCTU and the Alliance.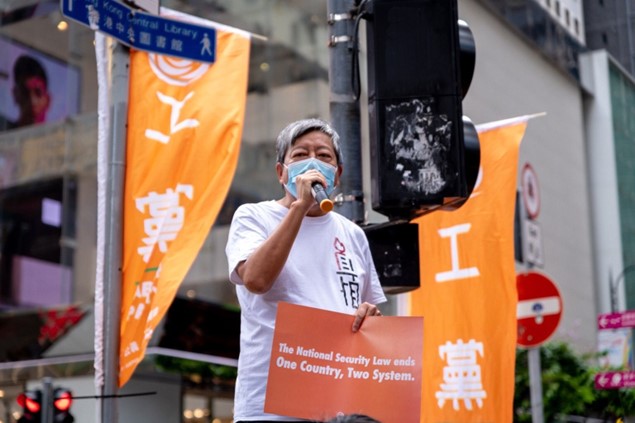 In September 2021, the police informed the Hong Kong Alliance that the Department of Justice had decided to charge its chair Lee Cheuk-yan, vice-chair Albert Ho Chun-yan, vice-chair Chow Hang-tung, as well as the Alliance as whole, with "inciting subversion of State power" under articles 22 and 23 of the Hong Kong national security law. Chow Hang-tung and four of the Alliance's Standing Committee members are also charged with "failing to comply with notice to provide information" as requested by the National Security Department of the Hong Kong Police Force.
The arrests and imprisonment of Lee have attracted international censure, including from international union bodies, some of whom anticipated the show trials that await him. The International Trade Union Confederation (ITUC) General-Secretary (former ACTU President, 2000-10) Sharan Burrow said: "The repression in Hong Kong is just getting worse and worse following the political takeover by the Chinese Communist Party. The authority's tactic to use past trade union activities to persecute people now runs counter to logic, justice, and international law, namely the ILO principle of freedom of association and Convention 87, which Hong Kong has ratified.
"They are retrospectively criminalising people for legitimate trade union activities to create an atmosphere of fear and intimidation for all civil society groups. The situation for human rights in Hong Kong is fast deteriorating, and governments who care about freedom and democracy must act fast."
She added: "It is deeply troubling that the ongoing campaign unleashed by Chinese state-owned media to label domestic and international trade unions, labour advocacy organisations and activists as foreign agents under article 43 of the national security law will force more trade unions and labour organisations to sever their links with their international counterparts." In Hong Kong, the League of Social Democrats is one of Hong Kong's few remaining, active pro-democracy groups.
On 4 June 1921, the ACTU sent a solidarity message to Lee Cheuk-yan: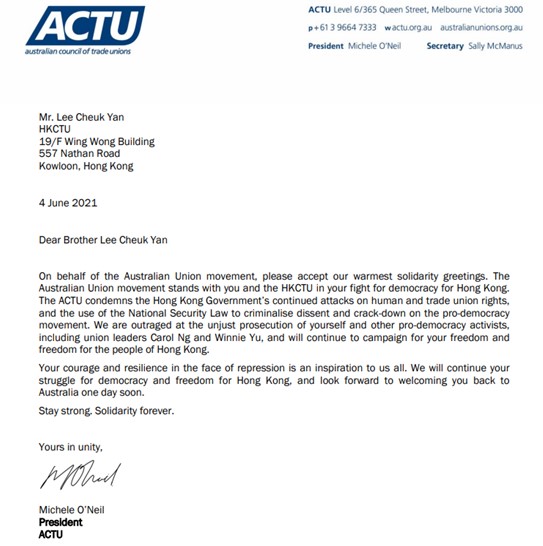 But by then the authorities threatened the HKCTU with dissolution, it voluntarily dissolved months later, and Lee was in prison garb unable to personally receive this generous message of support.
The Chinese Communist Party hopes that Lee's bravery and defence of human dignity, his championing of justice, decent wages, and better conditions for Hong Kong's working people, will be forgotten. Memory against forgetting needs to know the battles fought, the ideals that burnish within. That is to understand what to remember, celebrate, and engage with. For that powerful aim, this article is written.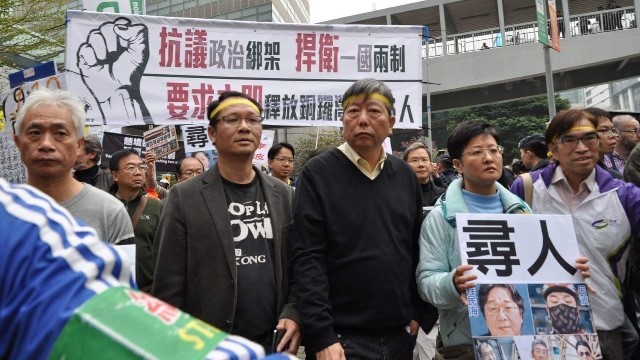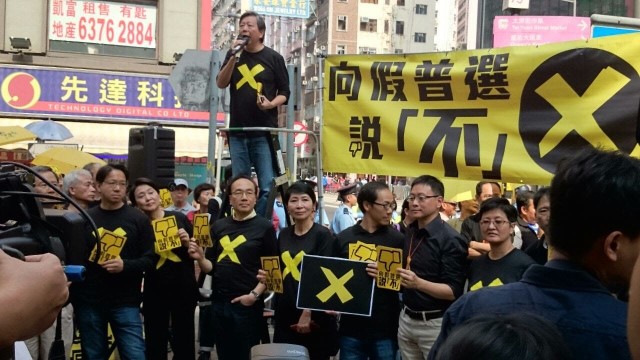 Postscript (July 2022)
In the mid-1980s to the early 1990s I knew Lee Cheuk-yan. Elsewhere, I have told the story about the Hong Kong and global protests to get him released from arrest in Beijing in June 1989, including the ban on garbage collection from the Chinese Consulate in Sydney, which the Labor Council of NSW (the peak council of unions in NSW, now known as Unions NSW) organised with the Municipal Employees' Union. (See: https://michaeleasson.com/foreign-policy/1989-the-crushing-of-chinas-solidarity-trade-unions/, https://michaeleasson.com/foreign-policy/1995-another-tiananmen-anniversary/, & https://michaeleasson.com/political-history/2019-not-obvious-he-would-be-great-some-memories-of-r-j-l-hawke/).
Lee visited the Labor Council Annual Conference in February 1990 to thank delegates and supporters for their solidarity with the cause of democracy in China and the efforts to secure his own release from internment there in June 1989.
I first met him and his wife Elizabeth Tang in the mid-1980s at offices in Hong Kong; there I noticed a wall adorned with photos including of Nelson Mandela, Sun Yat-sen, "Mahatma" Gandhi, and Dr Martin Luther King.
Lee and Elizabeth struck me as principled, practical, driven, dedicated, and utterly opposed to violence. A serene Christian ethos underpinned their lives.
It is now 30-years since I saw them. From 1994, after I left a full-time role in the world of trade unionism, our lives moved in different directions.
A few months ago, knowing of troubles in Hong Kong, curiosity belled within and prompted a web search. There I discovered Lee was already serving a harsh prison term for peaceful protest. The extra time imposed on him last April for holding a balloon at Admiralty in HK astonished me. I must write something.
Maybe the "world" does not care and due to preoccupation with other pressing problems might avert their eyes to this instance of gross and cruel injustice. There are so many instances; everyone necessarily rations what to prioritise.
His wife and daughter are now in exile, friends are in prison, others fearful of arrest, civil democratic organisations including unions harassed and many dissolved. Treasonous subversion is the accusation now flung at Lee and hundreds of others.
I know Lee and his family dedicated their lives to social justice; they are true patriots. CCP propaganda pretends Lee is an unimportant ratbag whose balloon is burst; in contrast, his story is amazing. His cause and person, together with the many who stood with him in Hong Kong – openly, some silently in their hearts – must be known and recalled. Lee would say, in contradistinction, that he is unimportant compared to the millions cheated out of fairness, whether that be over a fair day's pay, disrespect for their right to live and pray freely, or the right to freedom of expression. His cause depends on what we remember. Kindling memory and inspiring others to understand is the only potent thing I can do.