Two launches of my monograph, Whitlam's Foreign Policy, occurred in early May. On 2 May at Glover Cottages, the NSW headquarters of the Australian Institute of International Affairs, the Acting Prime Minister and Defence Minister, The Hon. Richard Marles, spoke at the launch. Alas, a sound recording was not taken, and my contribution was extemporaneous.
The second, on 4 May, was at the Sydney Institute at 47 Phillip Street, Sydney, with Gerard Henderson. A recording of the latter was taken which enabled a modified transcript by Rajat Dutta to be taken, as per the below. I added some points in square brackets, where I rethought or reconsidered some answers.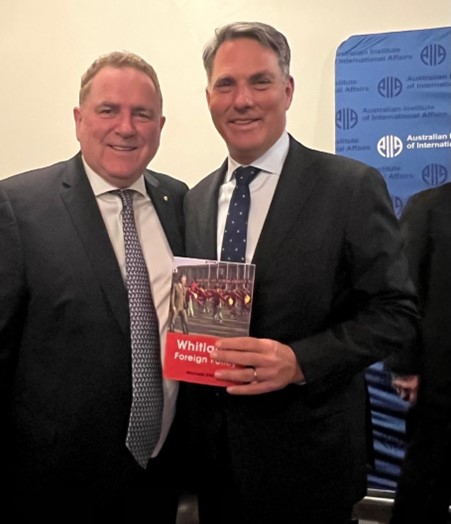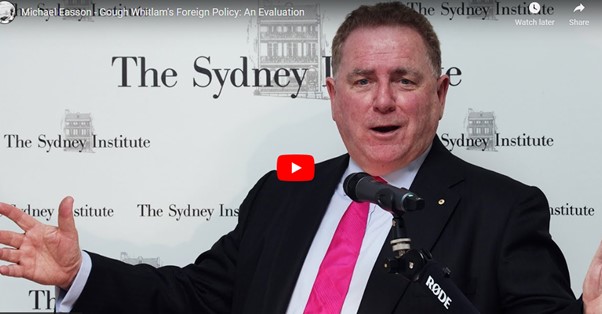 Gerard and Anne [Henderson], former Prime Minister John Howard, distinguished guests, comrades. I pay my respects to the Gadigal people of the Eora nation, to elders past, present, and emerging.
At a book launch, every author fears this question: "You never mentioned… Was there a reason why?" followed by a smirk and an impish, gotcha smile.
Given recent events, I admit the oversight. I might as well address this early.
There was an act by Whitlam of immense global and cultural significance to Australia that I forgot to mention. In bringing this up now, I suspect some constitutional conservatives will cavil at this reminder of the man going beyond his Prime Ministerial remit. "Typical of Whitlam", they might say.
Of course, I am thinking of that afternoon at Sydney airport in September 1974 when a young Australian, Barry McKenzie, returned to Australia from London with his aunt, Edna Everage.
As the latter curtsied to Margaret and Gough Whitlam, the PM said: "Arise, Dame Edna".
From that moment Dame Edna began her conquest of the showbiz world. Finally, when it came to appreciation of Australia, something other than vegemite, shark attacks, and killer spiders captured world attention. No matter whether Gough had the right to confer such an imperial honour, in my view there was a certain grandeur in what occurred that afternoon the best part of 49 years ago.
Now to account for his foreign policy. There was more to Whitlam's global impact than that one instance.
But the example offers a clue as to why Whitlam's long career is celebrated despite his many mistakes, including crass and impetuous judgements.
He had a sense of humour.
For example, during his prime ministership, visiting 15 countries in four weeks, reading that morning's The Times newspaper he quipped to diplomat Richard Woolcott travelling with him: "Have you seen this, comrade? Guinea-Bissau, Bangladesh, and Grenada have just been admitted to the United Nations. They are creating these countries more quickly than I can visit them."
After meeting in 1977 Indian Prime Minister Morarji Desai, a believer in urotherapy, the medicinal benefits of drinking your own urine, Whitlam told accompanying Australian journalists that the two had talked about how they handle "a night out on the piss."
"He honed his comedic skills with diligence, as a means of political defence and offence," his speechwriter and Boswell, Graham Freudenberg, once said.
Whitlam also stood for ideas and principles that were worthy. I distinguish in the book between Whitlamism and the Whitlam the man. Sometimes he let himself down, and some actions contradict the ideals he might otherwise have championed.
With apologies to anyone in the audience, in the past 50 years, no Australian political leader has had as much influence on Australian politics as Gough Whitlam. Some of his greatest impacts were on foreign policy.
Whitlam made mistakes, unnecessarily annoyed some allies, was sometimes careless in the niceties of diplomacy. This monograph, in a humanely critical spirit, evaluates the realist Whitlam, the idealist Whitlam, the great reformer, the flawed man.
Necessarily briefly, I discuss the promise, creativity, problems, and influence of Whitlam's foreign policy. By looking objectively at key policy challenges and decisions made by Whitlam in the context of his time, some lasting impacts of the challenges and decisions made are highlighted. I discuss five hallmarks of policy initiative (China relations, Papua New Guinea independence, the ANZUS alliance, the settlement of the joint Australian-US defence bases issues, Indonesian relations); then a matter of minor significance – Whitlam's trips; then, areas of controversy – Vietnamese refugees, East Timor independence, recognition of the Baltic states, Middle East policy, and the attempted Iraqi Ba'ath party loan transaction in 1975; and, finally, an assessment.
Through such analysis, mature reflection on Australia's legacy in relation to its obligations to and treatment of our alliances, commitment to the region, to human rights, and an appreciation of the idealist and realist strands of Whitlam's approach to foreign policy is possible.
The five hallmarks that I will now discuss are China, PNG, and the US alliance, the bases, relations in Asia, especially with Indonesia. On China, Whitlam was courageous to go there in 1971. I remember being at school and hearing that when Whitlam was in Tokyo, after Beijing, the news broke that Kissinger was in Beijing. Wow! This must mean that Labor will win the next election, I thought. The conservatives were so wrong-footed. It was appropriate to establish diplomatic relations. As I mentioned in the book Whitlam, early in 1954, argued that Australia should recognise the Peoples' Republic of China.
In doing research, I read a memo that Whitlam wrote in April 1973 to the first Australian ambassador to the Peoples' Republic of China, Stephen Fitzgerald – and I give credit to James Curran for having unearthed this. Whitlam wrote a memo about relations with Taiwan. He said we should take the Chinese government at their word about peaceful reunification and, therefore, continued people-to-people visits and trade between Australia and Taiwan should continue. That was an interesting perspective all that time ago. China is an example of the realist Whitlam, thinking we need to make some accommodation with that country and establish diplomatic relations. There are many benefits to Australia from that move, as pursued by subsequent governments.
On Papua New Guinea, it is a more controversial decision, agreeing to independence and doing so in 1975. Some have argued that we rushed to independence too quickly. I agree with Whitlam and argue in the book arguments why the date of 1975 was better than delay. I have in mind the possibility of breakaway provinces from PNG including Bougainville and elsewhere. Therefore, I believe that the achievement of PNG's independence, which was bipartisan with the opposition spokesman Andrew Peacock supporting early independence, was appropriate. It is significant that when the Australian flag was lowered and the new PNG flag flew over Port Moresby, the governor general Sir John Guise made the remark that Australia left PNG not despised and spat upon but honored and respected. That was a good achievement of the Australian government and of Whitlam.
Now to ANZUS and the Australian-American Alliance: This was in a very rocky position, especially given the bombing of Haiphong and Hanoi and other parts of North Vietnam at the end of 1972 and early 1973. Some ministers in the new Whitlam government were extremely harsh in their public criticisms. Whitlam wrote a letter of concern to the US President. It has been revealed in various publications since, that Nixon directed that he did not want Whitlam or any of his ministers to be visiting the White House. This was a moment of very fractured/ intense breakdown of relations. It is to the credit to Andrew Peacock, who visited the United States and counselled the then Chair of the Republican National Committee, George H.W. Bush, who in turn introduced Peacock to Vice President Spiro Agnew. Peacock told the latter: "If the president were to decline to meet with prime minister Whitlam, that would be very damaging for Australian US relations. So, you should meet him." When a meeting did occur, in 1973, there was a healthy stabilisation of relations between Australia and the United States. Particularly relevant to that outcome were the US bases or the joint defence facilities, as they more meaningfully became in the Whitlam period.
Before I go to that point, please look at the photo at page 38 of the book. As I was doing my research, I sought some photos of Whitlam. On Ebay, from a discarded US newspaper library, I found a photo of Whitlam with President Johnson on the lawn of the White House with a bevy of beauties from the rural electrification program. I thought "Gosh!" Whitlam making his first visit to the United States in 1967 months after he became the Leader of the Opposition. I wondered if this picture was indicative of him just being 'fitted in' politely at such a venue. But I discovered, and I am glad I did with further research, that he spent four hours with President Lyndon Baines Johnson that day. Harold Holt had encouraged the President to meet the new Leader of the Opposition and gave it his blessing. Prime Minister Holt visited President Johnson at his ranch soon after. It was interesting that Johnson had this engaging hour in the Oval Office, then a couple of hours on the lawn of the White House; there Johnson said "This is a man we will hear a lot more about in the future, this man Gough Whitlam" or words to that effect. Then they met the Reverend Billy Graham. Four hours was spent with Johnson. That was indicative of Whitlam realising that as the new leader of the Australian Labor Party, he needed to burnish his credentials as a safe pair of hands with respect to the US alliance.
Now, the joint defence facilities, as they are now known, were very controversial in the Labor Party. In fact, in 1963 when a Labor Party Conference considered whether Labor would support the Northwest Cape facility, that was the time where Gough Whitlam, as deputy leader of the opposition and Arthur Calwell as the leader of the opposition were photographed under a lamppost in Canberra waiting for the decision of the national conference of the party. It was a humiliating moment in Labor Party history. [The leader and Deputy Leader were not represented at the National Executive or the National Conference at that time.] It was very contentious within the ALP. The moderate position succeeded by two votes. That was the margin, 19-17, in support of greater Australian control of those facilities. But all of this, with respect to other facilities, was uncertain and unresolved when Whitlam came into power, certainly within the Labor Party.
Wherever you stand in politics, with all the competing interests that we have, bipartisanship on these major questions, is incredibly important. Whitlam hoped to achieve that within the Labor Party, and he helped to sell the argument that the joint facilities, with joint Australian and US control, were important for the peace of the world. Not only for the United States to be able to have early warning of what movements there might be in other parts of the world indicating a potential strike, but also, it is in the interest of adversaries that there is a system of checks and balances and early warning that add to the confidence of the world defence architecture.
Whitlam also spent had lot of time developing friendships in Indonesia including his period in opposition regularly visiting. Forging closer relations with Indonesia was one of the hallmarks of Whitlam's period as prime minister.
I now turn to some controversies.
First, Vietnam: Exiting Australia from Vietnam was one thing Whitlam prioritised in opposition. By the time he became head of the government, there were less than 200 Australian military advisers in Vietnam. As I mentioned earlier, in the first few months of his government there was controversy about US policy involving North Vietnam bombing, etc., and the Australian government reaction. But I believe Whitlam, after that rocky and unbalanced beginning, broadly handled this matter well – excepting when the refugees came. It is certainly the case that Whitlam was unsympathetic to the Vietnamese refugees spilling out of South Vietnam from 1975 onwards, escaping communism and repression. That is a blot on his legacy.
With respect to East Timor, the invasion of East Timor by the Indonesian forces occurred during the caretaker period, between the dismissal and the election of the government at the end of 1975. But it is also the case that Whitlam was unsympathetic to the rights of small nations. In some respects, the conflict between the idealist and realist Whitlam comes to the fore here because social democratic parties tend to favor self-determination. Yet he was of the view that Indonesia would take East Timor because the latter, economically and development-wise was a basket case. The Portuguese were second to the Belgians in being the worst colonial masters. They left nothing behind. The only thing they did leave behind in Dili were all the weapons that the Governor of East Timor left when he fled to Portugal. Fretelin took them. We know that in Angola and Mozambique radical Marxist governments were established soon after the Portuguese departed. We also know that the Cubans were suddenly fighting in those countries to preserve those governments. One can understand the Indonesian perspective and Whitlam's reservations, but I think he was on the wrong side of history on the issue. [The massacre of innocents by Indonesian vigilantes and official forces were also factors in exciting Australian sympathy for the plight of East Timorese and the case for independence.]
With respect to the Baltic states, no one knows why Whitlam recognised the Baltic states' incorporation into the Soviet Union. It was stupid. Alan Renouf, the head of the Department of Foreign Affairs, recommended that this should occur as a goodwill gesture in the spirit of détente between the major superpowers. Completely ludicrous, but Whitlam signed off on it. One can guess what might have crossed his mind, but I note that Graham Freudenberg also said he could not understand why this occurred.
Other controversies include the Middle East. Whitlam adopted a bipartisan position with respect to the right of Israel and the Palestinians to exist in their own state with secure and recognised borders. That formula has been followed by subsequent governments. But Whitlam lacked empathy for Israel, especially when it was attacked in 1973. A true friend of Israel – as I am and as Whitlam said he was – should recognise the right of the Palestinians to exist also in their own homeland. That was not in question. The nuances, however, of achieving a settlement are complicated. But Whitlam was cavalier in his public statements. This and the next issue discussed, I find personally distressing. In the book, Whitlam's approach to Middle East issues during his period as prime minister is addressed as fairly as I could.
The most inexplicable thing that happened in Whitlam's period as the leader of the Labor Party was the agreement to try and accept Iraqi Baáth Socialist Party money from the government of Saddam Hussein in December 1975. Bill Hartley, a former Secretary of the Victorian Labor Party, a mad crazy lefty who really lived that reputation, and David Coombe, the confused national secretary of the Labor Party, proposed this to Whitlam as a way of getting some money for the election campaign in 1975. Further, they argued that they needed to keep it 'hush-hush' and Labor should take the money which would help the ALP fund election campaign expenses. There were very few corporate donations to the ALP in that period. John Howard [here in the audience] will understand why. That is clearly the most concerning aspect of Whitlam period as leader of the Labor Party.
Once, as a university student, I asked Senator "Diamond Jim" McClelland, a Labor senator from NSW and a former minister at the end of the Whitlam government, "How do you account for this?" He paused and said: "He went mad but don't judge Whitlam on just that." McClelland urged Bill Hayden to challenge Whitlam even though Whitlam had just been re-elected leader after the 1975 federal election defeat. It is to the credit of Jim McClelland how he thought at that time.
In the brief time left to me, let me answer this question: How big a splash did Whitlam make in foreign policy?
Two actions continued to resonate 50 years later. The renewing of the US Alliance, in the context of reaching agreements on the joint defence facilities, was a vital achievement. The legacy of that was continued by subsequent governments and arguably improved by successor governments. This is one big thing that Whitlam deserves credit for. He insisted on more control over US engagement on Australian soil. He mostly settled that controversy, as I mentioned, and, looking back, that was one of his greatest achievements. Improving relations and focus with our countries to our north, particularly China and Indonesia, is to also his credit.
On China, he envisaged a relationship which relied on an independent Australia and a stable China accepting of the US Alliance. It is interesting that some of the first visits by senior Chinese leaders to the "West" were to Australia. For example, both Hu Yaobang as Chinese Communist Party general secretary in 1985 and Zhao Ziyang, the then Premier in 1983, made Australia the first country that they visited in the west, a tribute to the close relations established in and after Whitlam's time. It is a worthy ambition to be a zhengyou — the true friend. That ought to be a continuing, prime objective, begun by Whitlam, pursued by subsequent Australian governments, notwithstanding the current 'left adventurism' of President Xi Jinping.
Whitlam attractively advocated Australia's place in the world with a realistic yet principled outlook. He urged Australians to discard the dread and fear that the country is trapped on the outside of an incomprehensible Asia. He moved away from the quagmire of Vietnam. He decisively shifted Australia's sensitivities to engender better relations with most nations. With Indonesia, to his great credit, he recognised how bitter the colonial experience had been and clearly accounted for it in Australian policy. It was not all good, however. Whitlam's views on the Vietnamese refugees and East Timor diminished his standing.
What else can be said about Whitlam's worldview, his method of pursuing Australia's national interest? As we know from what I have already said, it was complicated. He saw the world as it is, as he said in government: "A generous foreign policy rests upon a proper balance between power and obligation. The aim is to develop foreign policies which are realistic and generous, enlightened yet pragmatic. 'Pragmatic' means in part a true recognition of the world as it is." That is a quote from Whitlam in '73.
Critics of Whitlam rarely understood that his appeal laid in what he confidently proclaimed about what should and could be. In that pragmatic worldview, there was the nobility of purpose. Yet in foreign policy, in politics generally, the personal is always a factor. Whitlam's brilliance in 1971 overruling a number of advisors including Freudenberg in going to China made him think he could do anything. In politics and foreign policy making, hubris can be the partner of the bold and creative. If Whitlam had better consulted with Senator Don Willesee, his foreign minister from November 1973 and with close figures in his cabinet and even his ministry, some mistakes might have been avoided or mitigated. Willesee had sound political instincts and a sense of decency that could have been better utilised.
The effort to do good while advancing the national interest and educating the Australian public along the way is fundamental to foreign policy and of continuing appeal. Yet today, some of the best of what began in Whitlam's time and continued by subsequent governments is endangered and diminishing. If business-to-business interaction, the learning of Indonesian and other Asian languages in Australian schools is part of the evidence, there is a dramatic fall in the numbers studying Asian languages in society. This represents part of the closing of the Australian mind, intellectual, linguistic, cultural, and business, to deeper relations with various countries to Australia's north.
Finally, Dean Acheson, American Secretary of State under President Truman, once said that the foreign policy doer is like a gardener who must "use the forces of life, growth, and nature to his purpose." With the perspective of half a century, we can see results. Some seeds fell on stony ground, some among thorns, some struggled to take root. Those fruits successfully harvested, those unpicked, can now be analysed for a fresh appraisal.
Thank you.
Postscript (2023)
An edited version of my assessment of Whitlam's Foreign Policy appeared in The Australian newspaper on 10 May 2023 under the heading: 'What Whitlam's Foreign Policy can Still Teach Us', https://www.theaustralian.com.au/commentary/what-whitlams-foreign-policy-can-still-teach-us/news-story/a2f06df0e48af5915e59c1a72149c6d6
After I delivered the Sydney Institute talk, various questions and answers were addressed.
Host: Many thanks, Michael. And as I said, copies of Whitlam's Foreign Policy by Michael Easson, published by Connor Court in Brisbane, all his books are printed in Australia, is on sale tonight and Michael will be happy to sign a copy or copies for you of that, I'm sure.
I just wonder … I mean, Gough Whitlam was good to the Institute. He spoke here once, and we had a good relationship. I was sometimes critical, but we got on okay, but can I raise the issue about how serious he was. You mentioned the Baltic states. And as you know, John Howard reminds me what were the so-called secret protocols of the Nazi-Soviet pact but were not secret in 1974 and 1975 when Gough Whitlam recognised de jure the incorporation into the Soviet Union of the Baltic states, which was a consequence of the 1939 Nazi-Soviet pact.
Now, you go on to mention this visit to meet premier Kosygin in the Soviet Union who was an heir of Stalin, Kosygin, okay? An old Stalinist. Let's come forward here. And you quote the prominent Labor figure Lionel Bowen telling John Faulkner, a good historian, and told Frank Brennan, all these people are pretty responsible people, that when Kosygin – Whitlam in 1975 on a visit in Moscow after we've recognised this Soviet incorporation of the Baltic states, Lithuanian, Latvia, and Estonia – he asked Gough Whitlam: "Well, what do you want? Would you like something like a trade agreement?" Whitlam says: "I don't want to talk with you about mundane things like trade. I want to know what happened to the Grand Duchess Anastasia in 1918." Now it's funny now, but that's an incredibly irresponsible thing for an Australian leader to say to a Stalinist thug knowing that the Soviet Union wasn't going to say what happened to the royal family under the Bolsheviks in 1918 in any event. So, how serious was he?
Michael Easson: Well, he wasn't very serious at that moment. Lionel Bowen says in telling the story there was no trade agreement that year. When Whitlam recognised the de jure incorporation of the Baltic states, Estonia, Lithuania, and Latvia, into the Soviet Union, he never consulted his foreign minister Don Willesee who was in Peru at the time. The quipping line of Whitlam is an example of something he might better have said to colleagues before a meeting or after a meeting, not at the meeting, absolutely. So, I agree with the criticism. [Then again, Whitlam knew a scientific exchange agreement would be signed on that trip. A trade agreement was considered unlikely before the trip. Trapped as he was in a meeting with an unappealing Stalinist fellow traveller and Brezhnev favourite, you might find the meeting tedious too. Kosygin was offering Aeroflot flights and shipping containers for Australian wheat when the Ukraine was the breadbasket of Europe. No wonder Whitlam decided to seek relief with a biting question. I laughed when I heard the story. But I know Bowen was horrified but saw the funny side – the sense of the absurd funny – later.]
Question: Correct me if I'm wrong, but Whitlam was a foreign minister as well as prime minister for some of his prime ministership?
Michael Easson: Yes, he was, from December 1972 to November 1973.
Question: And what was the impact of holding those two, which have otherwise been separate and important jobs at the same time on the conduct of his government generally and the foreign policy?
Michael Easson: I think he would have been better advised to have given the portfolio to someone else, especially soon after the start of his prime ministership, when Australia was recognising many countries that we hadn't previously recognised including North Vietnam, East Germany, and a whole host of other countries, outside of the Eastern bloc. I think he just loved foreign affairs. When his memoirs were published, if I recall correctly, the section dealing with international relations was around 160 pages, six times longer than the average of the other chapters. That indicates his interest in being foreign minister as well as prime minister.
Question: Michael, thanks for your talk. There's a very balanced and assessment and a lot of insights there but there's one insight that I was sort of looking for which I couldn't find was the curious episode where Whitlam listened to the likes of Hartley and Coombe in getting that Iraqi money. And I know you said that he went sort of temporarily mad but to me, it doesn't seem like a very satisfying explanation. And I would have wondered whether there might be some other evidence that would throw some light on it.
Host: Michael, you might just say who Hartley and Coombe were, okay?
Michael Easson: I did refer to them in the book and earlier [tonight], but Bill Hartley was a former secretary of the Labor Party in Victoria, who was displaced in 1970 when federal intervention occurred in the Victorian ALP. Whitlam previously despised him as a crazy left winger who did so much to damage Labor's prospects of winning seats in Victoria. David Coombe was the national secretary of the Labor Party and the campaign director for the successful 1974 election and the 1975 elections. [He worked closely with then national secretary Mick Young in the successful 1972 election.] For them to come up with this idea of getting half a million US dollars – which would never arrive from Iraq, incidentally – was completely mad. I think the fact that it was secretive, the fact that they intended to keep it a secret should it had been successful, left Whitlam open to blackmail and it raised all sorts of questions as to what policies might be adopted subsequently. It is the darkest blot on Whitlam's reputation. I don't understand it.
Question: Michael, the economic circumstances of the period you are talking about, how much did the difficulties and the increasing inflation and the like affect his thinking about foreign affairs?
Michael Easson: He wanted to cultivate relations with the OPEC nations, the oil nations, and that was the factor in us Australia being represented at the Non-Alignment Movement conferences. He also wanted Australia to attend OPEC meetings as an observer. He wanted to cultivate relations with those oil economies and his minister Rex Connor had the view that Australia could borrow a lot of money from these countries and fund major mining infrastructure projects in Australia. So, it clearly weighed in his thinking.
Question: I do not see the name Vince Gair in the index. I presume he didn't consult anyone when he sent Vince off to Ireland either.
Michael Easson: I don't know whether he consulted many people [on that], but I still enjoy the story that [journalist] Laurie Oakes once told when he heard there might be a senator appointed to a diplomatic post from the non-Labor side. One evening, he rang Mrs. Gair at home and said": "I believe congratulations are in order." And she shared the story and he and he had the scoop.
Question: Just by way of background, Vince Gair was the Democratic Labor Party senator, right?
Michael Easson: Yes. He was the premier of Queensland when, I think, all of the cabinet ministers other than one or two were expelled from the Labor Party in Queensland in 1957 on the question of long service leave. And they then formed the Queensland Labor Party and later merged with the Democratic Labor Party.
Question: Thank you for your comments, Michael. You talked about PNG. I was wondering if one of the idealisms that Whitlam was attracted to or committed to was decolonisation. And if it wasn't, what was the motivation for PNG?
Michael Easson: He said in his memoir "If I'm remembered for nothing else other than the forging of an independent PNG, I would be happy," or words to that effect. He very much had the view that we shouldn't be a colonial power and it was better for people in PNG to run their own country. He had great faith in people like Michael Somare and Sir John Guise and others. And I think that was why he believed that we should do that. And he feared that Australia would become a pariah as a colonial power. He also had the view that there could be breakaway provinces such as Bougainville. Therefore, he accelerated the independent process.
Question: Whitlam government implemented the Racial Discrimination Act. Part of it was to end the white Australia policy and improve Australian standing in international fora. How did it work?
Michael Easson: Whitlam paid great tribute to the multicultural nation that we are. And to tell a story, I remember in the mid-1970s going out to the Marconi Club out at Fairfield. There were hundreds of Italian labourers and market gardeners and other people in the audience. Whitlam decided to lecture everyone about the debt we owed to Roman and Italian law. All of these people were just completely puffed up and proud of themselves. It was indicative of Whitlam's interest in building up the confidence of what we used to call the "New Australians". One interesting mark against Whitlam with respect to foreign policy is that at one of the conferences, the International Conference of Women in 1974, I think, in Mexico City, there was a resolution condemning racism and so on and so forth and condemning Zionism as well, which we voted for as a country, which was something we should never have done. [I assume, however, that an inexperienced delegation, rather than Whitlam himself, decided to cast their vote in that manner.]
Question: Thank you. Whitlam was very defensive in [his] writing and also in various conferences I went to about his role in East Timor or about the Indonesian invasion in December '75. Suggestions have been made that he gave the nod to the Indonesian government and there's some evidence about that. But I want to hear what you've unearthed about the evidence and what your position is about Whitlam's possible support of Indonesia at that time?
Michael Easson: Well, I know Bruce Watson [here in the audience] has written a book [Forgotten Island: Australia, Realism and the Timor Crisis, Australian Scholarly Publishing, 2021] on the very topic. So, I hesitate to comment in detail other than to say that I deal with these questions in the book in a brief way. Kim E. Beasley, Kim Beasley Sr., made the remark in his memoir that Whitlam had no time for the rights of small countries. So, he adopted a similar view to East Timor as he did to the Baltic states. You could say that he was consistent.
Question: Let me ask you a question. I just want to make a brief historical observation and then get your perspective. The time that Whitlam visited China, and that was during the peak of Cold War and China was a very insecure country because they faced both hostility from Americans in the south but also, they faced Russians in the north. So, what I'm trying to say is Whitlam visited China, also very closely followed by the American president. So, basically, China after that decided to join the west and after 10 years the whole Soviet Union collapsed. And that's the era of unipolar world because America became the superpower and China very much benefitted from that because once that happened, those two external hostilities disappeared and that's why they had 20 years of economic rise but now, China and Russia, they prefer a word of multipolar order. I mean, once you have that order, then basically you have no security, there's a lot of uncertainties especially for business like no one wants to okay make a long-term investment.
Michael Easson: I think that's more of an observation but maybe I could make this observation. When Whitlam visited China in 1971, Deng Xiaoping was still in a factory, working. He hadn't yet been rehabilitated. And China only began to change after Mao died and after the gang of four were turfed out. I found it a little odd that Whitlam was so sentimental about Mao Zedong given the murders that he had committed and the atrocities that occurred under Chinese Communist Party rule.
Question: There is a view, a controversial view, a minority view, that the visits of Whitlam and then, more importantly, Henry Kissinger propped up a failing, corrupt murderous regime and it did well for a while and then it did badly again and now, we've got it where it is, but the question is to what extent did Whitlam prop up Mao because that regime was in terrible trouble. I mean, I think in the Cultural Revolution, 100 million people were purged including a couple of the leaders you mentioned. It's 100 million people out of 800 million people. When you take the fact that they're mainly males and they're mainly older people, it's a huge percentage. This regime was falling apart. Whitlam didn't see it. Kissinger didn't see it.
Michael Easson: Look, I think American policy was then to forge an alliance with China against the Soviet Union and I think that was tactically wise. But I'm no fan of communist China.
Question: Michael, this is outside the realm and the sphere of your book. I imagine it will go well for your second or third book on Mr. Whitlam. When I was young, I remember watching politics from a distance. I was more interested in theology, but it was like there was a steamroller heading towards the Labor government that they didn't see coming. And the shock and horror that seemed to occur when supply was denied and the implication of a collaboration between the Governor General and the coalition staff, I mean did not the other very bright and brilliant people in the Labor Party perceive this was going to be a catastrophic end?
Michael Easson: Some people did but they didn't game plan it sufficiently. I think the better view today is that given that impasse, the Governor General had the right and arguably the duty to intervene. But he should have counselled and warned his prime minister and that's the case against Sir John Kerr.
Question: Thanks, Michael, for a very interesting talk. I just really wanted to make just an observation about Timor. I think you've been slightly benign regarding Whitlam on East Timor. His role was far more intrusive than most people think. In fact, an Indonesian cabinet document came my way, which showed that at his first meeting with Suharto, he basically told him to move on or incorporate Timor because of the problems of communism going forward. And he also reminded him that, as you've mentioned about Cuban troops in Africa, that there had been Cuban troops fighting alongside [newly independent Portuguese territories in Africa] and we really didn't want this in our part of the world. So, Whitlam denied that he encouraged Suharto but the problem with diplomats around the world writing things down is that eventually all of these things come to light.
Michael Easson: And there is also the argument about Whitlam's last meeting with President Suharto. I think your book refers to the meeting between President Suharto and Whitlam in Townsville, in September 1975, where it is alleged or construed that Whitlam said: "We wouldn't have a problem if this happened."
Question: I want to come back to some of the earlier questions [which] touched on this but these days, in a much more globalised world economy, the distinction that was more real in Whitlam's day than today between foreign policy and international economic policy [this] has kind of disintegrated. So, I'm tempted to ask you what was, from an international perspective, his greatest economic contribution. And, in particular, just reflecting on those earlier questions, I mean, a bilateral deal with the Kremlin is one thing on trade policy but his very early, very dramatic and very brave decisions on exchange rate policy and the beginning of, yes, a long slow process on tariff rate policy without which we would not be integrated with the rest of the world, let alone with Asia. I mean, I would like to know how you see that now.
Michael Easson: There is a chapter in a book edited by Scott Prasser and David Clune on the Whitlam government [The Whitlam Era, Connor Court, 2022], which describes his tariff policy and, I think, that's a good indication of Whitlam thinking. [Gary Banks, Á "Rattigan Man": Whitlam's Assault on Protection']. He declared at the time "I'm a Rattigan man" – Rattigan being the head of the Industry Assistance Commission, who recommended to Whitlam a 25% cut in tariffs. So, I think Whitlam was more of a free trader than anything else.
Question: Michael, I'm just wondering if he was here today, where would he sit in a room between Penny Wong and Paul Keating?
Michael Easson: Good question. I think it pointless asking where people would stand if they were here today. The world is so very different. And the most significant change is that Xi Jinping is being much more aggressive and much more ideological in his approach to foreign policy. China has only a few allies in Asia – Burma, for the wrong reasons, Cambodia for the wrong reasons, and to some degree North Korea. All the other neighbours are very critical of Chinese bullying and, notwithstanding even what some people say publicly, they are mostly happy with Australia's adopted posture it has emerged in recent times. And it's good that it's a bipartisan position across the former government and the current government. But, turning to what you asked, 'where would Whitlam have stood?' Who knows, but I think it's important that Australia form its own view and we do that. We robustly form those views, considering the kind of criticism that you've alluded to.
Question: Thanks, Michael, for this amazing topic, this man, but as someone who lived through it, I have much to thank Whitlam for because inflation was so high or went so fast that as one young married couple, we managed to get into the property market [and] thanks to the increase in the value of one house over two years. I remember it as chaotic, disturbing, monumentally wrong-visioned period of Whitlam, and I remember Susan Ryan coming to the Sydney Institute years ago and saying the success of the Hawke-Keating government was that they learned from the mistakes of Whitlam, and they were never going to repeat them again. So, what is it about Whitlam, and I find it very entertaining, this discussion, what is it about the man who is constantly talked about, constantly written about, constantly held up as a hero but, in fact, he was one of our worst prime ministers as a manager?
Michael Easson: Can I recommend another essay in the book edited by Scott Prasser and David Clune comparing Whitlam and Hawke and that is by Mary Easson, my wife. She wrote about the Whitlam legacy informing the kind of government the Hawke-Keating governments became. [Mary Easson, '1987: The Year Whitlam and Hawke Broke']. Keating is quoted extensively there about how bad Gough was in economic policy. I remember as a young man, my hand trembling as a member of the Labor Party reading the newspapers, finding out what we did the night before. It was a moment of time where a lot of mistakes were made, and it was chaotic. [Remember, though, with the 'oil shocks' of 1973/74, most western governments did poorly.] I did think they were getting their act together at the end. That's another story; but with Diamond Jim McClelland, Joe Riordan, Joe Berinson, John Wheeldon, and especially Bill Hayden as Treasurer, Labor was finally getting its act together. I do think, however, that Whitlam's ideals were impressive. He made loads of mistakes. That's what I tried to honestly convey in this book, which focuses on foreign policy rather than the rest of the Whitlam legacy, in trying to draw a distinction between the man and the ideals.
Question: Final question. Tell us about your own. You would have had some kind of relationship with Gough Whitlam. You would have known him around the Labor movement, the Labor Party in particular, the broader Labor movement. How did you find him personally?
Michael Easson: I found him witty, thoughtful, interesting, inspiring. Then I grew up. [I still find Whitlam impressive and interesting. I developed, however, a more nuanced appreciation of the man.] I mentioned in the book, I give credit to my social science teacher in year eight – or second form [as it was called in those days] – clearly bored with its curriculum, and he asked everyone in the class of 60 people – which reminds me of the line of Barry Humphries at the time: "full as a Catholic school"; there were 60 in the classroom – 'who is Labor?'. Most of the people put up their hand. 'Who is Liberal?' Four people put up their hand. "Who is for the DLP [the Democratic Labor Party]? The rest shot their hands up. The teacher nominated some of us. He said: 'Next week, you're defending your choice.' So, I [and my brother Shane] were defending Whitlam and that's where it began.
Host: And that's where it ends tonight. So, many thanks to Michael for an informative and amusing and important talk tonight and for producing the book published by Connor Court, Whitlam's Foreign Policy. And good luck with the book and thanks for a great night tonight.