Published in the Sydney Morning Herald, January 25, 2013, http://www.smh.com.au/comment/obituaries/rise-and-fall-of-an-empire-20130124-2d9jk.html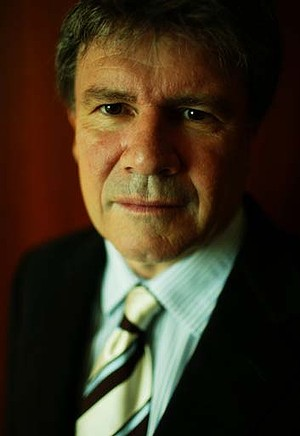 David Coe had a multitude of interests, activities and lives as entrepreneur, investor, investment banker, business strategist, family man, art collector, sports lover. He co-founded, led and lost one of Australia's most significant investment outfits, Allco.
During the global financial crisis, a fortune was over-leveraged and exposed, and the business failed. But Coe had huge energy, indefatigable fight and the imagination to think carefully about rebuilding reputation and success. He was an entrepreneur who slowly built an empire, whose death suddenly revealed hundreds of tributes in print and privately spoken, from those he helped, guided, nurtured, counselled and argued. "Coey" was energy, fun, audacity – a life lived and loved with creative purpose.
Coe had huge energy, indefatigable fight and the imagination to think carefully about rebuilding reputation and success.
David Raymond Coe was born on November 12, 1954, son of Ray and Gwen Coe. From Peakhurst primary school he went on to Sydney Technical High School, Bexley, where he excelled academically and on the sports field as a cricketer and rugby player (he reached the under-19s side for St George), as well as in debating. He was a natural leader, school captain and dux, and was popular.
Some early enthusiasms stood out. Coe and his friend Lewis Patrick urged caution about the possible election of Gough Whitlam but, even as a lifelong Liberal, Coe respected everyone who gave a part of their lives to public service. He was a fair man; he believed the Hawke-Keating burst of economic reform was an opportunity for Australia to excel.
Coe went to the University of Sydney and completed a combined arts (honours) and law degree. In 1976 he married Michelle Jones, whom he had first dated in senior school.
Coe loved the German language and wanted to master it. He won a scholarship for a masters degree at the University of Bonn, where he wrote his thesis on the poet Paul Celan, who was born in Romania to a German-speaking Jewish family. Conquering that topic required a thorough understanding of the warp of the Holocaust experience and the elliptical, challenging ideas threaded through each Celan poem. Bonn was no holiday sojourn. The task set, Coe had to grasp the fundamentals of language, the insights of culture and then form a view. Such discipline informed most of the things he did.
Returning to Australia in the late 1970s, Coe worked with Stephen Jaques lawyers (now King & Wood Mallesons), where he concentrated on international finance and leasing. Talks with a client John Kinghorn led to the formation of Allco Finance.
Through Macquarie Bank, Babcock & Brown and Allco, Australia built three world-scale businesses in aircraft, rail rolling stock and ship leasing, leveraging cross border tax and leasing quirks that made sense to investors and the owners. Coe excelled in working through complicated documents as well as the necessary explaining and persuading.
From this specialised beginning, Coe and his team extended to structured finance, corporate finance and funds management. This eventually turned into a $5 billion empire.
In the 1990s, with inflation falling, debt becoming plentiful and financial engineering cleverer, Coe became more adventurous. His business ventures grew. He served as the managing director and executive chairman of the Allco Finance Group, and as the chairman of the Issues & Images Group and Sports & Entertainment. He also became a non-executive director of Rams Mortgage Corporation and a member of the advisory board at Global Aviation Asset Management.
He was a founding director and co-owner of Sports & Entertainment, which produced hit musicals such as Annie and ran the V8 Supercars motor racing series. For a time, Coe served as a director of the Queensland Treasury Corporation as well.
Coe's tilt with mates at Qantas in 2007 looked uncharacteristically risky from the start. With hubris came mistakes. Worse was to come. Allco failed. But no one for a minute thought that it was the end – or that it deserved to be the end.
The last five years were hard and, in business defeats, sometimes embarrassing. The famous Coe discipline in getting it absolutely right had weakened. Errors were made – sometimes carelessly with other people's money. Billions were lost. He had to learn and rebuild.
In recent years, from London, Coe got his charm back.
His charitable efforts were well known. He served as the chairman of the Museum of Contemporary Art from 2001 to 2008 and joined the boards of the Sydney Children's Hospital Foundation and the National Gallery of Australia Foundation. He donated millions of dollars and gently cajoled friends to do what they could for worthy causes.
Coe was a larrikin and connoisseur. Looking at his life, it is clear that no other Australian business leader combined the breadth, depth and seriousness of his interests in the arts, sports management, literature, and in music, with his flair and discipline in deal making, networking and commercial thinking.
He was shy and reluctant about showing off. Those who were interested had to quiz him to discover what he knew about his passions. After a visit as they exchanged roles as chairman of the MCA, John Kaldor, whose own extensive collection is mostly now in the Art Gallery of NSW, described Coe's private modern art collection, which was stocked with paintings by Gerhard Richter, Brett Whiteley, Henry Moore and Mark Rothko, as the most extraordinary and valuable in Australia. Collectors are mostly passionate and idiosyncratic; the best have thoughtful opinions and insights about why artists' works deserve to be remembered and celebrated. Coe could open up in exactly that way.
As a networker, Coe actively sought other people's opinions and was curious about their new ventures, developments in technology, and potential business applications. He is fondly regarded in many walks of life as a man who brandished his intellect to prod others to do well.
Coe, who died of a heart attack during a skiing holiday in America this week, is survived by Michelle and their sons Christopher, Robert and Matthew.
A memorial service will be held at noon on Tuesday, February 5 in the New Hall, Sydney Grammar.
Postscript (2015)
We were not particularly close. Like everyone I was shocked to learn of Coe's sudden death. I volunteered to the Sydney Morning Herald obituary editor to write something because I feared something harsher might be penned. I need not have worried. The outpouring of grief, respect, and admiration was overwhelming.
In the piece, I erred in saying that David was dux of Sydney Technical High School. He was School Captain and nearly dux. But the honour belonged to Lewis Patrick, who went on to become head of the NSW College of Law.