Published as edited online under the heading 'Veteran of interfaith affairs and expert on antisemitism' in the Sydney Morning Herald and the Melbourne Age on 3 October 2023, and then in print editions of both newspapers.
Jeremy Jones (1958-2023), prominent community leader, interfaith activist, scholar, writer, Rabbitohs barracker, Australia/Israel & Jewish Affairs Council director, past president of the Executive Council of Australian Jewry, father, husband, mentor, and mensch, singularly contributed to modern Australia.
In the last forty years, few did more to define and fight for Australia as a land of tolerance, and respect of people of various backgrounds, of deep faith and of none. Which is why prayers and condolences were said in his memory across Australia and the world by rabbis, archbishops, priests, muftis, imams, lamas, other spiritual leaders, politicians in the Australian and NSW parliaments across the divide, and people of goodwill.
Born on 29 October 1958 in Melbourne, though mostly growing up in Sydney, including in Strathfield, Chatswood, and Killara, he was one of five, the son of Justin Myles Jones, advertising executive, who modelled his looks and mannerisms on his screen hero, Danny Kaye, and Geraldine, née Kiverstein, whose love of literature propelled her son's interest to be curious about why people think the way they do.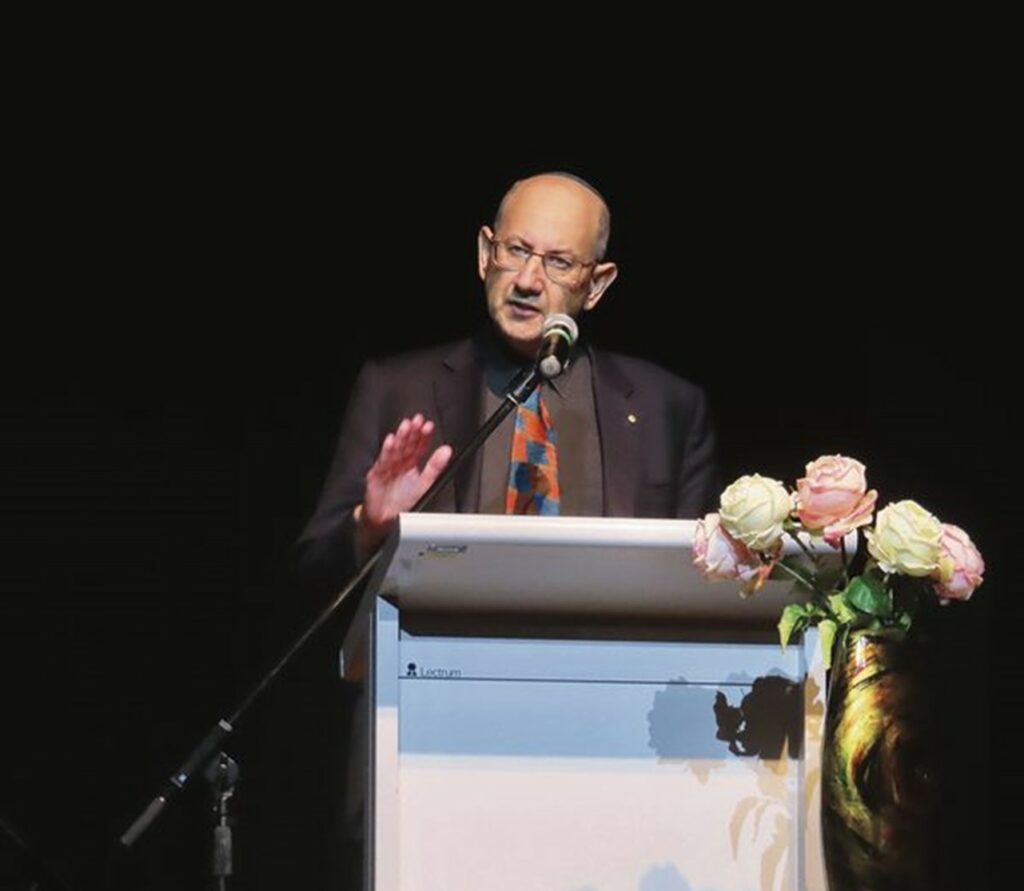 After school at Sydney Grammar, he attended a few meetings of the Trotskyist Socialist Youth Alliance, just to find out why others believed what they did. He had a lifelong interest in tracking far left and far right fanatics. This proved handy, as in 2002 he represented the Executive Council of Australian Jewry (ECAJ) in a landmark court case against Holocaust denier Fredrick Toben.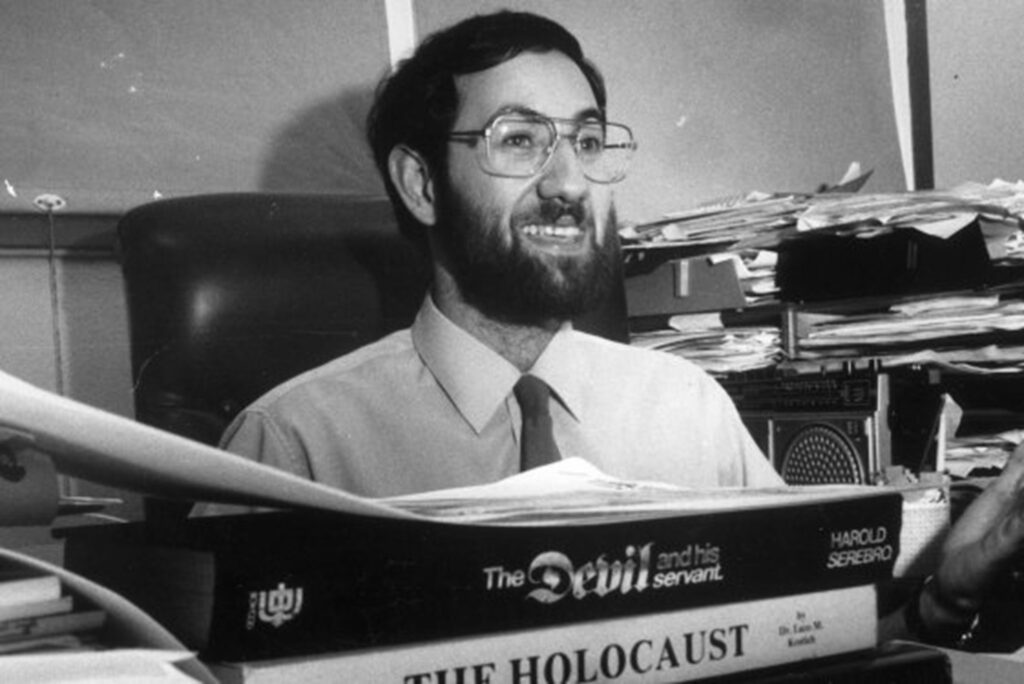 Coming from a family steeped in Jewish culture (both parents were descendants of family from Poland who, via England, had come to Australia; on his father's side, he was a fifth generation Australian), he readily participated in Jewish and community affairs.
In 1977, in his first year as an Arts student at Sydney University, he successfully ran a ticket to defeat the far left for delegates to the Australian Union of Students. Of those who won with him, one became a Labor Senator for NSW, another lead anaesthetist at the John Hunter Hospital, Newcastle, a third (the author), Secretary of the Labor Council of NSW.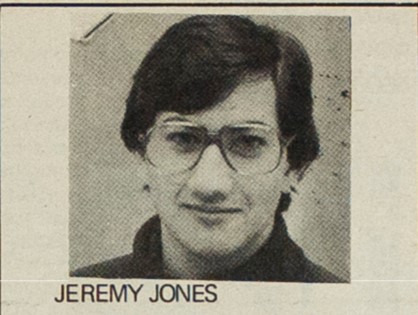 Jones was combative, articulate, yet popular. He liked people and their stories.
Here's one which appealed to his whimsical side: In 1982, a coalition of moderate students narrowly won the Sydney University Student Representatives Council (SRC). At the new SRC meeting, votes were individually taken for committee positions, one by one the left candidates were narrowly defeated. One freshly elected moderate SRC member, however, was unsure of the procedures, the names, the personalities. He vaguely remembered being told to vote for a Lebanese guy standing for one position. He heard unfamiliar names nominated and he voted acoustically. That's how Anthony Albanese was elected SRC Ethnic Affairs Officer, the only lefty to get up that year. People wondered about his wider appeal, alone of the left candidates, that enabled Albo to get up. The rest is history.
Psalm 28, "Save your people and bless your inheritance; be their shepherd and carry them forever" guided his life. Jones was a veteran of interfaith affairs, inter-communal harmony, and was a world-renowned expert on antisemitism. Made a Member of the Order of Australia, in 2007 awarded the Australian Human Rights Medal, in 2016 awarded the Stepan Kerkyasharian Medal for Community Harmony, Jones participated in the drafting of the International Holocaust Remembrance Alliance (IHRA) Working Definition of Antisemitism.
In December 1985 Jones married Naomi née Baral, information technology consultant and soulmate, whom he first met at a university debating club Jeremy formed. They had two children Gidon, computer whizz and high frequency trader, and Galit who returned to Australia from Germany where she was studying and teaching, to assist her mum care for her father. Never a smoker, 20 months ago, Jones was diagnosed with Stage 4 lung cancer.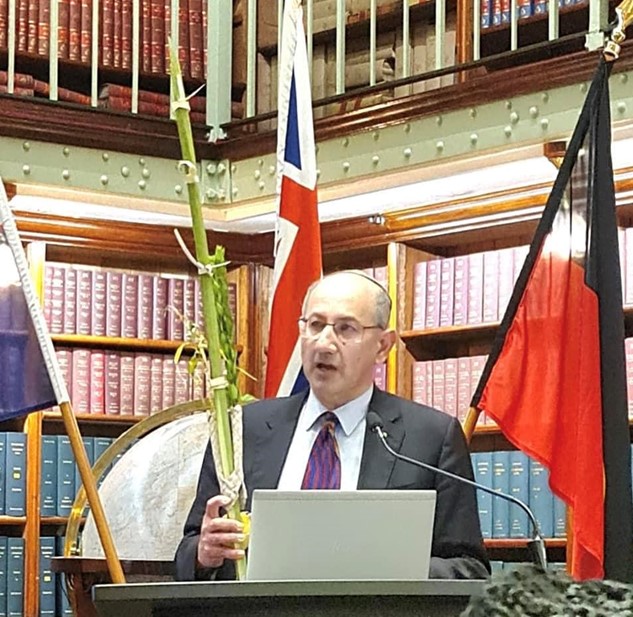 Jones got to know thousands of leaders from various faiths. Not in the meet and greet sense only. He wanted to understand what made them the persons they became. Friendships were deep and real, forged in humility, curiosity, and humour. With the Vatican-ensconced Cardinal Cassidy, the Australian entrusted by Pope John Paul II to mend Catholic-Jewish relations, Jones discussed doctrine, history, and remembrance of the Shoah. They became close friends right up until the Cardinal's death in 2021.
When in 2015/16 Sydney Archbishop Fisher took ill, paralysed by a rare auto-immune disease, Jones would visit and by his sick bed read in Hebrew the psalms and other books Christians call the Old Testament.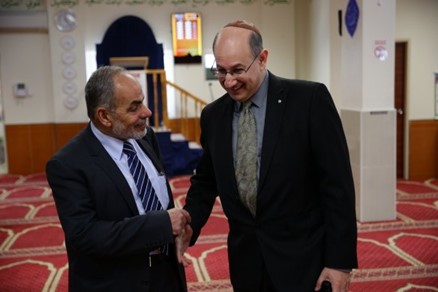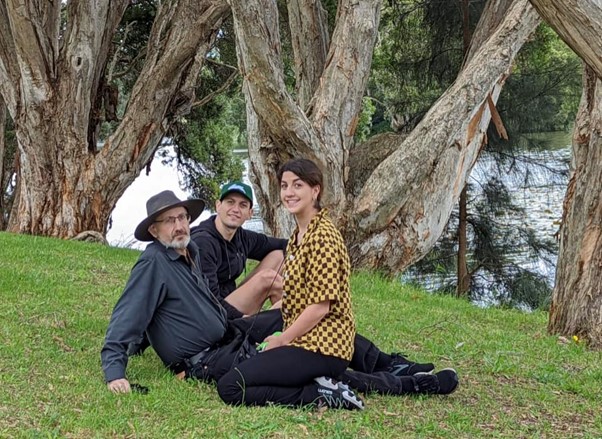 A person of wide reading, Jones was inspired by his mother to hear and read the lyrics of Bob Dylan, when she studied poetry at Macquarie university. Thereafter, most years Jones cut and pasted lyrics for her. One was: "Half-wracked prejudice leaped forth, "rip down all hate," I screamed…" And also clipped:
Because something is happening here
But you don't know what it is
Do you, Mister Jones?
For this Mr Jones, finding out was never passive. Jones travelled the world to discover, participate in debates and engage in the constant battle to combat prejudice and hate.
On a visit to Israel in 2017, Jones wrote: "One unique evening was spent in a restaurant on the shores of the Mediterranean, with young Israeli Jews, Christians and Muslims who were involved in innovative and inspiring social projects… In the mosques, and in the homes of Muslims in the Galilee and Abu Ghosh, the connection with fellow believers was of great import… Meeting Syrian civilians being treated in Israeli hospitals, with the support of Arabic-speaking Christians and Muslims, and Israeli doctors, led to a discussion on how much more could be done, on a humanitarian basis, by people of goodwill… Spending time with these Muslim leaders, I felt encouraged that not just cooperation, but Muslim-Jewish friendship, is a genuine possibility." A spirit of optimism never left him.
Before the end he visited with his children spots still on his bucket list. The Galapagos Islands and, memorably, in December 2022 a ferry ride to Colonia del Sacramento in Uruguay. Sight-seeing, finding a pub to watch the football, then returning to Argentina, nothing was open. No taxi drivers. La Albiceleste, 'The White and Sky Blue', had just won the World Cup!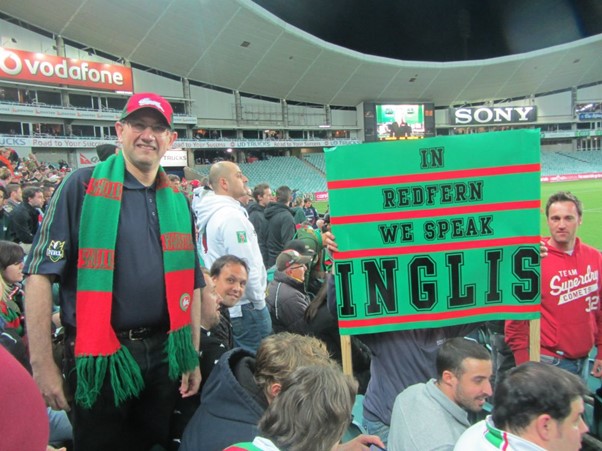 On Facebook Jones posted photos from his daily walk wherever he was in the world, however much he began to slow down. He helped friends see life in new light. A quiz and trivia master, his puns and dad jokes are sorely missed.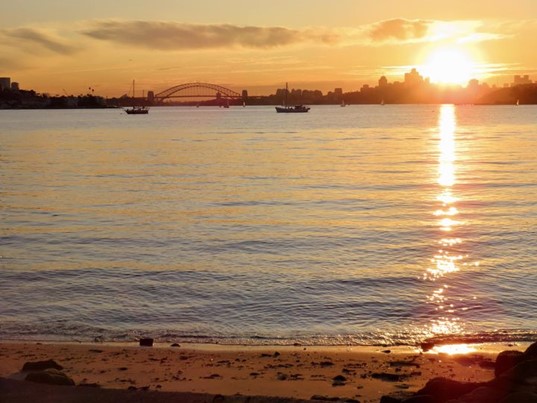 Surrounded by family when he died on 6 September, Jones is survived by his dear wife and children, and siblings Peta Jones Pellach, Amanda Gordon, Melinda Jones, and Quentin Jones, and their families.
Consider his impact. His memory will always be a blessing.
Note published with the obituary: Michael Easson knew Jeremy Jones at university; they both joined Labor Friends of Israel in 1977.
Postscript (2023)
I wrote the above within 24-hours of Jeremy's death. Alas, the days of publishing quickly online obituaries are over. I am grateful to Tim Barlass at the Sydney Morning Herald and Gary Mallin at the Melbourne Age for ensuring publication.
Not being an habitue of Facebook, I was touched that in August, very ill, Jeremy posted a thank you and a brief memory of our friendship: "I met Michael Easson my first week as a university student. He was on the Jeremy Jones-led ticket for delegates to the Australian Union of Students, well before he became one of the truly important thinkers and doers this country has produced (we won 4 of 5 spots, the last going to someone on a different ticket, by the name of Tony Abbott…) . He is someone who genuinely cares about individuals and societies and shapes his ideologies from this starting point, something which is all too rare. Here he is in action at the ALP Federal Conference this past weekend, challenging orthodoxies with clear thinking and compassion."
In late July I received a text from Jeremy: "Hi Michael, thanks for being in contact. My rehabilitation is a little taxing and possibly without end, as the cane may be permanent now. Also dealing with an annoying lung/breathing issue, but in good hands. I hope all is well with you and the family.
I have medical appointments most days but am able to meet next Wednesday or the following Tuesday or Wednesday. Monday and Thursday both start with 3 hours of physical therapy sessions and on some other days I have meetings with some of my legions of specialists".
But I kept getting colds and stayed clear.
On 29 August I received this message: "Hi Michael, this is Jeremy's daughter Galit, he is in ICU at PoW at the moment but says he hopes to be able to catch up in the very near future :)"
 Jeremy died on 6 September 2023.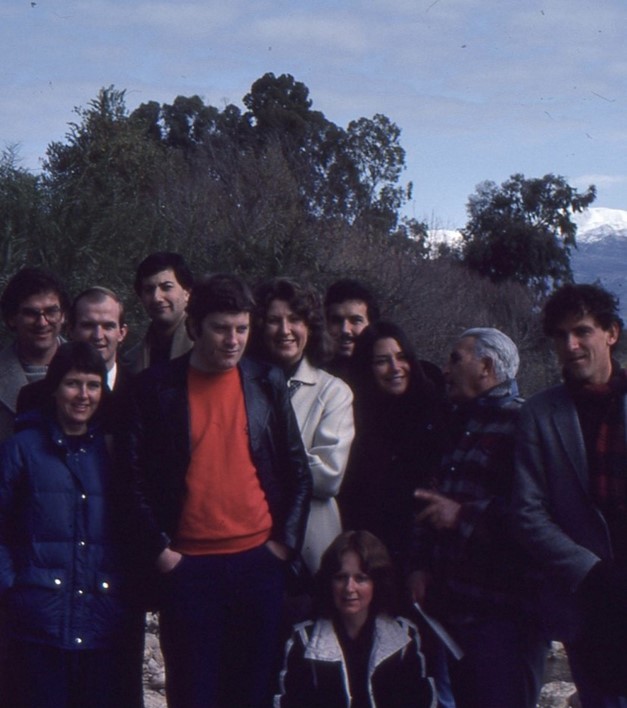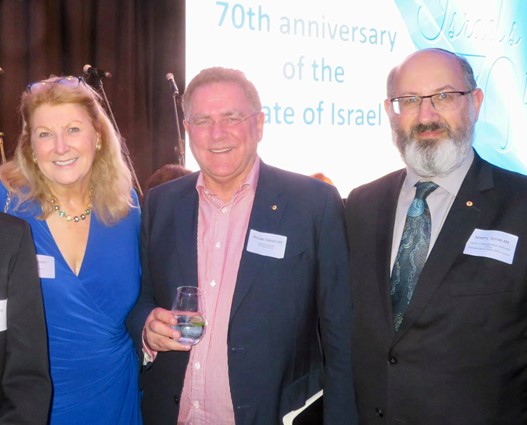 Naomi, Jeremy's wonderful wife, sent me this tribute she delivered at the Mizrachi Bondi Shule:
—-
Starting during Jeremy's final days of illness and accelerating after news of Jeremy's passing began to spread, the family has received a flood of messages and tributes from work colleagues local, national and international.
As we read them out loud to each other, common themes soon became apparent.
A picture emerges of a man who in his working life always acted with dignity, decency, commitment, extraordinary energy, unfailing motivation, tolerance, deep capacity for maintaining friendship, humour, sharp intelligence and broad knowledge, respectful interactions, calmness in chaos, ability to put greater causes above his own personal needs, and optimism in circumstances where others might give up and not even try. Many people wrote that Jeremy had been their mentor. Many people wrote of a man of faith driven by deeply held values.
Without exception, all these attributes are also descriptive of Jeremy in his home life.
Extraordinary energy – Jeremy rose every day before dawn so that he could greet the sunrise at Bondi Beach or at Centennial Park. This was followed by a productive working day. The day wouldn't end without an offer to pick up something from the supermarket or help with a household task. If there was an opportunity to photograph a sunset or a particularly visible full moon, he took it. All this was Jeremy having slowed down in the 20 months SINCE his devastating cancer diagnosis.
Intelligence and knowledge – Jeremy was a valued member of a trivia team made up of friends who for over 20 years have combined resources and have had a respectable track record. As we attended trivia nights in halls and pubs across Sydney, it was Jeremy who we relied on for the answer to any question in the areas of sport, pop music, history and current affairs. He was lightning quick to decipher any anagram or puzzle involving word play or critical thinking. He was quick-witted. He loved playing with words and delighted in cryptic crosswords and advanced level soduko puzzles. He loved coming up with torrents of bad puns and dad jokes.
Calmness in chaos – he never raised his voice.
Ability to put greater causes above his own personal needs – he didn't insist on winning arguments, rather he preferred to look for outcomes that were based on consensus and understanding.
Capacity for friendship. So many people Jeremy met at conferences and on committees around the world became his friends. He kept up contact with people even after decades of not seeing each other. Closer to home, Jeremy was loved and respected by our friends in Sydney and I would here like to acknowledge the beautiful support we have received. From home visits, hospital visits, phone calls, pot luck dinners, messages, spending time with Jeremy at his happy place – the duck ponds at Centennial Park, accompanying Jeremy on slow walks through nature, helping me with various tasks. Thank you.
A man of faith and a man of tolerance. Jeremy loved to conduct the Pesach Seder. He was inclusive and tolerant of all guests. He would make sure that everyone participated in any way they wanted. You could read in any language you wanted – Hebrew, English, Spanish, French, German. You could sing any variation of tune you wanted. You didn't have to do anything if you didn't want to. Around this time of year, before Rosh Hashanah the Jewish New Year, he was always excited to come to synagogue to collect the Lulav and Etrog and the species required for the upcoming festival of Sukkot. He loved to share these rituals at work and at interfaith meetings – and he never once imposed his beliefs on anyone. At home he was tolerant and accepting of each of our individual levels of understanding, levels of faith, means of identification with our heritage and our nation and desired levels of participation and observance.
He came to know Rabbi Shua Solomon of this Mizrachi Synagogue and grew to admire him. He would come home from services and comment very fondly about Shua and the environment Shua and his wife Michal have created at this synagogue and for its community. Shua visited Jeremy frequently in his final days. This meant a lot to Jeremy and provided every family member there with solace and comfort. I want to thank Shua for the kindness and guidance provided to me and the family over the past days and for making the synagogue available for the minyan services. My sister in law Mandy, my daughter Galit and I all agree, that when Shua recited Shema to Jeremy in his final hours, Jeremy's lips were moving using his last drops of energy to try and recite along. Shua, I don't know if you were aware of this at the time – but we were.
Optimism in circumstances where others might give up – Jeremy since the day of diagnosis never once cried out against fate and never once expressed the unfairness of it all. Instead, he remained optimistic. He believed that he could be helped by modern medicine and the wonderful team of medical professionals looking after him. He also understood that he had a role to play in this and never missed a single tablet, he took care to eat well, he strived to move and exercise, and even when walking was hard, he continued to ask to be taken to Centennial Park because he knew how he benefited from being in the fresh air and being able to appreciate the beauty of the ducks, the birds, the bats, the trees and the ponds. He, in his gentle way, fought like a lion.
I would here want to acknowledge the care given to him by his beloved GP Dr Stan Jacobsen, Prince of Wales Hospital Doctors Dr Craig Lewis, Dr Benjamin Kong, Dr Jessica Borbassi and Dr Rebecca Strutt. Both Jeremy and myself received exceptional support from Prince of Wales Cancer Nurse Co-ordinator Jo Simonian.
Jeremy held the value of family very deeply. He was devoted to his family. He cherished and honoured both his parents during their lives and after their deaths. He was infinitely proud of his siblings Peta, Mandy, Lindy and Quentin. They all cared for him and loved him back. During his illness, Quentin from America, Peta and Aharon from Israel, and Lindy and Paul from Melbourne at various times all flew to be with him. I want to acknowledge the endless love and practical support received from Mandy and Geoff – Mandy being the only sibling living in Sydney. And now, Lindy, Paul, Peta and Aharon together with nieces and nephew Brie, Danielle and Raphael have made a final trip to honour Jeremy. Jeremy took great pleasure in keeping up with the lives of his cousins, nieces and nephews through the cousins WhatsApp group. He was proud of Jessica who works at Prince of Wales hospital and would tell the nurses all about her. Jessica's visits were so appreciated by us.
Jeremy was the most decent, respectful and caring husband.
The most impressive achievement of all is that our two children – Gidon and Galit – deeply love, adore and respect him. Jeremy travelled extensively and frequently for work. When the children were small he would bring home a souvenir snow dome for Galit and a miniature National musical instrument or bell for Gidon from each new country or city on his itinerary. I think this sparked both of their understanding of geography and passion for travel. In recent times as adults, Jeremy would most years take each child on a Father/son or a Father/daughter trip – most often to somewhere unusual. It is Jeremy's unfailing and energetic love and mentorship, that has moulded two human beings who carry his intelligence, warm-heartedness, family values and understanding of the bigger picture.
From the book of Kohelet, the book of Ecclesiastes chapter 7, Verse 1.
Tov Shem, mi'shemen tov.
This is a Hebrew play on words which is most appropriate for Jeremy – firstly because of his love of word play – and secondly because it is translated to English in various ways as "A good name – or a good reputation – is better than good oil – or is better than precious perfume". Jeremy leaves behind the most precious legacy – that of a good name – Shem Tov.