Slightly revised version of an article published in The Southern Highlands Newsletter [journal of the Southern Highlands Branch of the Australian Labor Party, NSW Branch], No. 241, January-March 2021, pp. 60-65.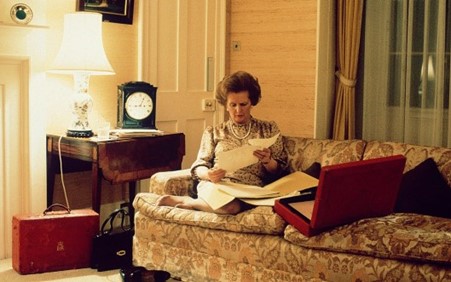 "There is no such thing as society."
Margaret Thatcher spoke those words in an interview published in Women's Own magazine, October 1987.
What it means to be human is being reinvented. There is something new today about relationships, within families, with friends, in workplaces, in communities, within society. What is called society, the aggregate of people living together in a more, or less, ordered community — to cite the Oxford English Dictionary definition — is up for grabs. This essay explores what, how, why this might be so, and its implications. The core idea is that technology, the internet, is enabling reimagination. There is tension between atomising and socialising our lives.
Take, for example, society. In 1987 the then British Prime Minister's bland insistence that society was a meaningless abstraction became highly symbolic of her leadership. A largely arid debate broke out on rampant individualism versus collective responsibilities, the PM derided as a "sociopath." Criticised, she dug her heels in, appearing to relish the demonisation. Thatcher's words about society were construed as a curse against the rest of us. In the third of a century since, it is interesting to reflect on how the world changed.
Catherine Steiner-Adair in The Big Disconnect: Protecting Childhood and Family Relationships in the Digital Age (Harper, 2013) argues that the internet and the digital revolution are profoundly changing childhood and family dynamics. As individual focus turns to the glow of the screen — children constantly texting their friends or going online to do homework; parents working online around the clock — everyday life is undergoing massive transformation. Many parents feel they are losing meaningful engagement with their kids.
Jean M. Twenge's iGen. (Simon & Schuster, 2017) reveals: "The average teen checks her phone more than eighty times a day." In this "interconnected" world there is liberation and a proliferation of connection. Yet millions, clutching their tech gadgets and tapping their apps, feel lonely, alienated, and disconnected.
Digitality in and of itself is not the problem. Arguably, children and young adults growing up in a technology-rich environment possess advantages over earlier generations: including comfort and practice in interacting and building bespoke social worlds; agility in moving among online and offline spheres. They are touches away from all the knowledge in the world. There is also the dark side of the moon.
There are immense implications, including what sort of community is being reproduced, changed, invigorated, or might atrophy, and how members are influenced.
Thatcher's idea is interesting still, despite its reputation. The then Deputy Labour Leader and Shadow Home Secretary Roy Hattersley, in a speech to the Commons in June 1988, berated: "A government . . . [which] spent almost a full decade extolling the virtues of getting rich quick, of abandoning responsibility for other people's health and housing" which spawned selfish brats who: "Like the Prime Minister . . . believe that there is no such thing as society, only individuals."
The Gordon Gecko greed-is-good mantra of the 1980s, as featured in the film Wall Street (1987), was pilloried. Labour's then Shadow Chief Secretary to the Treasury, Gordon Brown, in October 1988 continued the rhetorical whipping: "The government, who believe that there is no such thing as society, have little regard for the future. This is a government who, to make a few individuals richer, will ​ make all our communities poorer."
Thatcher became a caricature of herself — the hard-nosed, privatising dogmatist at the centre of great controversies. She transformed the country, putting a seal with adamantine strength on everything from miners' work, cutting old-age benefits, to a poll tax. Thatcher in popular culture is represented as a Scrooge-like figure with no midnight conversion. Salman Rushdie pilloried her in The Satanic Verses (Viking, 1988) as Mrs. Torture and Maggie the Bitch. To curtail his natural instincts, smothered by a bevy of beauties, the lead character in the film Austin Powers, International Man of Mystery (1997) shouts several times "Margaret Thatcher naked on a cold day!" No less alluring image could he imagine. The musical Billy Elliot (2000), about a mining centre near Durham, features the song 'Merry Christmas Maggie Thatcher' which cruelly imagines her death.
Arguably, the Thatcher curse, for many, is now a lived reality. Additionally, our private on-line reality is policed and monitored in ways that horrifies the most ardent individualist.
Once celebrated as a liberating technology, the internet is now warily viewed as a conduit for surveillance and electoral manipulation. Highlighting the changed mood, Freedom House in 2019 released an extensive report on The Crisis of Social Media, which discussed manipulation, hacking, and invasion of privacy by government and powerful private players.
Freedom on the Net, Freedom House's annual survey of internet freedom around the world, features ranked, country-by-country assessments of online freedom, a global overview of the latest developments, as well as in depth country reports. Their methodology covers three categories:
First, obstacles to access, covering details infrastructural, economic, and political barriers, which include government decisions to shut off connectivity or block specific applications or technologies; legal, regulatory, and ownership control over internet service providers; and the independence of regulatory bodies.
Second, limits on content, including legal regulations on content; technical filtering and blocking of websites; other forms of censorship and self-censorship; the vibrancy and diversity of the online environment; and the use of digital tools for civic mobilisation.
Third, violations of user rights, particularly legal protections, and restrictions on free expression; surveillance and privacy; and repercussions for online speech and activities, such as imprisonment, extra-legal harassment, and physical attacks, or cyberattacks.
Broadly, the conclusion is that freedom is under siege. Freedom on the Net is widely utilised to understand the internet freedom landscape globally, as well as policies and developments in individual countries.
To contest the overly scrutinised, "new reality", "cypherpunk" activists advocate widespread use of strong cryptography (writing in code) as a route to progressive change and a kind of "social bitcoin" private world. Julian Assange, the former editor-in-chief of WikiLeaks, was a leading voice in the movement from its inception in the 1980s.
Arguably, Facebook and Google together constitute the greatest surveillance machine that ever existed, perpetually tracking location, contacts, and lives. Shoshana Zuboff's Surveillance Capitalism (PublicAffairs, 2019) extensively discusses the implications. Her work and other assessments beg the question whether there are legitimate forms of surveillance, for instance in relation to money laundering, drugs, terrorism, and child pornography? As in so much in the debate, it is not always black and white.
What can be observed about popular culture as a barometer of societal change? It might be said that each new generation fights for its own identity and is in rebellious tension with the generation from which it was spawned.
The pop group Vansire's 2019 release "Metamodernity" expresses the repercussion of living in the modern world, a mind on overdrive, that keeps moving fast, driven by adrenaline and a sense of ennui: "From the outset/ It's been hard to tell/ Why I'd feel this down/ When it all bodes well." The lyricist knows he is sad without understanding why.
The zest to experience life is expressed in the band OneRepublic's song "I Lived" (2012): "I owned every second that this world could give./ I saw so many places, the things that I did./ With every broken bone, I swear I lived." Optimism pulsates in those words.
Many such songs comment on our modern world, almost as if on the outside. Undoubtedly, that world is "a changing".
In Bowling Alone: The Collapse and Revival of American Community (Simon & Schuster, 2000) Robert D. Putnam surveys the decline over half a century of social capital in the United States. He sees that all forms of in-person social intercourse are in decline. What once were the foundations of civic culture, the community and educative bodies that enriched the fabric of social lives, now survives in a diminished state.
Putnam warned that our stock of social capital – our connections with each other – plummeted, impoverishing lives and communities. We sign fewer petitions, belong to fewer organisations that meet, know neighbours less, meet with friends less frequently, even socialise with our families less often. We are bowling alone: in the United States more Americans bowl than ever before but they are not bowling in leagues. Putnam shows how changes in work, family structure, age, suburban life, television, computers, women's roles and other factors contribute to this decline. In the 20 years since this pioneering work was published, what he detected as trends have deepened and gathered momentum.
Keane's song "Everybody's Changing" (2004) pleads for wisdom: "But everybody's changing/ And I don't feel the same". This song is simultaneously about change and loneliness, even though the voice we hear is oblivious to what has happened and only dimly appreciates, without relating to it or even thinking that he had changed, that the rest of the world around him had utterly done so.
Steiner-Adair concludes that some families are in crisis as they face this issue, much more than many realise. Chronic tech distractions have deep and lasting effects. Yet children desperately need parents to provide what tech cannot: close, significant interactions with the adults in their lives. Drawing on her clinical work with children and parents, her consulting work with educators and other experts, Steiner-Adair offers insights on the tech revolution unfolding in our living rooms.
I will return to those insights.
Not mentioned so far are some of the vivid representations of a changed reality in other media.
In the film Her (2013) in a near future, a lonely greeting card writer, Theodore Twombly, develops an unlikely relationship with an operating system designed to meet his every need. The new OS1, advertised as the world's first artificially intelligent operating system – "it's a consciousness" – draws him to Samantha, the voice of his software. Spending time together, they grow closer and find themselves in love, with Theodore feeling both great joy and doubt. A man who built his career expressing emotions to others, but who is himself usually emotionally constipated, is captivated. Fascinated by her ability to learn and grow psychologically, they bond.
As he walks to and from work, he chats with her. Most other pedestrians seem to be doing something similar. An unexpected turn follows as Theodore realises that many of his friends are dating their own OS. Another twist: Theodore asks if she interacts with anyone else. Theodore is dismayed that she is talking with 8,316 other people and is in love with 641 of them. Samantha insists that this does not change her love for him.
Vexille (2007) is a movie about an eponymous female agent who, 70 years into the future, is dispatched to Tokyo to investigate whether the Japanese are developing robotic technology, now banned by the UN due to its potential threat to humankind. The overlap between human and machine, human and hybrid, is deftly imagined. There is something interesting about Japanese anime and its global influence.
Tatsuhiko Takimoto's novel Welcome to the N.H.K. (Japanese 2002; English, 2007) became a manga series hit (2004-7), and was adapted into a 24-episode anime television series (2006). The story revolves around a 22-year-old hikikomori (an asocial recluse) who receives aid from a strange girl who seems to know a lot about him, despite never having met him before. Common themes deal with depression, isolation, existential dread, the hardships of life and how people deal with them in their own way. In Japan, NHK refers to the public broadcaster Nippon Hōsō Kyōkai, but within the series the main character believes it stands for Nihon Hikikomori Kyōkai (the Japanese Hikikomori Association), a reference to the protagonist's claim of a subversive conspiracy led by NHK (the real-life broadcaster) to create hikikomori. This is a twilight world that eerily represents how some people actually do live.
This brings me back to some of the more interesting academic analysis. Mary Chayko's Superconnected: The Internet, Digital Media, and Techno-Social Life (SAGE Publications Inc., second edition, 2018), exhaustively discusses the rise and proliferation of the internet, digital media, and information and communications technologies (ICTs). Much of the following discussion is inspired by her work. With the harnessing of collective knowledge, what she calls "superconnectedness" yields outcomes that are diverse – good and bad. Devices empower individuals to live richer, though more closely scrutinised lives.
In the modern technological world, people are superconnected. The thoughtful, strategic, shrewd use of the internet and digital technology helps better to manage techno-social lives and create a future filled with rich, diverse experiences. To do this, we must become and remain educated and literate about techno-social life. The internet and digital media provide countless opportunities for involvement in the process of making, shaping, critiquing, and improving the world around us and our own lives.
With curiosity, creativity, and a critical mind we can negotiate through the maze. But there is diversity in capabilities to do that.
Here are seven observations.
1. The techno-social nature of the everyday is here to stay.
We are social beings seeking sustenance, companionship, and love. Social ties and bonds are forged through coordination of thoughts, feelings and interaction with others.
As we get to know one another, interpersonal similarities, commonalities, interesting differences, and synergies are discovered. Physical face-to-face contact is not necessary for all of this to occur. To develop the idea further, society is a collection of individuals engaged in persistent social interaction such as through a large social group, a village, a suburb, a region, sharing common spatial or social territory. Societies are characterised by patterns of social relationships between individuals sharing interests. Typically, the larger the group, the more stratification and hierarchy in sub-groups. Patterns of behaviour within a given society or sub-strata create societal norms, which might outwardly seem stable, but undergo gradual, perpetual change. Language is one instance and why oldies (like me) resort to the urbandictionary website as a useful tool to keep up to date with the latest expressions and sayings.
2. Technology mediates between and among people, from person to person, from network to network. This can inspire social connectedness.
Arguably, the use of internet, digital, and mobile technologies prompt face-to-face interaction, making it more likely to occur. As Chayko's and Steiner-Adair's research shows, this is a consistent finding, backed up by numerous studies of techno-social life. The use of digital technology is an overall positive for sociality.
3. Digital versus the personal: It is not either/or.
Interestingly, some people get to know others better when contact is primarily internet-based (Facebook, Instagram, etc.) or digital (WhatsApp, chat services, etc.) as opposed to face-to-face, at least to begin with. Distance is no "inseparable" barrier to closeness. Mobile media use allows contact and connectedness to be made nearly any time, any place; people can be readily available to each other and engage in frequent interactions that make their relationships hardier and more likely to be continued face-to-face.
Those who use the internet and digital media typically are those who stay in closest contact with their friends face-to-face. Indubitably, internet and digital media use make it much easier to make and maintain social contacts and relationships, online and offline.
4. Techno-social connections and stranger danger
There are many positives mingled with dangers and temptations in the use of social media. The routine ease of and use of the internet and digital media explains much about the tremendous expansion and popularity of those technologies. Accordingly, individuals in technology-rich communities and societies tend to live fuller techno-social lives.
Social networking websites, like Facebook, enable individuals (and also groups and organisations) to be networked. As they are connected or tied together, they have some relationship to and influence over one another.
Online social networking emerged and accelerated due to the strong and real sense of community which was invariably the by-product of bonding through inter-action — like members of a community or "club" in which they were genuinely, often deeply, engaged.
Arguably, over the last 20 years, a new way evolved to initiate sociality on the "electronic frontier" such that time spent online could come to have a social, communal quality that is real, rich, and meaningful. This quality is synonymous with the internet.
There are also, however, the issues of impersonation, identity theft, and plain evil manipulation of the unwary. Further, easy access to the internet and social media erased boundaries that once protected children from damaging exposure to excessive marketing and the unsavoury aspects of adult culture. "What are families losing with technology's gain?" is a question all families ask.
5. People really do experience the digital.
Intimacies and emotions are exchanged profusely and instantaneously online. An "emotional glue" can lead to the "physical glue" of face-to-face interaction. Nowadays, what is interesting is how common people take mobiles with them wherever they go, utilising small bits of time to check in on others and/or provide updates on a social media platform. Kate Fox's perceptive 2001 saying is quoted by Chayko: "Carrying your social support network in your pocket, you'll never walk alone."
In a jiffy, moments of connection generate intimacy and a range of emotions: warmth, belonging, even excitement is commonly generated online. Fear, anger, and disgust are elicited too.
A surge of emotion often arises when two or more people feel that they "click" online. Those feelings can be so strong and satisfying that to obtain them is often central to their desire to use digital technology, social media, in particular.
Online attention can take the shape of a simple glance at a photo or a more active step: a "like," a follow, a share, a comment. What was once an unthinkable social network is real.
6. Social media use spreads information and disinformation.
Digital technology makes it easy to create websites and stories which have the appearance of credibility but contain fiction, not fact (e.g., sometimes "fake news").
Individuals create and express their individuality, their personalities, their selves. People discover unique avenues and spaces for self-expression and connection online that help them deal with offline challenges. Friends and communities can give them a feeling of safety. And through the use of the technology, they share information they might otherwise be reticent to share.
Opportunities to forge solidarity can be found and established, barriers to interaction lifted, self-expression enhanced, and collective organisation to improve status and circumstances enabled.
Friendship, dating, flirting, sex, and other things make life fun. There are downsides and upsides to all that.
7. Human life experience is digitally expanded.
Superconnectedness, Chayko's phrase, enables discovery, flexibility, and malleability of many aspects of social life.
The potential exists, however, for fewer points of view to be expressed in tone and content as algorithms herd people into mirrors of themselves. The feeling of being "plugged in" — not just to one another, but to a particular digital community — can be satisfying. It can also be an ongoing challenge, as contexts collapse, and selves are constructed in these complex visible spaces, in interaction with others. In the recent decade, much of the literature now focuses on the narrowcasting of engagement with anyone outside. The documentary, The Social Dilemma (2020), for example, explores the dangerous human impact of social networking, actual and theoretical, with tech experts sounding alarm on their own creations.
But this can be overstated. Belonging to a church, a mothers' group, a sporting club, a political party, the myriad ways which "commonly" used to connect might also be described as self-referencing groups to the exclusion of others. Are the internet communities of today just another manifestation of a familiar phenomenon?
Research overwhelmingly indicates that internet and digital media use help people feel and be more connected with others. This includes connections both strong and weak – and those that eventually migrate offline, along with those that do not. Spending time in online "hangouts," playing games or visiting social media sites, or simply emailing or texting a friend or colleague, reminds us of the huge network of people that surround us.
Our connectedness helps people feel more securely rooted in the world around them and provides a deep feeling of societal continuity. But what is arguably different today is the gulf between knowledge of and interaction with other communities and worldviews.
Returning to Jean M. Twenge's iGen (2017), the Professor of Psychology at San Diego State University has written one of the most interesting books of the 21st century. The sub-title covers the book's contents: "Why Today's Super-Connected Kids are Growing Up Less Rebellious, More Tolerant, Less Happy – and Completely Unprepared for Adulthood and What that Means for the rest of Us". Her definition of the iGen-ers covers a cohort even younger than what has mostly been alluded to in most of this essay. She uses the term to refer to those born after 1995, who grew up with iPhones, Facebook, Instagram. She surveys the world we have lost and the new world as experienced and understood by the internet generation. In 1960, for example, most marriages were by couples in their early 20s. Now few are. Summer jobs were common, now less so.
She observes that young friends communicate using their phones more than seeing each other in person. Fewer drink alcohol or binge drink. Religious observance has substantially dwindled. Youngsters in some ways are better behaved, less "connected" with their parents, slower to start relationships, later to sex, more tolerant and accepting of difference (LGBTQ people, marijuana), slower on average to get car licenses, stay at home longer, take their time to grow up. There is a significant cultural shift to individualism.
So, what can we say in conclusion?
Technology can be broadly understood as a range of tools and techniques and means of connecting people – which enable association with one another, to family and friends, to the networks and communities of which we are a part.
Individuals are always challenged to create cohesive identities and communities and to understand the workings of both.
The thoughtful, strategic, shrewd use of the internet and digital technology can help people better manage their techno-social lives and create a future filled with rich, diverse experiences.
In contrast to the emerging "conventional wisdom" that social media has splintered society into tribes perhaps rests on a distortion of the pre-social media world, imagining a golden age that never was. After all, the previous narrative about social media was that it was liberating. Social media was supposed to contribute to people forming their own views based on the issues, rather than merely following their group (class, religion, ethnicity, etc.) in the way predicted by traditional sociological theories. That optimistic story has not been borne out. But promise unfulfilled does not necessarily imply the opposite direction. Maybe, the deep patterns of people's social and political behaviour are much the same before and after social media.
Last year, Boris Johnson in a video to the nation he shot from his self-quarantine with Covid-19, said: "There really is such a thing as society," trumpeting praise for the 20,000 plus former staff who returned to the National Health Service to pitch-in as coronavirus cases surged. Her name was not mentioned, but any politico of certain vintage knew to what and whom he was alluding in contesting nasty Thatcherite individualism.
Thatcher, however, was not necessarily arguing for heedless individualism: "There is no such thing as society. There is [a] living tapestry of men and women and people and the beauty of that tapestry and the quality of our lives will depend upon how much each of us is prepared to take responsibility for ourselves and each of us [is] prepared to turn round and help by our own efforts those who are unfortunate" is part of what she said. She meant her words to be subtly and generously interpreted in that passage (in contrast to a later stubbornness.) In a volume of her autobiography, The Downing Street Years (Harper Collins, 1993), she laments that "they never quoted the rest".
Misinterpreted or liberally interpreted, her words are prognosis and curse. You might say society is closer and more atomised. It is an uneven path. Trajectory does not make sense in describing the changes over the decades.
One thing stands out: For many of us, the present is a foreign country.
Postscript (2021)
I wanted to write something about how society has changed and whether the generation born with the internet might be significantly different from earlier generations.
The Thatcher quip about society, I imagined might be an interesting peg for the analysis.
I found Twenge's book, iGen, particularly provocative and her ideas worth exploring.
Perhaps this reads as more like notes to myself; it helped me think.
It is a theme I will one day return to.
The weblinks in the article were inserted by the editors, possibly to ensure the readers (or themselves) knew what was being referenced to but were not included when published.