Delivered on 12 October 2013 by the author when Acting Chair, ACT Electricity and Water Corporation (ACTEW)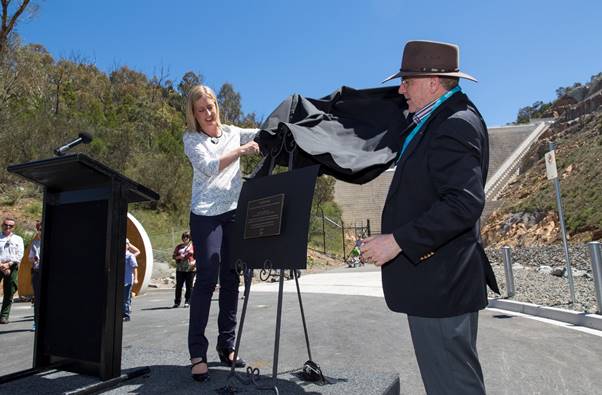 Chief Minister, Katy Gallagher, Speaker Vicki Dunne, other Assemby Members, Mayor Tim Overall, Gai Brodtman, ACT Member of the House of Representatives, Senator Gary Humphries, other MPs, distinguished guests, Chief Executive Mark Sullivan, former ACTEW Chair Jim Service, former Director Ted Mathews, Board members, fellow ACTEW workers, our alliance partners, friends.
People of Canberra:
Today we are here to do three things.
First, to celebrate the engineering accomplishment – and the people – who built this brilliant structure.
Second, to see clearly that in our evolving history, the Cotter and our water supply have been vital to securing our future.
And third, to recognise how truly significant is our achievement.
We like bravery around here in the Territory. It is part of a pattern.
You know the story. No Cotter Dam, no Canberra.
In 1908 the Senate gathered in Melbourne to decide between Canberra and Tumut as the site for the nation's capital.
Our water supply decided matters.
And we have kept on building.
The first Cotter dam that rose in 1915 finished at 18.3m.
In the late 1940s – Canberra expanding – the dam wall went higher.
A major flood in 1950 delayed the completion.
But the new dam was opened in 1951 with an extra height of 8 metres – to over 26m – and capacity of just under 4 gigalitres.
Today we can see that our new dam stands at 80 metres with a capacity of 78 gigalitres.
We are already storing 5 times more than the old dam.
What we see is a masterpiece that will continue to win awards – in engineering, in environment, and in safety.
No one recently has built a dam like this.
ACTEW Water consulted with the community and determined to meet high challenges, teamed up, formed an alliance partnership to map the journey, to share the burden, work through the risks, and deal with every problem.
Climate change and uncertainty is what we live with.
We had to act to water-proof Canberra for the future.
Our dam is a giant, new, necessary part of the sustainable network that makes up ACTEW Water.
In environmental terms, Canberra by a country mile is the biggest, most effective recycler of water in the whole of Australia.
The clear, dedicated thinking that went into the protection of native fish, many endangered, was phenomenal here. John MacKay, Michael Costello, Dr Gary Bickford and hundreds of others minutely planned and adjusted our plans to get this done.
Mark has thanked the many people who have worked on this project. He deserves praise too. Together with the Executive team, particularly Ian Carmody, who have devoted so much to ensuring the right outcome.
The story of today is that this is the triumph of Canberrans. The people of Canberra get things done. We wait for no one.
To those who built this dam, your efforts are vindicated: engineers, scientists, electricians, tradies, apprentices, subbies and labourers, a myriad of occupations and skills.
Thank you. Congratulations.
This is your dam, our dam. Today we are proud as one.
Now it is time for our Chief Minister to speak and to officially open the Cotter Dam.