Jim Service (1933-2021)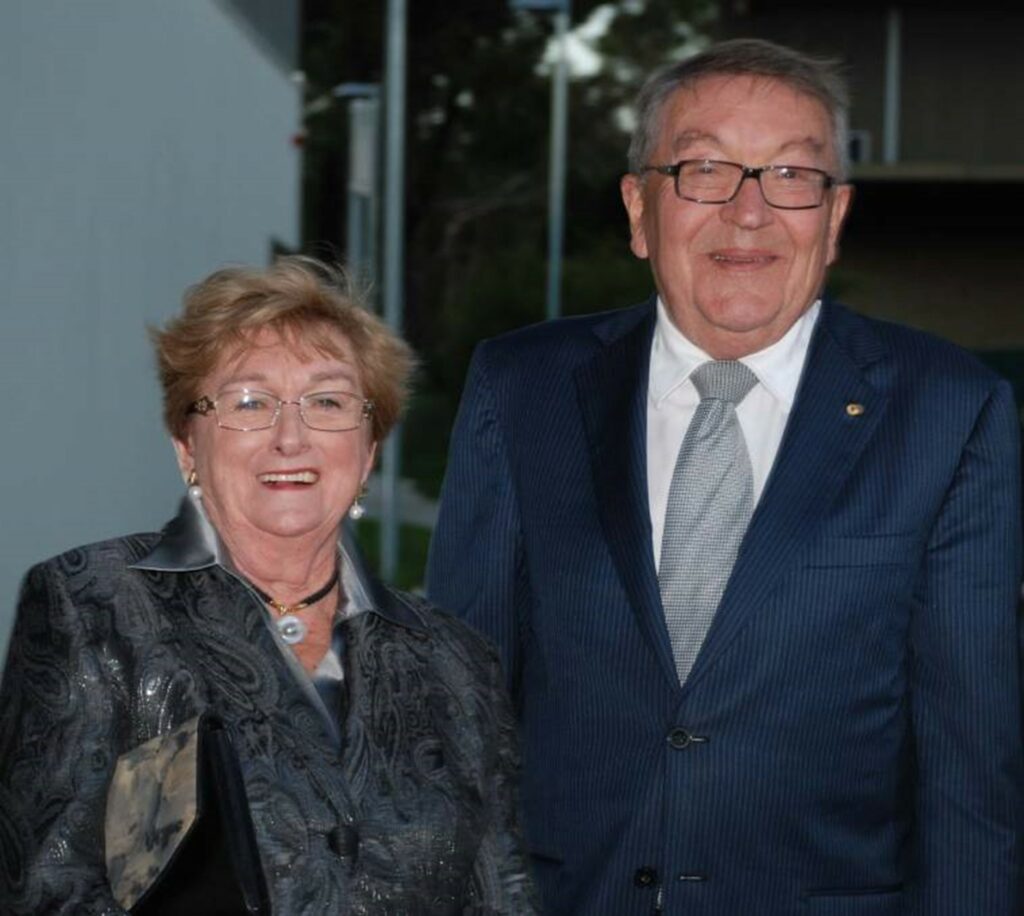 For fifty-seven years, James ("Jim") Glen Service, "Mr Canberra", banker, property expert and company director, was identified with most things commercial and cultural that happened in the national capital. Those who knew him found a tough-minded businessman, conscientious about "giving back", with a wonderful sense of the absurd.
Born on 9 February 1933, son of William Arthur (known as "Pat"), businessman, and Lesley Mary ("Doon") Service, house duties, young Jimmy spent his first four years in Fiji where his father worked for Colonial Sugar Refineries as a buyer of jute – used for sugar bags. (After he died in 1986, Pat Service's ashes were scattered off Lutoka in Fiji, complying with his last wishes.)
Though educated at Newington College (1945-49), excelling in his studies, winning a string of academic prizes, Jim was as he said: "… a wild teenager, and I loved the physical life." He worked for two years as a jackaroo at Monwonga Station, a sheep property west of Forbes in NSW, before returning to Sydney, at first at Prouds jewellery. He studied accountancy at night. On 10 September 1955, he married Dorothy Kenny and they raised three sons and one daughter, all of whom worked at different times in the family property business.
His business career followed a steady trajectory: In 1959 he became head accountant at CAGA finance company; in 1963, an executive director of the listed Canberra-based accommodation and restaurant group, Moteliers Ltd.
In 1964, Jim and Dorothy moved their young family to Canberra. He rose to Motelier's chief executive, but later quit when the company was acquired by the ill-fated Mainline building group.
Jim's impact on Canberra was the result of his relentless determination, in building, funding, imagining a modern, lively metropolis; he learnt from others, aspired to assist fledging organisations in the cultural and administrative life of his adopted city.
As the city expanded, in 1969 he formed a property consultancy and construction company with Len Goodwin (1919- 1987), builder, and Arthur Kenyon (1926-2015), who owned several pharmacies in Canberra. They developed shopping centres in Canberra, starting with Kippax Fair and Jamieson Centre, then branched out to property project management advisory across Australia and as far as Fiji and Papua New Guinea.
Jim formed his own business, JG Service Pty Ltd., itself becoming a nationwide (and global, with offices in New Zealand and UK) property advisory and project management business, responsible for many billions in property development and investment. He quipped: "I have a low boredom threshold. That's why I take on things…" – an adage that applied to many things he took on.
Both Kenyon and Service were involved in the embryonic Canberra building society movement which became a major force in Canberra's economy. Jim was deputy chair, and then Chairman of the Civic Permanent Building Society from 1984 until it was absorbed by the Civic Advance Bank in 1986, which in turn absorbed the Canberra Building Society of which Kenyon was chair, 1964-90. Jim became Chair of Advance Bank, 1992-97, thereby becoming the first Canberra businessman to head a major Australian public company.
When I first met Jim, he was seated at the head of the table at the ACT Energy and Water (ACTEW) Board. I had been warned by the ACT Chief's Minister's Departmental head, John Walker, that "Mr Service does not take fools gladly."
This was a formal meeting of the Board. I knew no one. My flight from Sydney delayed, I arrived just-in-time. I was a late appointee to the Board, attending its second meeting. He looked like a crusty conservative who had just sucked a lemon, until he spoke, contested points, looked ahead staring in thoughtful silence, saw a point of absurdity, smiled, argued, encouraged others to join in. He was always a fair Chair. If someone was quiet in a meeting, he would prod them to speak. He wanted all voices heard. He saw that better decisions come from full participation. I was incredibly impressed by the mix of will-power, wisdom, and whimsy.
In seeking unanimity, he never gave the time of day to a hazy consensus. Boards were there to guide and assist management make decisions.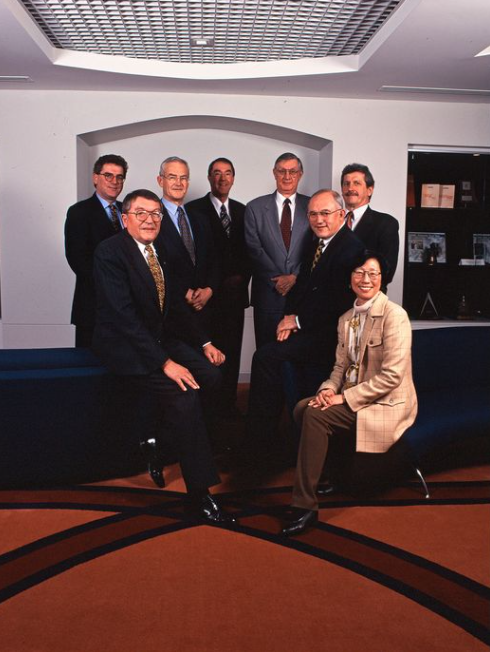 At the helm of ACTEW from 1995-2008, then the energy JV, ActewAGL, 2000-08, he picked the two exceptional CEOs of Canberra in modern times – John Mackay and Michael Costello, with the latter succeeding the former as CEO of ACTEW then of ActewAGL. A few years after the ActewAGL's formation (a private-public partnership), government coffers flushed with a $350m equalisation payment, the ACT government's share of dividends was greater than when everything was in 100% government control, with either the lowest or close to lowest utility charges of any comparable organisation in Australia, and with sky-high local brand recognition and credibility.
Jim knew, as he said at the time: "If you are going to take on something like this, then you have got to be sure that you can do it properly." A plaque at the ActewAGL House commemorates him for being "meticulous in ensuring propositions brought before ActewAGL were tested for financial and business viability."
In Who's Who, Jim listed his recreations as travel and art. Examples of his extensive patronage included Canberra Floriade and the Bundanon Trust formed in 1993 when the Australian government accepted the gift of properties (1000ha) on the Shoalhaven River, from the Australian artist Arthur Boyd and his wife Yvonne. Jim served as Chairman of the National Museum of Australia (1996-99), Chairman of the Canberra Theatre Trust (1993-95), and Chairman of the National Gallery of Australia Foundation (1994-96).
There were so many boards he participated in, patiently shaping, and providing leadership to an interesting city in-the-making: Canberra – far too many to roll-call.
He was long-time Chairman of the Salvation Army Advisory Board, patron of the Spirit of Calvary Hospital capital development campaign and supported many major charity fund-raising campaigns in Canberra.
In 1992, he observed: "They talk about Canberra being cocooned, but people in the public service and in the private sector here travel a lot. They meet people all over Australia. They are the least cocooned people in Australia. People in Sydney and Melbourne sit in their offices and think it is the centre of the universe."
"There is no reason, in this hi-tech age why American Express card-processing and similar industries could not be in Canberra, rather than Sydney and Melbourne with their high costs."
Jim foresaw the private sector and diversification potential and argued Canberrans needed to vigorously market its well-educated population, its premier research university-presence, other centres of knowledge-based industries (defence, security, scientific-expertise), cheaper processing costs for hi-tech industries, Canberra's open spaces. He had hope for the future because "young people are better than our generation. There are some ratbags, but on balance they're brighter. I'm an optimist."
In 2001 he was named Canberran of the Year by the ACT government. He publicly confessed in the Canberra Times: "I must say it has turned out about as badly as I thought it would." His argument was not about Canberrans, but rather about the expensive infrastructure of politics which he thought unjustified. Ever the realist, the task as he saw it was to make a fist of it. Arguably the development of offices, technology businesses around Canberra airport, which Jim imagined in consultation with Jim Snow is one of his premier legacies.
His leadership of the property sector extended to the national presidency of the Building Owners and Managers Association (BOMA), and its successor body, the Property Council of Australia; inaugural Chairman of the Australian Building Codes Board; and Chair of the builder, Barclay Mowlem & Co. He also served terms on the boards of Challenger, Australand, and CapitaLand (Singapore).
On building standards and revised Codes, Jim commented: "We have to get it right. We can't play ducks and drakes with people's safety". But he thought about changes introduced in the mid-1990s: "If there were an Olympics for building, this new code would be our chance to win a gold medal. The scope to propagate modern Australian design systems in Asia is huge. Many countries there are concerned about their fire standards and very willing to study an Australian model."
Jim once mentioned he sketched a speech to deliver in Australia while sitting in a garden at a Malaysian resort. When he turned his back, a monkey relieved itself on the notes. He remarked that Australian politicians treat property developers with similar undeserved disdain. He commented: "My biggest task at BOMA is to convince politicians that property investment is not some kind of speculation, but a great generator of offices, factories and shops for the community."
Jim received numerous awards including Member of the Order of Australia (AM) in 1990 for service to the community, the 2001 Centenary Medal for service in developing Australia's construction industry, and in 2004, Officer in the Order of Australia (AO) for service to business and to the community particularly through support for arts, cultural and charitable organisations. In 2012, already an Adjunct Professor of the National Institute of Governance at the University of Canberra, Jim was awarded an honorary doctorate.
In a character-sketch written nearly 30-years ago, reminiscent of today's debate, Jim observed that work is desirably social: "I could work from home, using a portable computer and fax machine, but only one day a week at most." Then, the telling point: "You need to feel the reactions. Humans are social creatures."
With Dorothy, his wife of 66 years, they enjoyed ribbing each other in case either one got too serious. Theirs was a joyous dynamic. Jim, who died earlier this month, is survived by Dorothy, their children James, Catherine, Adrian, and Robert, their partners, and seven grandchildren, and a brother David.
Due to Covid restrictions, the service at the chapel of Norwood Park Crematorium at noon on 13 October, is private, live-streamed at https://www.norwoodpark.com.au/service-streaming/.
Note on Publication:
Over a period of 20 years, Dr Michael Easson AM served on the Boards of ACTEW, ActewAGL, Barclay Mowlem, and the EG Perth Rail Link Trust with Jim Service.
Postscript (2021)
Another vision of this obituary was published under the heading 'Live-streamed service to farewell "Mr Canberra", Jim Service' in RiotAct [a Canberra local community publication and website] on 12 October 2021.