Article in edited form published online and in print in The Australian Financial Review on 22 February 2021, John Caldon dies: Macquarie banker and former Australian Rail Track chairman (afr.com)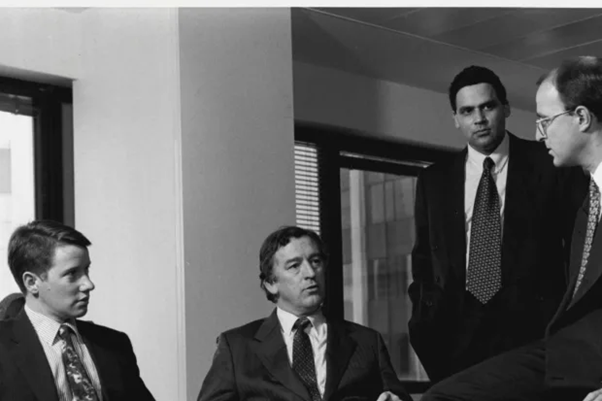 John Richard Caldon, investment banker and entrepreneur, who died of complications of lung cancer on Tuesday 16 February, arguably had the greatest impact on Australia of any Yorkshireman since Captain Cook. The potential rivals to that honour were the English cricketers Freddie Truman and Geoffrey Boycott, but with different repercussions.
Caldon helped revolutionise investment banking in Australia. The deregulation and financial innovations under Hawke and Keating in the 1980s unleashed a climate for innovation. Caldon's personality, drive, ambition, and creative approach to financial innovation made him see the potential, A founder director of Macquarie Bank in 1984, he was one of their most successful, early stars.
When he left in 1998, Caldon led project and structured finance; was head of infrastructure funds management and corporate advisory; headed relationship management for key clients and government; and was joint head of underwriting. For many, his mentoring, nurturing and inspiration set him apart.
He was widely credited with training multiple levels of talent. The latter include two future CEOs, Nicholas Moore (CEO, 2008-2018), Shemara Wikramanayake (CEO, 2018- ) as well as Michael Carapiet (Executive Chairman of Macquarie Capital and Macquarie Securities to 2011).
Caldon saw himself as a leader of a talented crew who invented the Macquarie Bank model of structured finance and financing private-public partnerships. In turn, this enabled the expansion of Macquarie across the globe, and the minting of many emulators.
A person of insatiable curiosity, he mastered detail in diverse fields, from ancient history, politics, poetry, art, philosophy, to hypothecating investment deals.
Born on 24 February 1947 in Drighlington, near Leeds in Yorkshire, he was the younger son of Harry, merchant seaman, torpedo man on various battleships and small businessman, and Grace, who trained as a nurse, later became the village midwife, cycling through the WW2 blackout to deliver babies, and later became the matron of a maternity hospital. John won a scholarship to study at the Queen Elizabeth Grammar School, an independent, public school for boys in nearby Wakefield. David Storey's 1976 Booker prize winning novel Saville described the milieu: triumph, escape, and alienation in the mix. Looking back at an alternative life the main character says: "what prospect do they have before them? A dance hall and a bottle of beer."
Caldon's brilliance enabled freedom. He won another scholarship to study Classics at St Catharine's College, Cambridge, 1965-68, and obtained a MA with highest honours. He married Pauline née Shaffrey in Dublin in 1969.
After migrating to Sydney, Australia in 1973 he joined Price Waterhouse accountants, specialising in tax, and in 1977 became its youngest partner. In typical Caldon style, he had read the entire Australian Tax Code on the ship en route. Caldon came to know the principals of Hill Samuel Australia, soon to become Macquarie. Robin Crawford, backed by the then CEO, Tony Berg, had him appointed one of the senior directors. In 1996 he was appointed Joint Deputy Managing Director under Allan Moss.
A few years later, he wanted freedom to do other things but relished the success of his old team as Macquarie globalised and its share-price soared.
As Chair of NSW Rail Services Australia, 1998-2002, Caldon helped modernise NSW rail operations. Then as Chair of the Australian Rail Track Corporation Ltd., 2009-2015, he oversaw the modernisation and revitalisation of the nation's freight rail network. He was chosen because of business acumen, intellect, entrepreneurial spirit, and knowledge of the resources industry. Tasked with the enormous challenge of the revitalisation of the nation's freight rail network, he turned the rail operations around, extended its lines of business, and improved dramatically the quality of the rail network, especially in the Hunter coal fields region of NSW. The national rail network extended its reach. He deftly negotiated finance and Commonwealth-State interfaces and help lay the basis for the inland freight rail route after completing the Sydney Port freight link and cross Sydney rail freight route. Those achievements provided the foundation for the success of the national rail freight system and delivered an enduring legacy for Australian trade.
As Chair, 1995-2006, of the Australian Council for Infrastructure Development Limited (AusCID), the peak private infrastructure organisation, he proffered industry perspectives to federal and state governments on all matters of public policy concerning private involvement in the operation and development of infrastructure.
No one from a humble mining village in Yorkshire is going to think and speak toff. He had memorable expressions: "That guy needs a rocket up his arse." "This person is really annoying; keeps calling and writing; a complete pest. We should probably hire him." "Negotiation is like poker — it's a judgment on what you have in your hand versus the other players. Very often the guy with the best hand throws in his cards."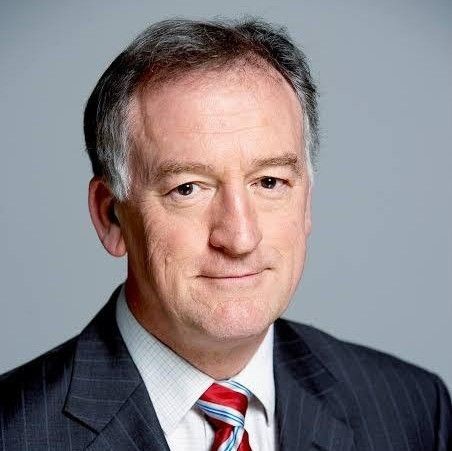 Everyone who knew him treasured: "Agreed and well done." He was a hard taskmaster but built self-esteem. Praise, be constructively insightful in feedback, and a person will do their finest, was his motto. Caldon was the epitome of hungry, humble, smart.
He knew and liked people from all walks of life. One thing many colleagues and friends experienced, including finance ministers and premiers, were explanations of the complex in discernible, easy-to-grasp terms. "I never understood this until I…" he would say in his self-deprecating manner, before a short, elegant summary and explanation.
He loved life and its absurdities, jokes, the great game of business (he was good at it), cigar box wine flavours, and his partner, media, chef, and travel personality Lyndey Milan OAM. Their New Year's Eve parties astride the eyrie on Level 18 in the Ikon building at Potts Point were legendary. They were the golden couple, beautifully completing each other.
In the last decade, he and Lyndey formed Flame Media and John concentrated on television and media development in Australia and globally, enabling many Australian shows to be produced and distributed to markets never reached before.
Arriving back in Australia with Lyndey late last March, a cough and chest infection led to the discovery of stage 4 lung cancer, though he had never smoked. The rollercoaster of numerous treatments, ups and downs, apparent miracle shrinking of disease, then its roaring re-emergence followed. His daughter, Lizzie Caldon, who heads up a Breast Cancer research unit at the Garvan Institute, translated and explained in plain English what was going on.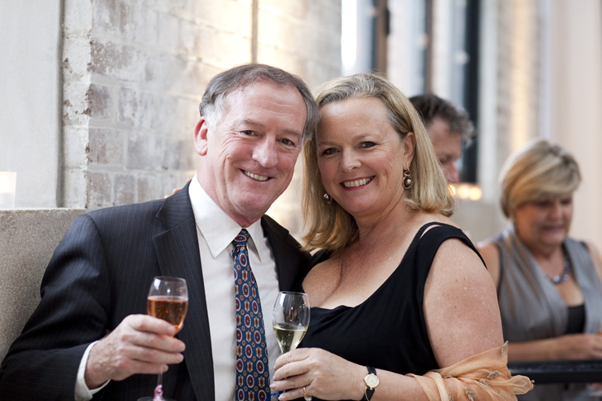 The love, dynamic feistiness of Lyndey and their deep, powerful relationship, and latterly her tireless advocacy, research and questioning of doctors, was a joy to witness. John hated anyone pitying him or being made too much a fuss of as he focused on the necessary and immediate task: gaining strength, recuperating, and getting ready with renewed strength for what comes next.
A valiant battle is now ended. His perspective on the unyielding finality of the end is spoken in the words of Yorkshire's greatest poet, Andrew Marvell:
… at my back I always hear
Time's wingèd chariot hurrying near;
And yonder all before us lie
Deserts of vast eternity.…
John Caldon is survived by his partner, Lyndey Milan, son Patrick and daughter Liz, their partners, his brother James and family, his former wife Pauline, and their grandchildren.
Postscript (2021)
I am grateful to the editor of the Australian Financial Review, Michael Stutchbury, for allowing this to be published. I asked if he would be interested in publishing something. He wrote back: "Feel free to send in the Caldon obit. I'm a soft touch for obits as they help remind us of the personal history of decades that drift away. But they need to be a bit special because we can't do one for everyone." I tried to meet that challenge. I checked some information with Lyndey Milan, Liz Caldon, and Nicholas Moore. Catherine Harding, who also knew John, helped edit the piece into shape.
The article referenced that I knew Caldon when an independent director of companies in the Macquarie Infrastructure Group from 1996 to 2007.
Additionally, I continued to know John after he left Macquarie Bank, with the formation of EMC Pty Ltd, and as friends always. He put Shane and Adam Geha and I together, and hence the formation of the EG Funds Management.
About the (longer) online version, I received emails from the four people who served as Macquarie CEOs. Tony Berg on 22 February wrote: "Michael, what a beautiful tribute to John. I did not know he had passed away. So, thank you for bringing it to my attention and bringing back memories and thoughts about John. I will try to come to the recital in his honour on Thursday." On the same day, Allan Moss: "Irene and I found your obituary for John in the AFR so thoughtful, engaging, and insightful. It is a most fitting tribute for a truly extraordinary person who contributed so much to so many and, very sadly, passed at a time when he would otherwise have continued to enjoy life and contribute to Australia in his distinctive manner for a lot of years. We feel sure that your words will be cherished by Lyndey, by John's family and by his many friends and colleagues from his multiple and diverse activities." Nicholas Moore wrote: "Well done michael." He also rang, thanking me. Shemara Wikramanayake wrote: "Agreed and well done Michael. What a beautiful obituary. Even the Great Man would have been impressed and proud I am sure."
Adam Geha wrote a powerfully thoughtful obituary in the Sydney Morning Herald: 'Original Thinker Changed Face of Investment Banking in Australia', https://www.smh.com.au/business/banking-and-finance/original-thinker-changed-face-of-investment-banking-in-australia-20210222-p574ue.html, and on Linkedin: https://www.linkedin.com/feed/update/urn:li:activity:6773178078102462465/
The Marvell quote from 'To His Coy Mistress' I had to pare down from:
Had we but world enough, and time,
This coyness, lady, were no crime.…
But at my back I always hear
Time's wingèd chariot hurrying near;
And yonder all before us lie
Deserts of vast eternity.…
The grave's a fine and private place,
But none, I think, do there embrace.…
In introducing the quote, "unyielding" was left out of the AFR edit, but I think that word expressed how John thought of life and death.
There was a magnificent commemoration in words and music of John's life at the Recital Hall on 25 February, including speeches by Lyndey Milan, John Janik, Peter O'Connell, Adam Geha, Nicholas Moore, and Patrick Caldon:
https://www.funeralvideo.com.au/private/john-caldon In an afternoon of insights, emotion, and tributes, Peter O'Connell's eulogy/roast was particularly funny, interesting, and captured the essence of the man. What a brave approach to conveying his spirit.
I mentioned to Rodney Cavalier that only a few of us would know that Gough Whitlam, via Graham Freudenberg wordsmithing, had once called union leader and ALP powerbroker John Ducker (1932-2005), who had steadfastly supported Whitlam's decade long leadership of the Australian Labor Party from 1967-1977, "the greatest Yorkshireman in Australia since Captain Cook" or something like that. As no one disputed the line then, I thought the idea worth recycling. But Cavalier disputed the cricket embellishment, writing: "In grievous error you be re Yorkshire cricketers. Restricting ourselves to twentieth century alone, Len Hutton and Ray Illingworth are far, far more significant. Both led English teams to Australia and won. They held that honour alone of post-War captains until Mike Gatting in 1987-88. Illingworth wears another superlative. Winning BACK the Ashes in Australia in 1970-71 equalled the achievement of Jardine using Bodyline in 1932-33. Fifty years have passed and not repeated. I play a third card. Harold Larwood, spearhead of the Bodyline attack, lives in the Australian imagination. One of the greatest quicks ever. Driven out by cricket politics. Immigrated here after the War. Settled in Kingsford. Accepted by Australians as the great player he was. Unprovable is that Chif paid the family's fare and the Doc secured him passage. We had great leaders once." I stand corrected.
There were few people who impressed me more than JRC.