Review of the collection by Joseph Roth in the new translation by Will Stone, On the End of the World, Hesperus Press, London (2013), published in Orbits, The Oxonian Review, Vol. 24, No. 3, February 28, 2014, http://www.oxonianreview.org/wp/joseph-roth-on-the-end-of-the-world/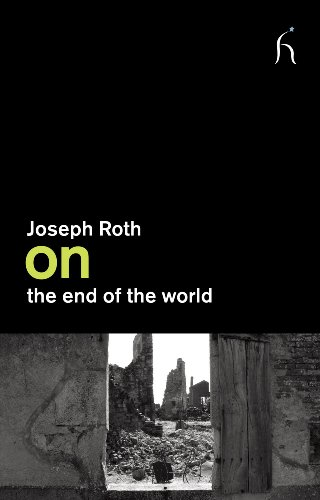 In the past few decades the writings, novels and essays of Joseph Roth (1894-1939) have undergone a renaissance. Michael Hofmann's translations have brought many of the more obscure works of the Mitteleuropa-Jewish writer to an English language audience. Roth was born and bred in Brody, a small Jewish town near Lemberg in East Galicia, then part of the Austro-Hungarian Empire. In Wandering Jew: Search for Joseph Roth (2011), Dennis Marks depicts the mystery of this complicated man – a man who went through life adopting various identities and eventually fleeing to Paris in early 1933 –who wrote in increasingly despairingly terms of the emerging Nazi horror.
Most admired for The Radetzky March (1932) – a novel alluding to Johann Strauss I's composition of the same name, and chronicles the deterioration of the Austro Hungarian Empire in the aftermath of World War I through the experiences of the Trotta family – Roth's literary reputation has slowly grown. The body of his work constitute an elegy for the cosmopolitan, tolerant, and doomed culture of Central Europe. His journalistic and occasional writings, though less well known, appear in two collections published by Granta and translated by Hofmann: What I Saw: Reports from Berlin 1920-1933 in 2003, and The White Cities: Reports from France 1925-1939 in 2005.
On The End of the World is a new collection that brings together 26 journalism essays, many written for German language émigré papers published in Paris, only three of which have been translated into English before. The book runs to just over a hundred pages and includes an excellent introduction, a chronology of Roth's life, footnotes, and biographical detail concerning Roth, which are essential to those readers new to the writer and his works. The collection of essays range from 'The Dream of a Carnival Night', an attack on the complacent reporting of Hitler's trial for this "illiterate upholsterer's" attempted putsch in Munich (Vorwärts in 1924), to diary entries from April 1939. Like much of what Roth wrote, the pieces are exceedingly sad. This collection shows that, though his fierce indignation, rapier-like wit, and sarcasm wane as time wears on, they are never completely lost.
In 'Pitiless Combat' (1933) Roth declares that talent and genius cannot escape the moral obligation to fight evil. He states in 'The Death of German Literature' (1933) that Nazism might not be the entire story of Germanic decline and hopes that, "[w]hile we wait, fortunately, there is always another Germanic people, Austria, left to safeguard the true German tradition." But this aspiration, too, would be extinguished. In 'The Inexpressible' (1938), Roth declares that, "[o]ne must write, even when one realises that the printed word can no longer improve anything." He sees that the world outside of Germany does not care: "The atrocities I know of are numerous, and what's more the confidants are legion. But to know! Who wants to know anything?" The world has become "insipid and numb, sceptical towards reports of truths and confiding in the spokesmen for lies." In another piece, Roth says that respect for national sovereignty and 'non-intervention' means "that it's forbidden for tenant Müller on the first floor to ascend to the second when tenant Meier is clubbing his child to death." (October 1934). As a writer, he is "only too aware I am writing in a desert – and that we are crying out into a desert!"
This anxiety is evident in the sometimes contradictory perspectives he offers. In his essay 'Europe Is Only Possible Without the Third Reich' (December 1934), Roth sketches out how radically alien the Nazi regime is to the Continent. In other pieces he asks whether the roots and causes of his implacable, confident, and ever more powerful enemy lay deep within German culture itself. Yet, his account (1938) of the destruction of the Parisian hotel in which he had been living might as well be about the rest of the world crumbling around him. Roth laments that "Misery crouches beside me, ever gentler and ever greater; pain drops by, becoming great and beneficent, horror blasts its way in, but doesn't scare me anymore." This theme continues in 'The Fall of Austria' (1939), where Roth says of the Austrian politician and dabbler Kurt Schuschnigg, "He never even had this country in his hands but somehow he still dropped it."
Roth's rehabilitation, from a derelict, alcoholic, impoverished yet prolific author, whose novels and writings were barely known at the time of his death, to one of the rediscovered treasures of the 20th century has been a concerted, collective achievement. On the End of the World is a continuation of this endeavour: Will Stone's translations and organisation of his material are exemplary and serve as a brilliant introduction to Roth's writings.
Postscript (2015)
Bob Carr first suggested to me The Radetzky March as a book to read. Eventually, I read a good number of Roth's books in translation. The quality of his writing is extremely mixed in quality. But it is worth the effort of discovering the authentic voice of a lost soul whose loss inspired some of the greatest literature of the last century.