Speech delivered on 14 December 2014 to certain graduates of the Australian Defence Force Academy (ADFA) of the University of NSW (UNSW).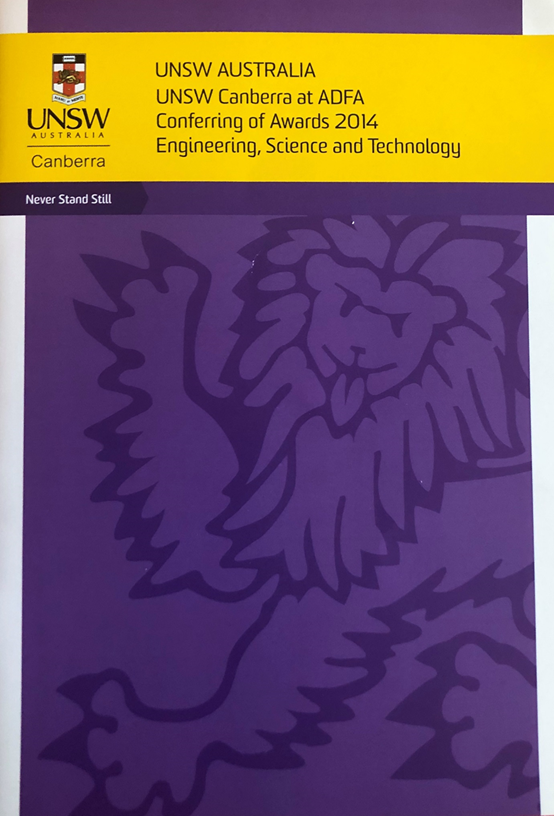 Forest Gump once said that life is life a box of chocolates. You never know what you are going to get next. Today we have a better idea. We know:
No more exams
No more assignments
No more design tutes
We'll throw our mortarboards in the air.
Free at last!
This part of our life is finished. A new Chapter turns.
But of course the learning, the curiosity, the need to excel, never ceases.
Briefly, I want to speak to three themes: a reflection on how much this country depends on your drive and ambition.
Second, a thought about friendship and the university experience.
Third, an opinion about continuously learning.
They are all related.
In thinking about what to say, I re-read Donald Horne's book The Lucky Country (1964). He taught me at UNSW Kensington. Here is a quote:
Australia is a lucky country run mainly by second-rate people who share its luck. It lives on other people's ideas, and, although its ordinary people are adaptable, most of its leaders (in all fields) so lack curiosity about the events that surround them that they are often taken by surprise. A nation more concerned with styles of life than with achievement has managed to achieve what may be the most evenly prosperous society in the world. It has done this in a social climate largely inimical to originality and the desire for excellence (except in sport) and in which there is less and less acclamation of hard work. According to the rules Australia has not deserved its good fortune.
That quote, from Chapter 10 of The Lucky Country, is under the sub-heading 'Living on our Luck'. "Luck" to Horne meant we were lucky to get away with it. Australians had succeeded more by good luck than good management. We did not deserve our luck — it just came to us, the way luck does.
I think the future is making our own luck. Which goes back to the first theme. Australia's prosperity, economically, socially, culturally, turns on the creativity of our graduates. The world is yours to make.
Second, I hope we can all feel optimistic and grateful for the experience at ADFA.
Les Murray, the great Australian poet, wrote: "We all of us have our witnesses. They are the people who knew us when we were still young and vulnerable before the shell formed over us. Their price is above rubies. We should seek them out." Hopefully the friendships formed here are life-changing and lifelong.
My final point is that it is never too late to start something new, to chat about dreams-to-action, to learn, and become more skilled.
When aluminium oxide is subjected to extreme heat and pressure under the earth's surface rubies are formed. That feels like today – the pressure of exams and the heat inside this hall!
Congratulations all, graduates, parents, friends. You too are precious beyond rubies.
Postscript (2015)
It was a sweltering hot Canberra summer's day for this graduation ceremony. The new ADFA auditorium stood incomplete and so everything was transferred to temporary quarters. Two huge garage-like doors were open in the warehouse-like venue on campus. No breeze blew through. Luckily, in the radiating blaze, I was merely robed in a dark business suit, gownless. Accompanied by music, sonorous yet threatening to break into big band play from an obviously subdued-for-the-occasion military essemble, the procession began into the Hall, as if a slow waddle of strangely costumed penguins emerged from the back to their seats on stage. Chancellor David Gonski's naturally cherubic face seemed redder as the temperature rose and his woollen vestments trapped-in the warmth. I immediately regretted lunchtime's glass of crisp, grassy sauvignon blanc. Drowsy before the fall was the fear. David welcomed everyone, sounding relaxed, joyful, in respectful celebratory voice, putting everyone – graduands, family, friends – at ease. Outside, before going in, I chatted to a recently retired professor due to be conferred with the Emeritus title. He had an outstanding reputation for inspiring the best. Searching for something to say, I asked whether the new status would mean he could re-use a university email address and log onto the library with free access to the latest online journals. Very firmly he said that he had promised himself and his wife that "once I'm gone, I'm gone". He ruminated about his love of gardening and that at his age what was the point of reading up on the latest. Was he no longer curious – or just curious about new things?
One after another, hats dipped, starch crisp degree papyrus handed over, flash after photographic flash, it felt like two hours had passed. Not a drop to drink. Sleep beckoned. One gust of dry heat blow-dried sweaty faces. A stubborn fly from the paddocks seemed over excited mistaking my face for a patch of drying cow dung. I grasped the programme, now a fan and fly swat. I remembered what the late Kim Santow (1941-2008) once told me in the mid 1990s, a few years after he was appointed as Judge on the Equity Division of the NSW Supreme Court. After lunch, fearing the disaster of drifting off during a boring barrister's peroration, he kept a sharply sharpened pencil in hand ready to stab the other, just in case he needed to startle himself fully awake.
The cavalcade dwindled. No more degrees to confer. The Chancellor was at the microphone. My turn now. I changed the opening line: "I know what you are all thinking", I said, "he had better be quick!"