Published in Poetica Magazine, Summer 2014, pp. 32-35.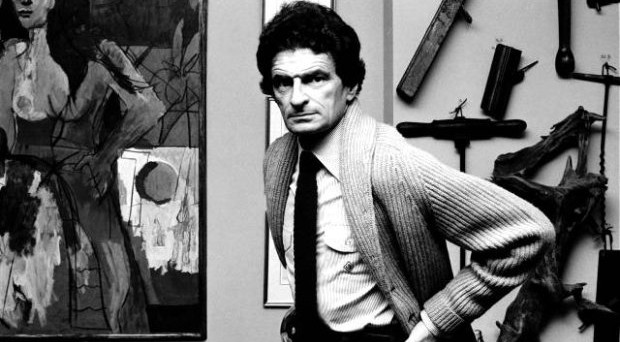 Jerzy Kosiński was the Polish name his father gave to save him
So he was forged for a new eternal existence.
He was born Józef Lewinkopf in Łódź,
A child of the Shoah.
His city annexed by the Reich one night,
Litzmannstadt became destination stop before the furnace.
At age six and sent to central Poland under false identity,
He was hidden by local families.
A baptism certificate masked his origin
And altar boy duties enabled him to blend in.
In his twenties under the communists, he escaped to the United States.
His sponsoring foundation's correspondence was hand-faked.
A new man, he studied, wrote, told tales, married and divorced.
It's clear from novels, scores of stories and notes,
That in the author's nearly sixty years –
Living reaved by insomnia, wanderings and fear,
The issues torturing Kosiński were complex and harsh.
He could not trust; a bad lesson learnt early by heart.
As a child with a professional bird-catcher, he observed
A captured bird, hand-painted in several colours;
When released, it flew in search of its kin,
But in coming upon its flock,
They saw an intruder and attacked, all joining in,
Until, pecked from the sky, the bloodied mess fell to earth.
Years later in America, he wrote The Painted Bird, a tale
About a dark-featured boy abandoned to a failing world.
Wandering through unidentified areas seeking refuge,
Amongst a series of people he experienced both kindness and fierce abuse.
Emotionally shocking, an unremittingly grotesque litany of atrocities,
The novel told a stunning story of survival, beyond expectation.
Famous and celebrated, with seventy million books sold,
Kosiński was still terrified of standing out in the cold.
He had a Peter Sellers' desire to blend into his environment.
The climate of his psyche forbade the felicity of commitment.
He was in vassalage to a curious, mysterious libido.
Every relationship he ever had he sabotaged to finito.
In 1982, twenty years after he first came to fame, the Village Voice
Scoffed that with Kosiński it was all an unwitnessed, invented hoax,
That during the War, he stayed safe with one family seeing nothing much.
George Reavey, translator and poet, claimed he was the real author
Who had turned clumsy Polish English scribbles into real literature.
'Kosiński' became a whisper word for a mere cheating survivor adventurer.
He was in a place far removed
From that early, dignified praise of Elie Wiesel
Of Kosiński as one of the greatest of Holocaust prose writers
Who, with deep sensitivity, wrote from experience about the persecuted peoples.
Instead, it was now pressed that by maintaining an aura of a chronicle,
His greatest work was bluff – a cynical, successful profit from the terrors.
The truth was that his writings and life touched greatness and heroism.
But, with editing or not, strange, cruel things crept in.
Voyeurisms and obsessions, an unnatural preoccupation with suffering,
Sexuality contaminated by a cocktail of bitter coldness.
In various strata of darkness, one weak candle lit the mind's cavities:
The surreal and allegorical were his experienced reality.
Kosiński was among us but not of us.
Although Steps and Being There won praise as masterpieces
Everything about him was re-examined.
His corpus of work re-evaluated downwards.
Who was he kidding, this forgery who never fitted in?
Debate on authorship meant that literary merit struggled for recognition.
Pals with Polanski, polo player, self-proclaimed pervert, P.E.N. patron,
And purveyor of pulp fiction, Kosiński's likes and writings challenged consistency.
Living lonelier than anyone usual, like a spirit in a dystopian dream,
His greatest novels conveyed an aesthetically believable voice.
His mental destruction concedes that, from the grave,
Those brutalising swastika bastards succeeded in fouling another life.
Ruined beyond recoverable reputation
Goaded genius of misrepresentation and misappropriation
Achievement mutated into a cliché: plagiarist
His vision of existence seemingly suspect and cryptic,
A suicide note read that he would be sleeping
Longer than usual: "Call it Eternity."
But Kosiński was no failure, even if, on closer inspection,
He was picked apart and pilloried,
Pinballed out of the game, dropped from the literary canon,
Like a bird strewn from the sky.
Co-author of his own disorder,
He is forevermore an unforgettable chronicler of ours.
Postscript (2015)
After I left my studies at Harvard in late November 1981, I asked a fellow student to nominate one book I should read for my future travels. He suggested The Painted Bird – a novel about a young child let loose in Poland during the Shoah, needing to fend for himself. Eventually I read all the novels of Kosinski, and other writings besides, that were translated into English.