Bert Evans was a prominent and influential advocate for employers in the decades that changed Australia. Published in the Sydney Morning Herald,5 April 2017, http://www.smh.com.au/comment/obituaries/employers-leader-was-a-pioneer-of-superannuation-20170405-gve56d.html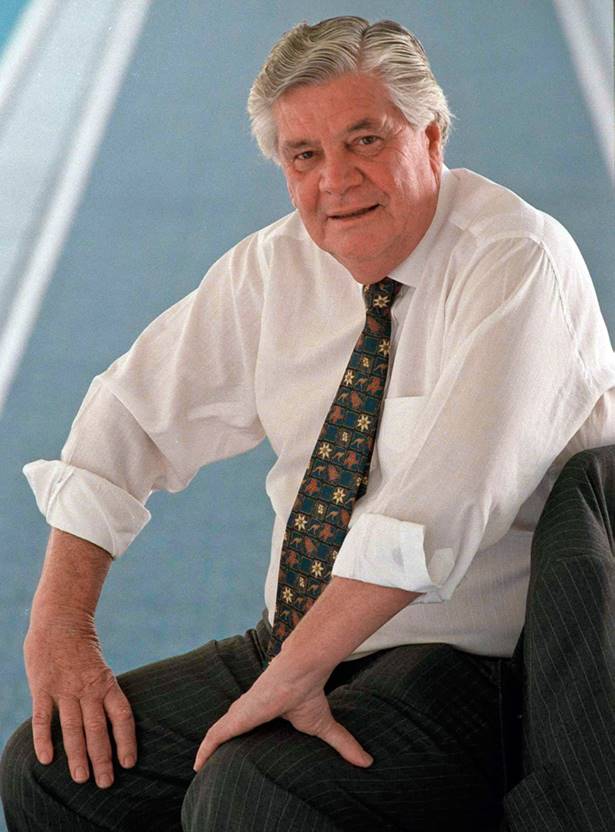 Albert Coulston ("Bert") Evans AO, employers' leader, vocational training mentor and superannuation pioneer, passed away in Sydney on February 25.
Born in Newcastle and growing up in Bankstown, Bert was the son of Eric Evans, tradesman, and Edna Mary, housekeeper. He was educated locally.
Few can validly say that their impact has been as vast, intense and effective as Bert Evans' was in the decades that changed Australia – the 1980s and 1990s; a period best described in The End of Certainty and The Longest Decade, the two seminal books by Paul Kelly and George Megalogenis respectively.
First joining the Metal Trades Industry Association (MTIA) in 1958, Evans went on to lead the association (now Australian Industry Group) from 1981 to 1996, retiring after 38 years' service. Once a household name in Sydney, the employers' version of Bob Hawke, he was known for trouble-shooting, resolving conflicts in the tough metal and civil construction industries. He was popular in the media for his pithy comments and commonsense perspective.
Evans was shocked when he first entered the world of industrial relations: "When I joined the MTIA… there was a six-month strike at Metters – a big bath plant. Six months long. This is what I was introduced to… It was mad. Beer strikes every Christmas, transport strikes, petrol strikes." He learnt to negotiate, keep his cool and sometimes thump the table. He read widely, thirsted after new ideas, debated with colleagues and opponents and longed to create a better system.
His personality helped. Seemingly, he got on well with everyone from cranky communists in the metal workshops, pragmatic steelworkers (sometimes hosing down the brutal BHP – "give 'em nothing" – outlook), shipwrights on the dockyards, workers in mega-infrastructure projects in roads and civil engineering. He ensured the MTIA and his nimble team were involved in most of the major flashpoints of industrial conflict.
His folksy, happy persona masked a steely determination to get the best result for his employer members. Sometimes this entailed using every legal avenue, including civil action, to fight back against the radical unions in some of the toughest industries in Australia.
At one time an implacable opponent of the metal workers' union (AMWU), Evans saw them mellow during the Accord period (1983-1996). With Bill Kelty, the Australian Council of Trade Unions' leader, and Laurie Carmichael, the former communist metal union leader, though initially with many reservations, he came to embrace the Hawke-Keating reforms to industrial relations and superannuation – and campaigned hard for support for favourable manufacturing industry policy, vocational training and a "helping hand" for those displaced by economic shocks.
He saw the merit of creating the Superannuation Trust of Australia (STA), which was formed in 1987 as a joint venture between the MTIA and the unions. It thereby dislodged the manufacturing unions' scheme (MUST), which was exclusively owned by the unions.
Evans pushed back on some ideas, arguing what became his mantra – "If it's in the best interest of members, then do it." He served as executive chairman of STA Super for many years, which under his watch merged with another large fund to become AustralianSuper, now the largest in Australia.
At his farewell dinner in Canberra the toast was proposed by the Prime Minister, John Howard, and seconded by the Leader of the Opposition, Kim Beazley. Mr Howard wrote of Evans that "…his career and achievements are a testimony to a remarkable man, and provide a salient example of what can be achieved with a constructive approach to industrial relations".
Evans was honoured in 1984 when he was made a Member of the Order of Australia (AM), upgraded in 1996 to Officer (AO). In 1993 the University of Sydney Senate conferred a Doctorate of Science in Economics (Honoris Causa).
He largely fashioned the MTIA into one of the most progressive organisations in the country. He was a great mentor as one of his successors, Heather Ridout, has frequently noted.
In the past 20 years, besides relaxing with fishing and golfing, Evans dedicated himself to vocational education. From 1996-2013, he was chairman of the NSW Board of Vocational Education and Training and other bodies. He received a lifetime achievement award (2013) and in the same year was appointed the first New South Wales Apprenticeships Ambassador.
In 2014, with the support of the NSW government, the Bert Evans Apprentice Scholarships were launched to assist apprentices who could demonstrate hardship in their personal circumstances and aptitude for vocational education and training. A minimum of 50 scholarships are awarded annually.
Not merely a witness to his times, he was an active participant and contributed his judgment to the economic foundations of modern Australia.
Bert Evans is survived by his wife Pauline, son Russell and their families. A daughter, Robyn, predeceased him.