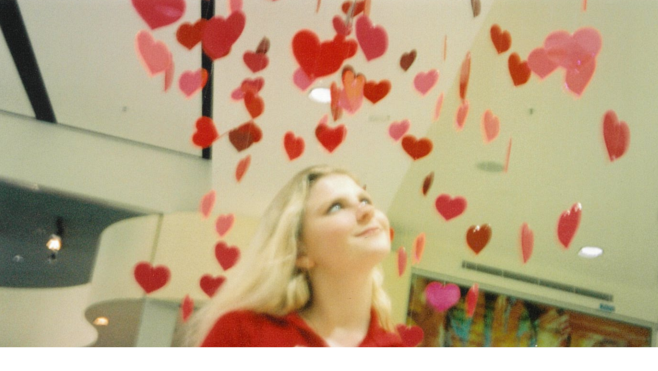 Men and women of Wonderland!
Tonight we use our imagination, travelling deep through the Looking Glass into Weasy's world: "Curiouser and curiouser!"
Look around. What you see shows off the whimsical, happy person that is Louise Alexander Mary Easson. That is LAME for short.
In Alice in Wonderland it says: "Begin at the beginning and go on till you come to the end; then stop." I will try.
Even before she was born there was trouble. Problem in the womb. She liked the symbiotic fluid too much. Overdue. No sign of coming out. Induced birth. Too comfortable and relaxed. Caesarian. Born with that smile.
What is it that is super special about her? What makes us close? What is the special bond that makes all of us want to be here?
Some of the blokes and gals like to dress up. Sure. But that spectacle cannot be the entire explanation.
I think it is because the joy in Louise's person touches us all. She is fun. We are happier. It feels good. That is Louise.
She has been closest to her mum – the best friend any daughter could have in the world. And junior sis', Amanda.
When her sister was born there were toys galore in the hospital room. Not for long. Louise cleaned up – explaining she wanted to borrow them for safekeeping.
Borrow them. Sure.
Once, holding baby sister Amanda, her mum screamed "what are you doing!!" She dropped Amanda – flat to the floor – and had that cute, innocent look: as if to say "I am doing nothing, mum."
She loved games; books, thinking in her own world, her own thoughts. As kids they invented a language and a character they called Baby monkey.
Before going to sleep she would insist on my telling Scratchy the Koala Bear stories. Once upon a time, there was this cute, furry koala, stuck on an eucalyptus tree. Then the Japanese tourists, snapping and flashing, giggling and getting excited, got closer: Holding the cuddly animal for a photo moment. Then screech-scratch! Cranky Scratchy would scratch another one.
Boy she loved that story. Again and again.
When I would get home from work, there she would be "Dad! You be Peter Pan and I'll be Wendy!"

Once we went to the Children's Hospital at Camperdown. Louise had a bad asthma attack. I brought along my imaginary toys. I needed to use my fingers: Chooky, Squirmy Wormy, the Russian ballerina with the wooden leg carrying the sub machine gun. (I was a child of the Cold War years. She went along with it). Diney, the cranky, hungry Tyrannosaurus Rex, Crabby, etc.
Then Louise grew up. She still loved to trapeze in back gardens. Insisted on doing things her way.
Once Louise rang up an animal shop and ordered one of those cute dogs she saw in a newspaper. Did not do her homework. Two Rottweilers. We cancelled. That is how we got Milo – our cute, adorable – been to hell and back – pint-size, maltese terrier, guard dog. How they loved dropping Milo out of the spare bedroom window. Over the tiles and into the waiting hands of Amanda below. Or Louise. They took turns. Caught! Was Milo traumatised!? You bet.

I am sure if there was a Dr Freud of the animal kingdom there would be a link between this and when Milo 'accidentally' tripped Louise on a walk. Milo stopped. Louise got tangled in the dog lead, fell and broke her wrist. See. It is all connected.
When the Olympics were on she wore under her blouse a medal – yellow and green ribbons and a gold medallion: Winner. She wanted to be. She is. The best.
She had a love of colours. And a delight about rainbows. Right through secondary school. You know in those boxes you annoyingly get at school? Louise did not play the game. Why should she? Where you were supposed to paint or colour in red in the red box, blue in the blue box – Louise painted rainbows. She loved multi-colours. Red and blue streaks recently in her hair are rainbowish.
Speaking of which, there is no rainbow without a storm. As some of her ex-boyfriends know. Right, anybody?
Who can forget that furious row in Saigon, that we all heard about? Scratches, punches. Screaming. It was like… the Vietnam War all over again. The Vietnamese government was concerned. Australians are the lackeys of the Americans. The Reds were thinking are the Americans trying to start something? Again?! Alexander Downer had to issue a statement. Gosh he looked ridiculous trying to look so serious. But we knew he had fishnet stockings underneath. Apparently that's a big hit with the Swedes. Or the Dutch. Nah, I think it is the New Zeelunders.
I have known Louise long enough to remember when she was shy. When she was about 13 there was a function and she went up to Mark Lennon and said: "Hi Mark, I remember you when you helped mummy in politics". Ever since, she has been able to work the room. That was a turning point.
She is an idealist, a romantic, passionate. You will hear her wail about ethical cooking. Lobsters getting a raw deal. She makes you think.
At uni, Louise, let's face it… has had a good time. Sure she loves Philosophy. But it is the University of Sydney Inner Child Society she loves most. The fun. The Healthy Harold dressing up. The sand-pit. The not-being-all-so-serious.

A few Christmases ago we caught a train from Vienna to Prague. We got off the train. I knew we were needing to find the Palace Hotel somewhere close to the City Centre. We thought it might be fun walking off into the snow, having a wander, no map in hand, the snowflakes spraying gently on our noses, not a clue where we were, where we were going, not a care in the world. She gets that from me!
Oscar Wilde once remarked that kids start off loving you unconditionally. As they get older, the most you can hope for… is that they forgive you.
Sounds like something applicable to twenty-first birthday speeches.
Louise, your day has come. Did I say 'inner child'? You have got an inner smile that radiates warmth that lights up the room. When you talk to any of us, it is genuine, you are interested.
We are glad to be here. Most of all, we are glad you're here.
Louise Easson, happy twenty-first!