Eulogy at the funeral, 5 August 2019.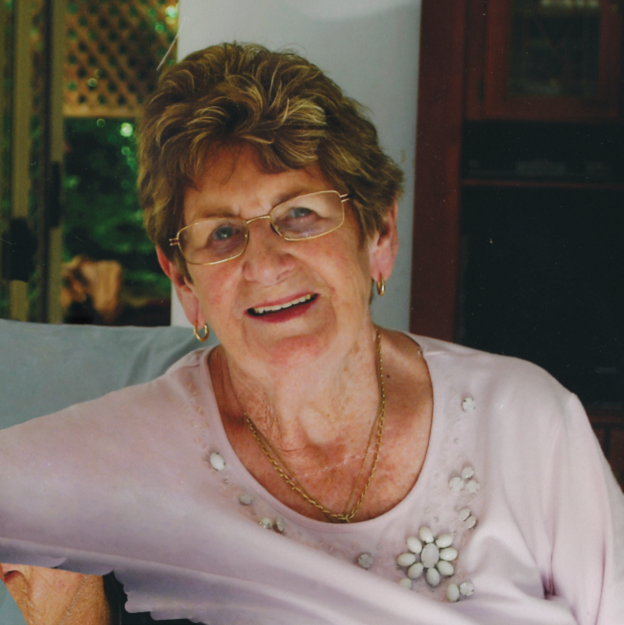 Today we not only bury mum, we celebrate her life, reflect on what she meant to each of us, we give thanks, we seek to understand.
With my brother Shane, I thank in particular our magnificent sisters, Maree and Karyn, who cared so deeply, who were mum's bedrocks, always a great comfort for mum over so many decades.
Mum was a character. She had a twinkle in her eye, a smile splashed with a touch of mischief. Her joy of life was infectious, embracing, and shared.
Over Easter, for 3 weeks, mum stayed with us at Strathfield. Pretty well every grandchild and great grandchild came over. Her visitors at her doorstep, arriving not out of a sense of duty, but because of the jubilation of being with a happy soul.
The chronology in the mass-book, and the slide show, conveys a glimpse of the person we knew.
You really know someone through their stories. So let me tell a few.
Mum, as a teenager, on skates – or was it a bicycle? – holding on to the bumper bar of a bus on Parramatta Road, speeding and waving and smiling like there was no tomorrow. Thank God she only did that once.
I think of the holidays we shared, mum's love of coconut oil and baking in the sun, beach towels, surf, and those hot chips melting into the buttered bread as we squeezed, in Laurieton, North Haven and Byron Bay.
Mum and Masterchef may not be obvious matches, as Shane alluded to, but she instilled in us an appreciation for what good cooking could be!
One night coming home from work last April mum exclaimed – "what is this amazing dish Mary cooked? You cannot believe how good it is. What is it again?"
"Mum, it's spaghetti bolognese."
Mum was remarkable and kind – except for that time my sister Maree and I ran away from home, to escape brother Shane. Also when Karyn's fishbowl – and the fish – was affected by the charitable effort of one of her siblings to turn the water a more attractive shade of blue.
We all knew mum loved us unconditionally and deeply. She hoped we would be better versions of ourselves; wanted us to strive for self-improvement.
One day she took Shane and I to learn boxing. I think I was alright. But there was this sentimental attitude about never separating the twins. So, instead, an hour into our first training exercise, the bossy authorities of the St George Police Boys Club, Hurstville, put us down for the choir. Mum claimed the credit, of course, when we later appeared on the Don Lane television show. Twice.
Another instance of mum's incredible personality was in Noumea. She was on a cruise. The railings from boat to shore were wobbly and down she went – spending 10 days in hospital in New Caledonia. Maree, Mary, Antonella, & I trecked over. There was one guy in the hospital whose son kept visiting, refilling his big coca-cola bottle every time. I mentioned to mum that it is incredible that someone in hospital would be allowed to drink so much coke.
She beckoned me to lean down and in that conspiratorial whisper explained: "It's not coke. It's rum and coke." Typical of mum to encourage us to buy the poor guy a bottle of whiskey for the next bottle re-fill.
When mum was staying recently at Strathfield, I would get up earlier than the others, and there on the dining table was mum's breakfast – a bowl of coco pops.
Frankly, I do not care what they say. When you are 88, if you want coco pops in the morning, you are entitled to coco pops in the morning.
Mum believed in God and identified as Catholic. I thank my sister Karyn for organising Father George to administer the Last Rites on that dreadful last night in Taree.
And thank you too, Fr. James, for the magnificence of your service today.
We are all specks of the divine. I truly believe mum had a few more specks than most, naturally cared for more people than is usual, exuded a warmth for others that we can only hope to emulate.
I can also hear her beckoning: "For heaven's sake, Michael. Don't make me out to be a saint. They'll never take me seriously again at the Tuncurry-Forster bowls!"
She absolutely was proud of her brood – her family, children, grand-children, great grand-children, her step-children and theirs too.
So many stories. West Tigers. I am sure there is theological authority somewhere. Her idea of Heaven was of a winning try scored by West against Manly in the dying moments of a Grand Final. Mum's love of Cadbury fruit & nut chocolates, her thinking about Labor, her love of bowls. That first visit to London, the Langham, the Sound of Music — too many tales to tell. Mum lives on in our memories. We can be inspired by her demeanour, her personality, her love.
We are returning home today. Family can be stronger than blood. As she promised her own mum, our mum will be buried with her adopted parents, who loved her so much.
Mum believed that:
"One short sleep past, we wake eternally
And death shall be no more."
We know mum is in the embrace of a loving God.
We love you mum. Thank you.