Eulogy at the funeral, 13 May 2020.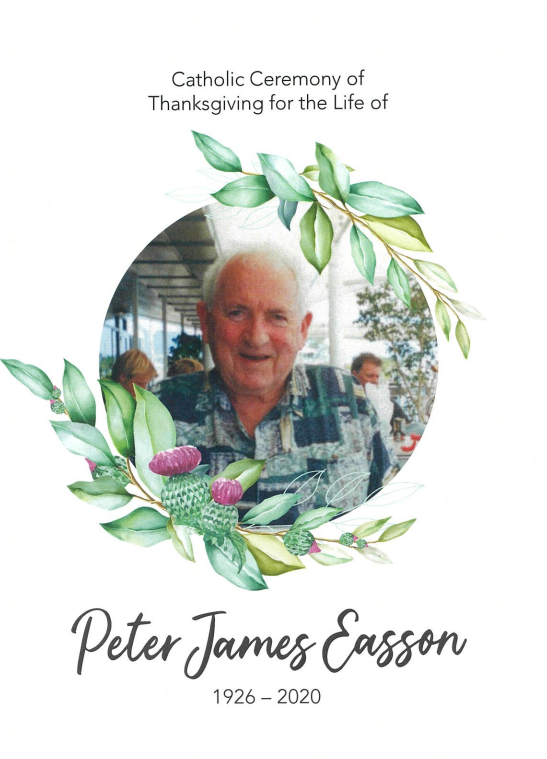 Our father, who art in heaven, was a complex man – humble, intelligent, self-deprecating (we all got our humour – the Easson wit – from him), proud of his Celtic blood (frugal, sentimental, fiery, brave.)
He came from a special family that looked out for each other – fierce bonds that never broke.
Shane, Maree, Karyn, and I are here to declare we loved him.
Born in 1926 he felt the Great Depression, bread and dripping was not a phrase, it was a memory.
Dad excelled at school, yet left early; knew religious prejudice (the Bank of NSW for Protestants, the Commonwealth Bank for Catholics); experienced War (RAAF from 1944-46); toiled for decades at the Commonwealth Bank (the "salt mine", he quipped); found love, marriage, children.
Dad worked hard, sometimes three jobs in a week, whatever he could to get ahead. The search for security, anticipating rainy days ahead, part of the psyche.
He fought for others. Uncle Ron and he helped get their younger brothers through university.
I remember happy days, laughter and playing games.
At Mavis Avenue, Peakhurst, when you went into the backyard, playing cricket or throwing a ball hit into the garden bushes, there were things to watch for. Funnel webs and trapdoor spiders – like funnelwebs but with a little trapdoor on the outside of their delicate silk webs brilliantly designed for ping ponging onto prey.
In that part of Sydney if you weren't careful a sliding door moment might hit you in the face.
Seeing them jump and the jumpy adults too is still vivid in my mind's eye.
We preferred playing indoors more than outdoors in those days. That had consequences for our sporting prowess.
Maree and Karyn constantly tell that soccer story: Dad taking Shane & I to the legendary St George Juniors football club. In my first game I scored a goal!!! Except, as dad soon explained, the rules meant it was an own goal. Right.
Dad took us to the beach. As we surfed like dolphins, paralysed dolphins sometimes, he was there to save us.
He fished with that long fishing rod poised on the shore for catching bream and flathead. Next to him we loved the north coast beaches, in the afternoons standing and swivelling and twisting on the edge of the water, seeing the pippies pop out of the sand.
I learnt from dad loyalty, telling a joke to defuse tension, doing what is right.
His stories inspired and brightened our lives.
Look after each other is at the heart of what we learnt.
Super proud of being a bank manager for 33 years, he hated the tension and the grind and retired early.
He wanted us to like what we did and cower to no one.
Six months ago, he was dancing on the floorboards at Redleaf Manor at Concord.
They took such good care of him there.
Everyone said he was charming, happy, that eye twinkle said it all. His character to the end shone through.
Dad was so loyal, he barracked for West Magpies in rugby league. He loved the game. He said that it was the greatest game of all run by drongos.
One liners were his speciality: Gough Whitlam was like Reg Gasnier playing for Dubbo United.
Dad had a hard time in parts of his life, dark moments of the soul. He usually saw the cup half full, but sometimes only saw empty.
Losing mum and all that was involved in that was a dim period in his life.
Later, he met and married Beverley. She was complex too. Sweet, loving, prone to suspicion, she was a character all right.
To his eternal credit, dad stood by her.
Why?
We knew. Sticking in good times is easy. Character is staying true when the going is tough.
Dad's devotion, terrific faith in love in good times and bad, is an Easson trait.
In the last years, close to his family in Sydney, dad wondered if he had led a good enough life.
When I was 12, Dad quoted that amazing line of Ronald Ryan before he was hanged in Melbourne: Catholicism "is a hard religion to live by but a bloody good one to die by."
He thought about the Our Father, "as we forgive those who trespass against us." When Mary took him to Mass at St Martha's at Strathfield, he loved standing for Holy Communion.
On Monday last week I sensed that the light was flickering out. I held his hand. For the first time, I wondered if he following anything at all.
I said the Lord's Prayer, and to the words "in the name of the Father, Son, and the Holy Spirit" Dad's hand moved up, down, and across.
Thank you Dad for coming home. You are loved and blessed in our memory for ever more.