On the award of the Sydney 'Peace' Prize by Premier Bob Carr to Dr Hanan Ashrawi], The Australian Jewish News, October 2003.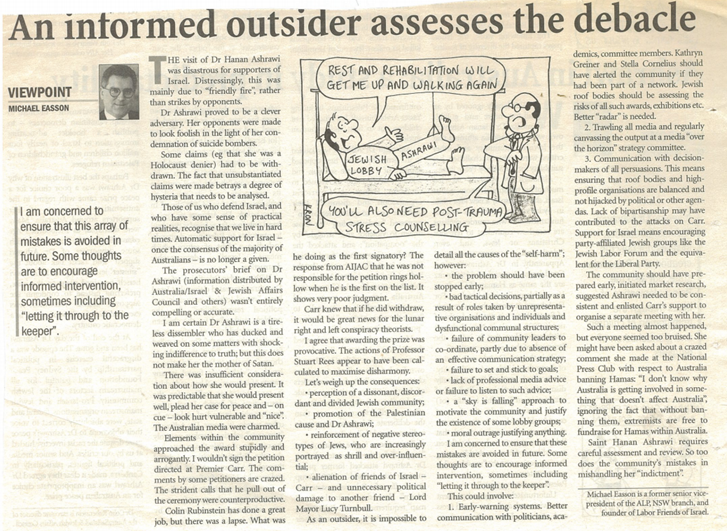 The visit of Dr Hanan Ashrawi was disastrous for supporters of Israel. Distressingly, this was mainly due to 'friendly fire' rather than strikes by opponents.
Dr Ashrawi proved to be a clever adversary. Her opponents were made to look foolish in the light of her condemnation of suicide bombers.
Some claims (e.g., that she was a Holocaust denier) had to be withdrawn. The fact that unsubstantiated claims were made betrays a degree of hysteria that needs to be analysed.
Those of us who defend Israel, and who have some sense of practical realities, recognise that we live in hard times. Automatic support for Israel, once the consensus of the majority of Australians, is no longer a given.
The prosecutors' brief on Dr Ashrawi (information distributed by Australia/Israel & Jewish Affairs Council and others) was not entirely compelling or accurate.
I am certain Dr Ashrawi is a tireless dissembler who has ducked and weaved on some matters with shocking indifference to truth; but this does not make her the mother of Satan.
There was insufficient consideration about how she would present. It was predictable that she would present well, plead her case for peace and – on cue – look hurt, vulnerable and 'nice'. The Australian media were charmed.
Elements within the community approached the award stupidly and arrogantly. I would not sign the petition directed at Premier Carr. The comments by some petitioners are crazed. The strident calls that he pull out of the ceremony were counter-productive.
Colin Rubinstein has done a great job, but there was a lapse. What was he doing as the first signatory? The response from AIJAC, that he was not responsible for the petition, rings hollow when he is the first on the list. It shows very poor judgment.
Carr knew that if he did withdraw, it would be great news for the lunar right and left conspiracy theorists.
I agree that awarding the prize was provocative. The actions of Professor Stuart Rees appear to have been calculated to maximise disharmony.
Let's weigh up the consequences:
1) perception of a dissonant, discordant and divided Jewish community;
2) promotion of the Palestinian cause and Dr Ashrawi;
3) reinforcement of negative stereotypes of Jews, who are increasingly portrayed as shrill and over-influential;
4) alienation of friends of Israel – Carr – and unnecessary political damage to another friend – Lord Mayor Lucy Turnbull.
As an outsider, it is impossible to detail all the causes of the 'self-harm'; however:
a) the problem should have been stopped early;
b) bad tactical decisions, partially as a result of roles taken by unrepresentative organisations and individuals and dysfunctional communal structures;
c) failure of community leaders to co-ordinate, partly due to absence of an effective communication strategy;
d) failure to set and stick to goals;
e) lack of professional media advice or failure to listen to such advice;
f) a 'sky is falling' approach to motivate the community and justify the existence of some lobby groups; moral outrage justifying anything.
I am concerned to ensure that these mistakes are avoided in future. Some thoughts are to encourage informed intervention, sometimes including 'letting it through to the keeper': This could involve:
1. Early-warning systems. Better communication with politicians, academics committee members. Kathryn Greiner and Stella Cornelius should have alerted the community if they had been part of a network. Jewish roof bodies should be assessing the risks of all such awards, exhibitions, etc. Better 'radar' is needed.
2. Trawling all media and regularly canvassing the output at a media 'over the horizon' strategy committee.
3. Communication with decision makers of all persuasions. This means ensuring that roof bodies and high profile organisations are balanced and not hijacked by political or other agendas. Lack of bipartisanship may have contributed to the attacks on Carr. Support for Israel means encouraging party-affiliated Jewish groups like the Jewish Labor Forum and the equivalent for the Liberal Party.
The community should have prepared early, initiated market research, suggested Ashrawi needed to be consistent and enlisted Carr's support to organise a separate meeting with her.
Such a meeting almost happened, but everyone seemed too bruised. She might have been asked about a crazed comment she made at the National Press Club with respect to Australia banning Hamas: "I don't know why Australia is getting involved in something that doesn't affect Australia", ignoring the fact that without banning them, extremists are free to fundraise for Hamas within Australia.
Saint Hanan Ashrawi requires careful assessment and review. So too does the community's mistakes in mishandling her 'indictment'.
Postscript (2015)
I drafted this and faxed it from where I was, somewhere on my travels in Australia. A little of what I wrote was added to by another hand before sending to the AJN. I did not mean to name anyone in criticism.
After I wrote this article, I received many letters from prominent members of the Jewish community aghast at the attacks on Carr and urging calm. (I wish I kept them.) I was told that the position of the NSW Jewish Board of Deputies was to let matters lie low, effectively to make the important point that Ashrawi is not as nice as she seems, but not to inflame disagreements with Carr. But elements in the community in Melbourne (it is never monolithic, 'Melbourne' is such a dynamic and varied group) thought otherwise.
It all just got too personal. In that context, Colin Rubinstein should have been warned beforehand that he would be criticised in my article. I know he was upset. My point could have been more allusive than direct. Even so, the argument was valid. It was a mistake to lead a petitioners' list and to publish this before sending the document to the person petitioned.
My main disagreement was about tactics and winning the overall battle in defence of Israel.
Bob Carr subsequently drifted and accelerated far from support of his previous positions on Israel.
I do not know to what extent the events of 2003 influenced his detachment from a sensible, coherent pro-Israel position.