16 July 1931 – 13 March 2022
Published on-line in the Sydney Morning Herald, 18th March 2022, under the heading Peter McMahon: unionist fought for better pay and conditions.
Peter McMahon, champion of garbologists – as he proudly said, local government union leader, NSW Upper House Labor politician, industrial tribunal member, historian, and community activist, had many significant achievements, including improving the lives of hundreds of thousands of employees, and recruiting Paul Keating to work as a young research officer for the Municipal Employees' Union (MEU) before the budding politician propelled himself, aged 25, into the Federal parliament in 1969.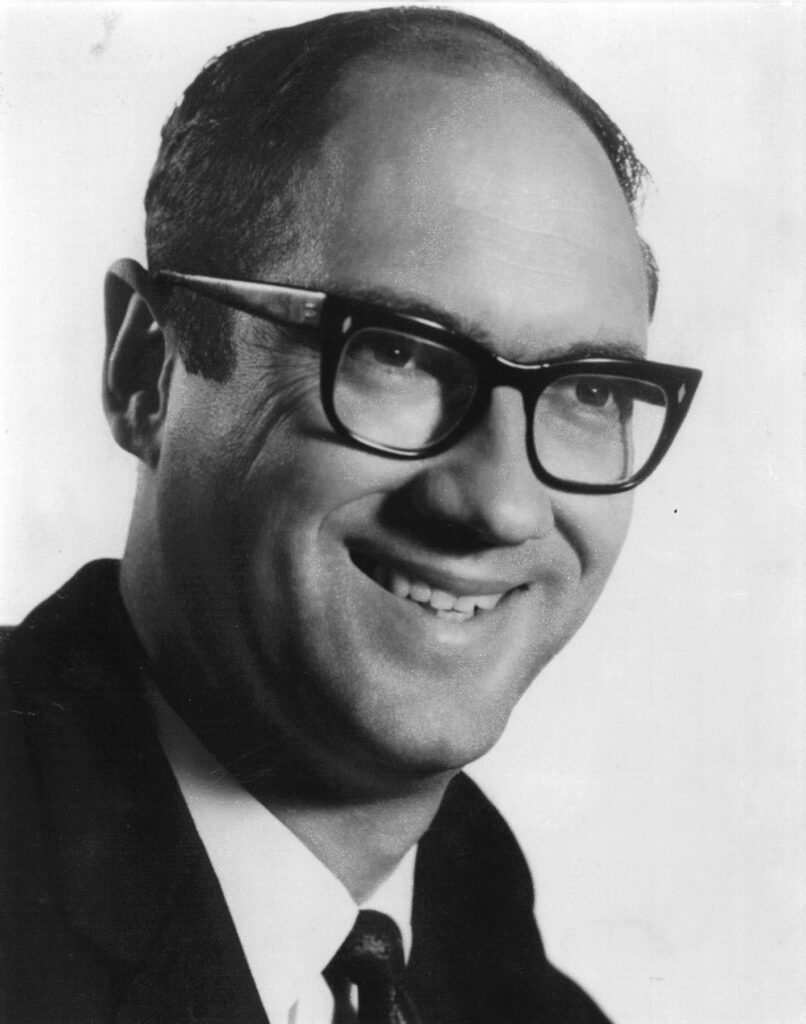 In his prime, forty years ago, McMahon cut an imposing figure, a shade over 195cm tall, a piercing gaze, seemingly permanently suntanned, with an authoritative yet melodious voice, respected as someone who stood for decent values, mindful of principles and interests in his corner, as he listened and strove to be fair.
He was born in Wagga Wagga, a bush kid, the only child of Otho Thomas McMahon, wool-classer, general store owner and, after economic wipe-out in the Great Depression, the local postmaster, and his German-born wife Ida, née Bramsdore – Anglicised from Braunsdorff, general duties. Life was a hard scrabble, though every second year, there and back by train, they had a holiday for a week at Manly, which began Peter's lifelong love of surf, sand, and what was once typical Sydney summer weather.
At ten-years of age, his father died suddenly, aged 45. There "was no pension, there was no nothing." Mum and child moved in with relatives to Mosman, Ida living off part-time domestic jobs, her son doing gardening to supplement the family's income.
As a teenager, with American GIs in town, young Pete made a few pounds on weekends at Taronga Z00, picking up strewn Coke bottles for recycling: "That really kept me at school" – at Mosman Public then North Sydney Technical High, until attaining the Leaving Certificate, youngest in the class.
Then various jobs: a telegram boy on his bike; sales assistant at Anthony Hordens department store, clerical work at Sydney Water, then from March 1948, at the Sydney County Council (they paid more with the Leaving Certificate), including regular work trips to Bunnerong Power Station, Matraville, in Sydney's east, otherwise working from the Queen Victoria Building. Precocious, practical, pragmatic, from a young age he was lucky to find mentors and friends whom he learnt from. A few years into employment, he was elected as a delegate on the committee of management of the salaried officers of the MEU. Then, in 1952, he transferred to the Electricity Commission of NSW.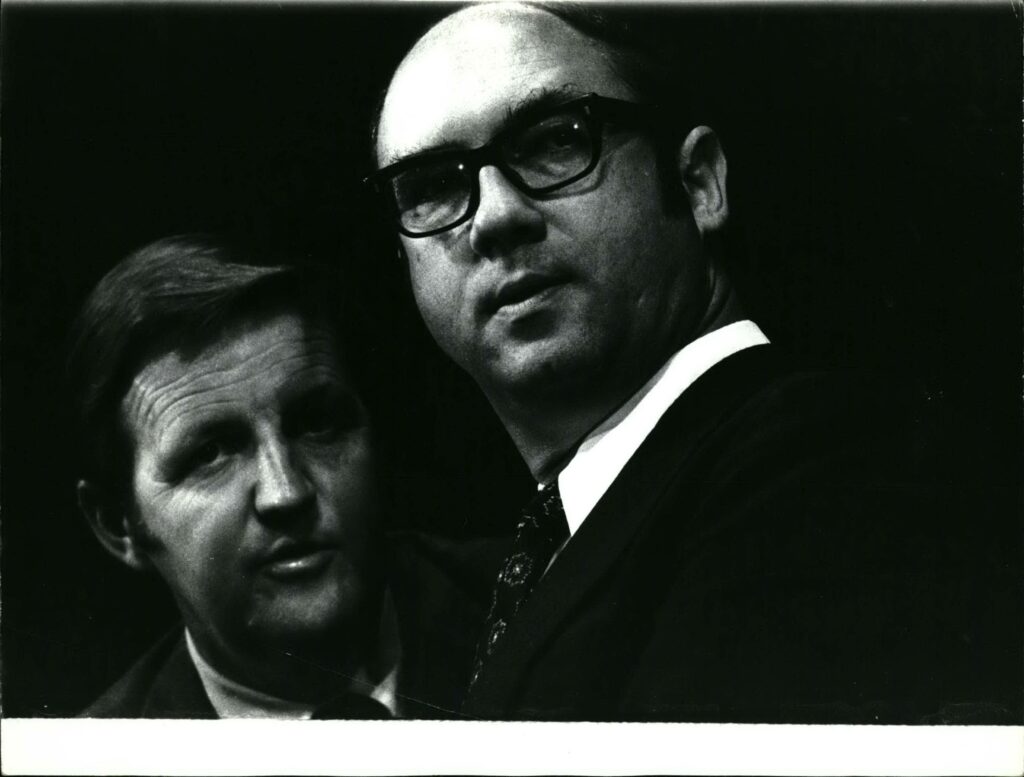 In September 1954 Reg Triggs (NSW MEU Secretary, 1949-69), hired young Peter to work full-time for him, McMahon taking a pay-cut and beginning his professional union career, becoming Assistant Secretary in 1963, elected NSW Secretary 1969-82, and national President 1977-82. Additionally, from 1949-54, he was in the Citizen Military Forces, as a sergeant in the 7th Field Regiment, Willoughby No. 2.
From the start, McMahon's experience and knowledge straddled the wide variety of MEU-covered jobs. The union represented local council garbagemen, clerical officers, meter readers, work gangs in regional NSW. He began to understand their issues and needs, from gumboots and wet weather gear to workers' compensation, the rules for working in the rain, training, and skills development.
In 1954, McMahon joined the ALP, beginning a lifetime's membership, eventually serving on the NSW branch's Administrative Committee, 1973-82. He was seen as moderate, non-ideological, someone who could address a mass meeting, ably present a case before a Conciliation Commissioner, always with a view to achieving a positive result.
On 1 June 1957, he married Wendy, née Langford, moving to Caringbah, then Burraneer Bay, and they had three children, Martyn, Verona, and Gregory.
Jim Kenny (1906-67; Secretary of the Labor Council of NSW, 1950-67) tried to recruit him, but McMahon preferred the MEU.
McMahon, when Assistant, then Secretary, recruited talent. He saw a potential successor in Paul Keating, but told Triggs: "don't expect to see much of me." He had an eye on knocking off the local MP in a preselection in Blaxland.
Appointed by Labor as a member of the NSW Legislative Council, 1973-81, McMahon forcefully entered debates on local government, industrial issues, workers' compensation, local government superannuation, local government boundaries, and other matters essentially in the interests of unionists. In his first speech in August 1973, he urged the government to fix "inadequate superannuation."
On his retirement from the Legislative Council, Labor Leader the Hon. Paul Landa praised McMahon as "…genial and good natured." The Deputy Leader of the Opposition, the Hon. R.B. Rowland Smith called McMahon "large in stature and in character."
With the Hilton bombing in February 1978, with three garbos killed and a truck-driver severely injured, the union won support from Prime Minister Malcolm Fraser for public compensation, and the MEU appeal fund-raised $150,000, distributed to the widows and children.
He took ill after an overseas trip in 1981, catching hepatitis, which left him debilitated, taking months away from the union, gradually resigning most positions, including as President of the Labor Council of NSW (1975-81), and eventually the union. Then he was appointed as a Deputy President of the NSW Industrial Commission, 1982-92.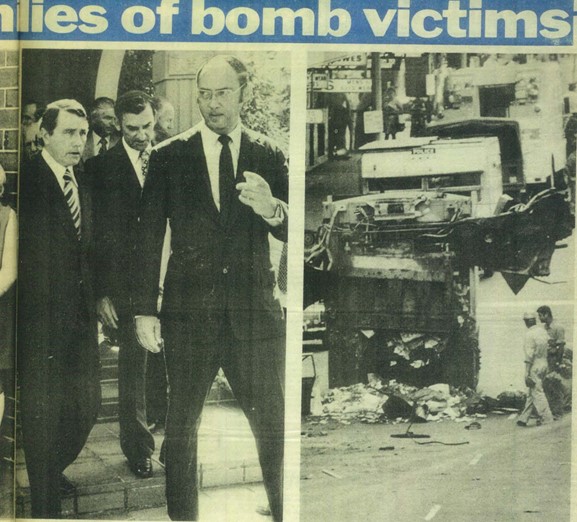 He played a big role modernising the MEU, professionalising the organisation and its administration, buying a building in Clarence Street, supporting the formation of credit unions throughout NSW (serving as a director of several building societies, 1968-82), campaigning for improvement in superannuation entitlements, joining the Local Government Superannuation Board, 1976-82, and enabling appeals to the industrial tribunals on wrongful re-instatement matters in local government (instead of at the discretion of Inspectors appointed by the Department of Local Government.)
He served on the NSW TAFE Council, 1974-82; as a member of the Festival of Sydney Committee 1978-93, the Sydney Legacy Committee 1981-84, and many others. The keen sports-lover was an active member of the Sydney Cricket and Sports Ground Trust, 1978-90. In 1982 he was honoured as a Member of Order of Australia (AM) for services to trade unionism and the community.
In retirement, besides deepening his recreational interests in boating, swimming, reading, fishing, and music (Wendy and he loved jazz and went to festivals across NSW), he also wrote United. A History of the NSW Branch of the MEU, 1903 to 2003. McMahon said the incremental slog of improving wages and conditions, equal pay for women (one of, if not the first union to vary all its awards to do so), helping to create a dedicated 'super fund' for the industry, improved the lives of many.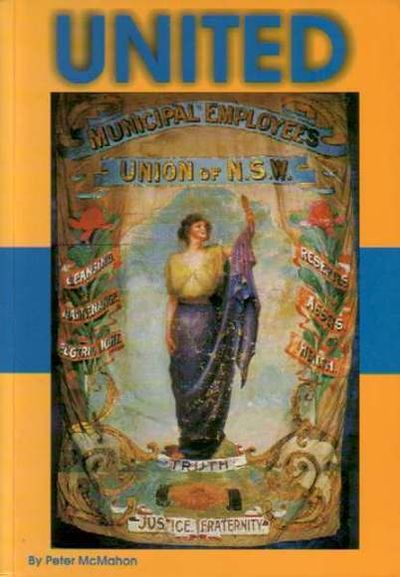 Local government, the portfolio and the union covering its employees, was especially important in the state of NSW. Before emasculation and hiving of responsibility to other portfolios from the Wran era onwards, the Department covered electricity distribution via county councils and what passed then for planning, including the County of Cumberland Plan, including promotion of a Sydney green belt. Local Government was a senior portfolio in Cabinet. When it mattered most, McMahon played an important role and made a difference.
He is survived by his children, Wendy pre-deceasing him in 2015, and his grandchildren Naomi, Brendan, Watson, Fiona, Caitlin, and Isolde, and his great grandchildren Huxley, Corbin, Tanner, Ella, and Louis.
(2022) Postscript
In early 1978, Peter McMahon along with John Ducker interviewed me for my role at the Labor Council of NSW. Besides liking the man, I owed him.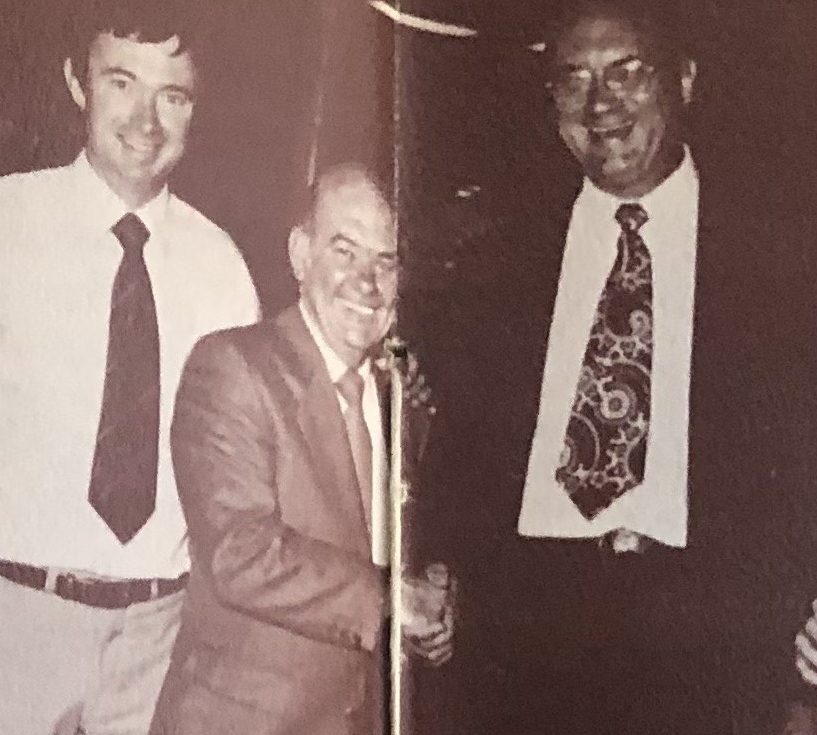 His funeral was at St Aloysius of Gonzaga Catholic Church, 18 Giddings Ave, Cronulla.