Review of Geoff Lindsay and Wayne Hudson, editors, Australian Jurists and Christianity, The Federation Press, 2021, Australian Catholic Historical Society Journal, Vol. 42, 2021, pp. 152-155.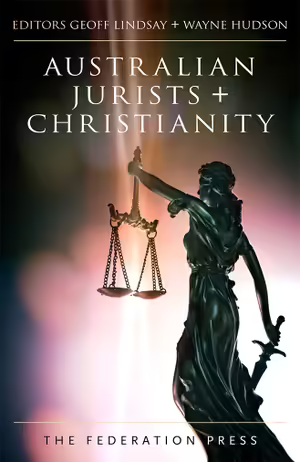 This is a collection of 24 essays on jurists, politicians, and related others, who made a mark on Australian history and whose Christian faith in and/or reaction to Christian ideas made an interesting impact. The book is bookended by two theoretical pieces by the editors, 'Spirit in the Temporal' and 'Rethinking "Religion" and "Law" in Australia'.
One in a series of books sponsored by the Center for the Study of Law and Religion at Emory University (in Atlanta, Georgia), the editors say: "The object of the volume is to illustrate, by a series of biographical essays, the influence of Christianity on the development of Australian law and society." The editors, Lindsay and Hudson, observe that many of the most substantive changes in Australian law (Federation, Harvester, the Australia Acts, Mabo) were "…shaped by forms of conscience influenced by Christianity." This fact stands in contrast to exaggeration of the secular in characterising Australian society.
The editors are alert to different forms of Christian thinking: for example, "…Catholics conceiving of the saeculum in terms of the application of Christian principles to temporal affairs, Calvinists holding that the secular realm was under the sovereignty of God, and civic Protestants insisting that church and state should work together to promote a marriage of law and morality in a nation under God." How this is so, an essential, neglected part of understanding the Australian story.
Like all editors seeking to cover a wide field, they rely on the bibliophile's defence concerning the content of their library: most was deliberately procured, some became available and looked interesting, some items remain because nothing better showed up. What is missing are the contributions sought but never found or completed. The editors say: "…an endeavour has been made to have representatives of a variety of interests, and traditions, by reference to geography, denominational affiliation, gender and race." They leave out jurist and former ALP leader Herbert Vere Evatt, confident that Christianity left only a faint imprint. But this is highly debateable. More accurate might be that no one good enough wrote "his" chapter. Charles Bean, Australia's World War I war historian, trained as a barrister, might well have been one to make the cut if there was cloth to choose from.
Two chapters discuss several colonial Governors of NSW, Lachlan Macquarie (Marie Bashir) and Richard Bourke (Roy Williams). Bashir thinks Macquarie brought to his tasks "a Christian sense of civil and social duty." Being Governor of a penal colony, while seeking to apply Christian principles of justice, was challenging. Earl Bathurst, Secretary for the Colonies, fulminated that "ill-considered compassion for convicts in the humanitarian policies of Governor Lachlan Macquarie should be reported." Another great governor, Governor Bourke, imperilled by opposition at home and in London, applied a Whig and liberal Anglican conception of British colonialism. His efforts to fund denominal schools and institutions sprang from his sense of justice, powered by his Irish origins. A thinker in the tradition of Irish Protestantism, ironically his closest allies in the colony were liberals and Catholics.
Colonial Secretary James Stephen (Stephen & Robert Tong), who from London had a major impact on immigration, law, and the administration of the colonies, did so harbouring a humane, evangelical Christian outlook. John Hubert Plunkett (John Kennedy McLaughlin), NSW Attorney General and ally of Bourke, was arguably the most significant Catholic layman in colonial times, who tried to apply the law fairly, mindful of the suspicions of many of his contemporaries.
Of those who participated in the Constitutional Conventions that led to the formation of Australia in 1901, Samuel Griffith (Simon Chapple), Henry Bournes Higgins (Stuart Macintyre), Alfred Deakin (Steph Free) are covered. It is hard to disagree with the assessment that "Deakin's spiritual life was rich and eclectic."
The first elected female MP, and former magistrate, Edith Cowan (Tony Cunneen), is discussed in the context that she "reflected the wider social spirit of her times", hinting that the times were a-changing
Besides James Stephen, the other foreign resident with a full chapter is the Welsh-identifying, Queensland-born British jurist Lord Atkin (Peter Applegarth), who had an enormous, though gradual influence on the development of the Australian law of negligence and injury compensation. In a beautifully written account, Atkin is cited in one judgment as declaring: "When these ghosts of the past stand in the path of justice clanking their medieval chains the proper course for the judge is to pass through them undeterred." Applegarth concludes: "The parable of the Good Samaritan influenced his life. One of his greatest legacies was to deploy the parable so that "the neighbour principle" became a moral foundation of modern law."
Of former Australian Prime Ministers besides Deakin, Robert Menzies (Anne Henderson) and Gough Whitlam (James McComish) are covered. Menzies' view that democracy depended on the "character of its individual men and women" turns on his Presbyterian and wider Protestant appreciation that character maketh the man. For this book, Whitlam is a more difficult man to assess. Conveying ambiguity and uncertainty, "Whitlam had a serious lifelong engagement with Christian belief", McComish says. In similar vein, this champion of state-aid to denominational schools who, with Menzies solved the conflicts that Governor Bourke tried to mend more than a century before, is summed up: "… it [is] misleading and incomplete to say that [Whitlam's] achievements were unconnected with the law, or unconnected with the Christian tradition; particularly in its more even-tempered and sceptical Anglican forms." Perhaps it is the wrestling with belief and agnosticism, and the forging of respect and appreciation of rival traditions, that can also maketh the man.
Of High Court judges, most of them Chief Justices, Victor Windeyer (Carol Webster), Ronald Wilson (Mandy Tibbey), Francis Gerard Brennan (Patrick Keyer), William Patrick Deane (Arthur Emmett), Murray Gleeson (Michael Pelly) and Michael Kirby (Nicolas Kirby) are covered. For many, the tension between belief, respect for precedent and tradition, and the application of justice, stood in uneasy tension. The discussion on Brennan and Deane is particularly useful. The Kirby chapter by his nephew is informative and moving – a discussion of a man trying to live his life according to Christian ideals yet pilloried for his sexuality. On Brennan, the argument is that his judgments reflected the influence of Christian principles, "although the notion that he would have allowed his religious beliefs to influence his judgment is something that he would have regarded as unthinkable." On Deane, it is said: "His judgments on the High Court were never swayed by explicit theological principles." The reader is left to wonder whether these cautious assessments respond to the still-fresh reservations about confessional Catholics on the bench.
Of state Supreme Court judges, Victoria's George Higginbotham (Marion Maddox) is evaluated – a paradoxical man; South Australia's Roma Mitchell (Susan Magarey) and later SA Governor is discussed with reference to her eschewing active politics and not mentioning her role in assisting in the drafting of Labour and the Constitution, the 1950 NSW Fabian Society pamphlet; Tasmania's Andrew Inglis Clark (Richard Ely) is discussed as unjustly neglected; and NSW's John Hatzistergos (Jenny Sorras) is evaluated as a conservative Labor "reformer" (a past Attorney-General) and judge.
Legal academic Professor Robin Sharwood (Rowena Armstrong) of Melbourne Law School, a man of "many guises", legal scholar and active Anglican layman, had huge influence in the teaching of law. Another interesting inclusion is for Christopher Gregory Weerantry (Esther Li Ean Khoo), the Catholic Sri Lankan-born and raised former law professor and jurist who joined the Monash law faculty in the early 1970s.
Another compelling chapter concerns Eddie Mabo (Kevin Smith), whose plea for Aboriginal land rights and the disregarding of the doctrine of terra nullius, that the land belonged to "no one" and belonged to the Crown, was one of the defining legal issues decided by Brennan et. al.
As with any book of high-quality essays, the editors deserve praise not only for their selection, but also for their editing to ensure that consistent formatting and quality is achieved.
The summation chapter draws insights from the preceding biographies, suggests new lines of enquiry, and offers a fresh perspective. Perhaps for those who know the issues and Australian history in-depth, Christianity refers to a variety of quarrelsome denominations. Clearly, though, for most Australian jurists and politicians, at the very least, Christianity was the light in the room, which implies "a morally decent approach to life and the administration of temporal affairs." This suggests, the editors say: "…the importance of a quiet Christianity in Australia, not least among the Indigenous, and to a common commitment to a modest form of sacred secularity in practical life." In presenting their case for that proposition the editors succeed admirably.