Published in The Tocsin, newsletter of the John Curtin Research Centre, No. 4, March 2018, pp. 30-31, https://www.curtinrc.org/publications.
Andrew Casey (25 March 1953-1 February 2018), refugee, journalist, unionist, trusted political adviser and strategist, community activist, was born Andris Katona (or Katona Andris, as Hungarians would say) in Budapest to Holocaust survivors, Istvan Katona, born 29 June 1924, and Agota Katona (née Halmi) 2 January 1925.
Full of energy, a prolific blogger, writer and twitter pioneer, he lived his values to his sudden, unexpected end, dying of a heart attack on a Sydney street.
He believed in the intertwined principles of Judaism, the labour movement and social justice. This most impressed about Andrew.
His impact was immense – as indicated by a wide spectrum of tributes in the press, union and social gatherings, and social media. His history is revelatory of a life furiously lived.
On his death, Jeremy Spinak, President of the NSW Jewish Board of Deputies, spoke of Andrew's ceaseless pursuit of tikkun olam – the Jewish concept of the duty to seek out social justice, to repair the world. This tribute addresses that impact – and its tributary source, the family legacy and the centrality of Judaism.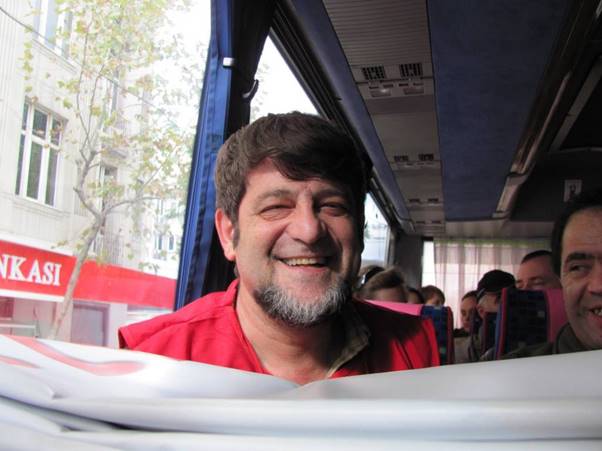 Radicalised as a young man, then believing in an independent version of Marxism, Casey worked as a boilermaker's assistant at the then Cockatoo Island Dockyard in Sydney Harbour. It was not an ideal place for an anti-Vietnam War peace activist repairing warships and submarines. At aged 17 he joined the ALP. He later studied journalism at what is now Charles Sturt University in Bathurst. He was awarded a prestigious cadetship to Sydney Morning Herald in the late 1970s, working in the Press Room in the Labor Council of NSW building in Sussex Street, Sydney, under the mentorship of Keith Martin, the fiercely independent industrial relations editor. Andrew learnt to be careful in checking facts and strive for fairness in capturing the truth.
He was moved around the Fairfax media empire, serving in various capacities including stints successively in industrial relations, education, international affairs (based in London), and as a roving, general political reporter. In January 1980 in Sydney he married the brilliant lawyer, later tribunal member, Agnes Borsody (1950-2011), who at aged 6 came to Australia with her family, as Jewish refugees from Hungary, and they had two children.
In 1988 he was employed by ACTU Secretary Bill Kelty as ACTU inaugural media officer. He worked closely with successive ACTU presidents Simon Crean and Martin Ferguson. He left to become press secretary to then Deputy Prime Minister, Brian Howe, later working full-time for Martin Ferguson, MP, then in communications positions for prominent unions, the Liquor Hospitality and Miscellaneous Workers Union (now United Voice), the Construction Forestry, Mining and Energy Union (CFMEU), the Australian Workers' Union (AWU) and the Australian Nursing Federation.
A pioneer of the use of new technology in journalism, Casey was one of the first to embrace online campaigning. When working at the online publication LabourStart, the global news portal he co-founded, Casey triggered one of the first big Australian email campaigns for cleaners on behalf of the United Voice NSW Branch against the Hilton Hotel in Sydney.
Although supposedly retired, in recent years he prolifically contributed to online reporting for international labour networks.
His work laid the foundations for the Australian union movement's strong online campaigning culture. Current ACTU secretary Sally McManus singled out Casey's roles in such campaigns.
Quoted in The Australian, former AWU national secretary Paul Howes lamented: "He was one of the most hardworking, tenacious, loveable and even at times frustrating people in my team when I was AWU National Secretary. I will miss… his wacky adventures and his unique characteristics that made him the man that I and so many others loved."
On his Twitter page Casey stated a motto: "Solidarity, decency, equality. Values informed by Yid background. Salaam/Shalom. I support Israel AND Palestine".
This is a clue to his world outlook, including his personal story.
At the essence was his commitment to passionate beliefs – the religion and best traditions of his forebears.
Key to understanding Andrew is his origins. After the restoration of hard-line communist control in 1956 Hungary, as a young child aged 3, thanks to people smugglers, with his parents, the family escaped.
His family came to Australia poor and as refugees.
Traumatised by the Nazi and then communist rule, the family settled in Sydney, as far away from the cauldron that had been Europe. His paternal grandfather had changed the family name Cohen to Katona, a popular Hungarian surname that means "soldier", during a period in the early 20th century when many Jews "Hungarianized" their family names. Now in Australia, they became Casey – surname of poets, Irish balladeers, freedom fighters, and a doctor in a popular American television show screened in Australia in the early 1960s from which the family borrowed the surname – a name, ironically, derived from the Irish Gaelic, meaning vigilant or watchful, as well you would want to be coming from their background.
During the war, in Hungary Andrew's mother born into an assimilated Budapest Jewish family, hastily converted to the Hungarian Reform (Calvinist) Church, along with thousands of other Jews, following rumours that converts might elude the looming disaster. It of course made no difference and she ended up on a death march to the concentration camps from which she was able to escape and survive the war in hiding. After the war, when she married Andrew's father, a Jewish concentration camp survivor, she insisted that he also convert so that perhaps their descendants would never suffer as they had. When they arrived in Sydney they officially declared their religion as Church of England, but they never hid their Jewish background or their history as Shoah survivors.
Andrew from a very early age developed a lifetime's interest in Judaism, and a curiosity as to why people believe in certain precepts, and empathising with people who feared and opposed authoritarianism, bullying, and intolerance. Casey came to shun ideological purity, sought alliances and friendships with varying strands of opinion across the broad left and beyond. In his heart he knew it takes all sorts to build a winning coalition. Casey became a great supporter of Rabbi Zalman Kastel's Together for Humanity organisation, and its important outreach in finding common understanding between Muslims, Jews, Christians, peoples of Aboriginal heritage, and other strands of opinion, origins, and belief.
Casey understood his parents, fearful of all they had gone through, being protective of their kids (another son was also born in Hungary and was 8 months old when they fled), believing that they should fully assimilate. In some ways, Andrew's fascination with heritage led his whole family to embrace their true origins.
Over the years, Casey was a delight to debate issues with and discuss personalities in the labour movement. He had a divining rod for detecting bull-shitters and fakes. Although he was a critic of Netanyahu's Israel, it pained him that minority sections of his beloved Australian labour movement were open to the BDS movement. He did more than anyone in Sydney to link the unions, the ALP and the Jewish community to embrace common causes, including anti-racism and anti-discrimination legislation.
We engaged in countless discussions on Jewish issues, Israel, and the labour tradition. He felt that he had particular useful perspective, coming from Hungary. The Dohány Street Synagogue in Pest was the largest in Europe, where a distinct Jewish outlook, known as the Neológ school, flourished – which is closest to the Conservative tradition in the United States – standing between the Orthodox and Reform allegiance. Over many years, I learnt a lot about this perspective, the disputes in the community, Talmudic traditions, and I linked up with some of his contacts globally.
After the 2014 NSW ALP Conference he urged me to write for J-wire something critical of the simplistic Bob Carr-line on Israel and Palestine, which I did, and he re-posted the piece far and wide.
We had a common, partial deafness, ageing parents, and much to talk about. I did not agree with him on everything. He was more left wing on some matters. But we could argue dispassionately mostly, passionately sometimes, and he would almost always enlighten you with an insight, a suggestion about something to read, an idea for mobilising opinion. In seeking unity across various strands of persuasion, he was never lazily appealing to a weak compromise. Conviction and principle were his motifs.
Like all of us he had his blind spots, moments of crankiness, foibles. But what a man! He is survived by his son, Daniel, daughter, Hannah, brother, John, and grandchildren Anna and Elsa. His ex-wife pre-deceased him in June 2011, dying a few months after divorce. His parents passed on in 2014 (mother) and 2015 (father).
---
Note on Publication:
Michael Easson first met Andrew Casey when they both worked out of the Labor Council of NSW Building at 377 Sussex Street, Sydney, in the late 1970s.
Postscript (2018)
A shorter version of this article appeared in The Australian Jewish News, 9 March 2018, p. 28.