Published in The Sydney Morning Herald, 14 August 2017.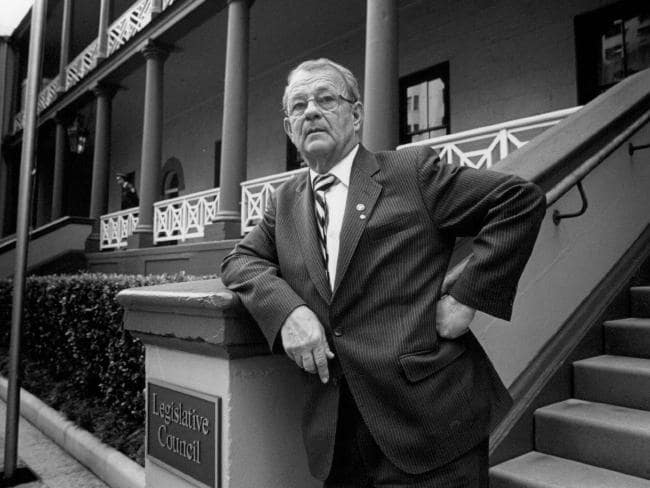 John ("Johno') Richard Johnson, shop assistant, union leader, politician, raffler of puddings, chocolates, Melbourne Cup sweeps – anything for a quid for the ALP – passed last Wednesday morning from a world which had long failed to understand him.
It is astonishing to reflect that with Johno's passing another cedar has fallen where there was once a forest. His death reveals a great and multi-faceted mass of interests and passions.
Papal knight and ALP life member, the man was tribal – fiercely loyal to a brand of politics only found in the old NSW ALP, and universal – one of the Catholic Church's most public champions in Australia, tough and tender, jokey and serious, concentrated energy in support of great causes.
Born in 1930 in Murwillumbah to Ellen ("Nellie"), housewife, and Harry Johnson, quarantine officer on the Queensland and NSW border, illness with tetanus meant that he started formal education two years late at the local Mt St Patricks school. Nine months into secondary education he quit to work after his father died suddenly; like most poor kids from the bush he held odd jobs, working as a railway clerk, then as a shop assistant.
Aged 13 he handed out how-to-votes in the 1943 federal elections (for John Curtin), joined the ALP at 15 and furiously became involved in Young Labor. He was full time in the union movement from 1962 (the same year he married Pauline Christina, née Russell), rising to NSW assistant secretary of the Shop Assistants', leaving to become a full-time member of the NSW Legislative Council from 1976 to 2001, 13 years as president, where he discarded wig and gown.
He went through the ALP split of the mid 1950s and agonised that everything he held dear was within a whisker of being extinguished. A proud anti-communist and positive Catholic Laborite, he believed the Church's social justice teachings were completely compatible with and enabled social democracy.
Like many deeply involved protagonists, he saw that in the ferocious struggle for survival against the resurgent Left, there was a sapping of idealism, and policy thinking in the Labor movement. Manning Clark called the wilderness years for Labor, 1949 to 1972, "the years of unleavened bread".
The men and women of Johnson's generation kept the faith, sometimes dumped hard against the rocks of fate. They sought allies and safe harbour with people like Gough Whitlam and Neville Wran – two men that could never be said to be of the NSW Right, but were critically empowered by being part of the coalition that is the Labor Party.
Johnson supported kindred spirits John Ducker (NSW ALP president from 1970 to 1979) and Barrie Unsworth, leaders of the union movement when they represented a big majority of the workforce, with the Labor Council of NSW a powerful and respected force.
In his fiery maiden speech in 1976, Johnson thanked Ducker and Unsworth, nuns and teachers, family, and attacked the killing of unborn children by modern Herods (a reference to the biblical story of King Herod's execution of young children in Bethlehem).
In his seeking out new talent he did as much as any person in NSW Labor's history to build and to strengthen its character. In his farewell speech in the Parliament in 2001, he said: "Unless we nurture the young, unless we pass on the heritage, our political parties will die and our political institutions will die. I hold certain principles, and I hold them very strongly." He liked to say "keep the faith – both of them", religious and secular.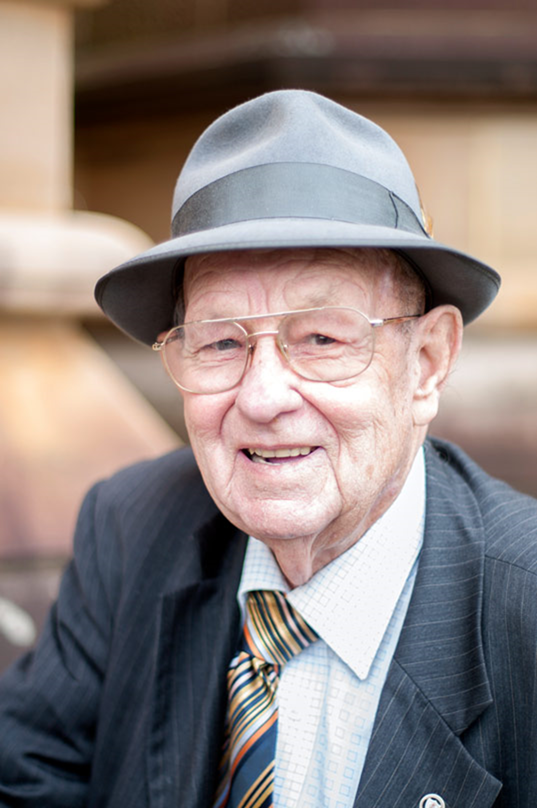 Christian-inspired, he also saw in many distant from his beliefs a sympathetic outlook. Orthodox, he was far from a straight-laced, churchy dogmatist. He sought friends in unlikely places. His kindnesses were legendary. The truth is that everything went hand in hand. Keating referred to him as "a true prince of the Labor movement". NSW Opposition Leader Luke Foley said: "More than anyone I know, Johno personified the tradition within the Labor Party of fidelity to Catholic social thinking". Keating in his comments seems to acknowledge some things have changed in saying: "John was part of a generation of believers. We can only trust the essence, commitment and intensity of those beliefs can stand as an example to another generation committed to social ideals and public virtue." Which is to say you do not have to believe in everything Johno did to see the merit of moderation and support for the underdog – that he saw as the essence of Labor.
At one farewell after Johnson's retirement there were plenty of speeches, bonhomie and friendly jibes. Neville Wran looked around the room, surveyed the faces – Labor stalwarts, bishops, religious leaders and family and friends – expecting praise. He began: "I can't think of a single thing Johno and I agree on" and proceeded to express deep-felt thanks for his courage, his convictions, his arresting presence.
Whitlam, too, was in the audience that night. Johnson and he exchanged yearly birthday greetings. In Corinth, Gough wrote his Letter to the Corinthians, Johnson told his audience. "Mate, you are getting old; not only do you deserve a state funeral, you deserve a send-off from the best spot in Sydney". "Where, comrade?", Gough supposedly responded. Johnson replied: "All you need to do is to convert and I reckon you could get buried in the crypt of St Mary's!" "How much would that cost, comrade?" "Not sure. Ring this number tomorrow at the Cathedral". The next day, a call came through. The Cardinal was interrupted by a priest saying "there's some bloke on the line asking how much is it to be buried in the crypt." "I don't know", the Archbishop of Sydney supposedly responded. "Tell him it's a hundred thousand". The message was duly passed through."A hundred thousand!" I only need the thing for three days!" Gough exploded. This was the first time that oft-repeated tale was told.
When he retired, Johno promised no book. "I want to keep my mates!"
Earlier in 1997, on the passing of Mother Teresa, Johnson moved a condolence motion in the NSW Parliament citing her business card which read: The fruit of silence is prayer; The fruit of prayer is faith; The fruit of faith is love; The fruit of love is service; The fruit of service is peace.
Now after a life of service and tireless endeavour, he rests in peace. He is survived by his wife of 55 years, Pauline, their chosen children Andrew, Michael, Monica and Naomi, and their many grandchildren, all with whom he shared a keen interest in fishing, gardening, reading and cricket. His state funeral is at Sydney's St Marys Cathedral from 10.30am on Friday, August 18.
Postscript (2017)
The online version of this obituary had a wordier title, "John ('Johno') Richard Johnson, Stalwart of the Labor Party, Gave a Life of Service."
I prefer the heading as published in the printed version and reproduced here.
Getting this obituary published turned out to be more difficult than anticipated. The acting obituary editor at the Sydney Morning Herald (post the glorious era of Harriet Veitch as editor) did not think it worthy of notice; plus there were space restrictions. (It is getting hard to get published in this section of the paper.) Indeed, Johno's death went unreported in the news pages of the SMH until the day this was published. I tried every contact I could including Peter FitzSimons, ex reporters, and the then NSW Leader of the Opposition, Luke Foley – who rang the editor saying it was a disgrace nothing had been written and specifically pleaded for what I had submitted.
The quotes from Keating came from an article in a rival newspaper – namely, Troy Bramston, "Farewell to Labor 'prince' John 'Johno' Johnson", The Australian, 9 August 2017. I should have acknowledged the source. (I was too timid, thinking that the SMH would not allow referencing of a rival stable's reporting.)
I added what was deleted in the published version, towards the end above, the phrase "their chosen children", a phrase used by Johno in his first speech to the parliament, referring to Pauline's and his adopted kids. He was so proud of them.
In his superb eulogy at the Requiem Mass for Johno at St Mary's Cathedral, Archbishop Anthony Fisher said: "Others will speak of his life in the labour movement and the party, as an MP and as President of the Legislative Council, and in his so-called retirement when he continued to haunt Trades Hall and the Polding Centre, promoting his many causes, even when moving was painful and required two sticks. But in all these matters Johno was a true believer: not in the sense of a zealot, but in the sense of a decent man with deep commitments, a man who practised what he preached with energy and compassion, a man 'tough and tender, jokey and serious'" – those last words, as he acknowledged, from my obituary.
Subsequently, I engaged in a correspondence with Kathryn Barton, one of Johno's nieces. This is below:
Kathryn Barton to Michael Easson
From: Kathryn Barton <katebarton@…>

Hello Michael,
I'm a journalist and also one of Johno's many nieces. Your obituary for my uncle was just extraordinary. Beautiful. And was talked about among the family on Friday. Now, a favour. I'm writing an article for the Catholic Weekly, deadline Monday morning. Aunty P was speaking fondly of you, so I hoping there's something you might have liked included in your story that didn't make it to print that you could share. And, if you would like to comment on Johno as a family man, that would be wonderful. I think that's the last story angle left on Johno, bless him. I felt the family were a little lost in it all yesterday, and I left St Mary's gobsmacked at his unflinching humility and humanity, so I'm compiling a yarn through plenty of anecdotes. If you'd like to contribute, yay! Please contact me asap your earliest. Thanks. Kathryn
Michael Easson to Kathryn Barton
Kathryn,
Greetings from Dallas, where I've just landed.
Forgive my ramble before I get a connecting flight.
Sorry I didn't get to speak to your grandmum after the service. I was midway in the Cathedral, therefore a queue ahead of me, and I had to host a lunch for Tony Abbott straight after.
Your granddad and I both tried many years ago to recruit Tony for the ALP.
There is an article in 1981 or 1982 in the Catholic Weekly where Tony was interviewed by Gary Scarrabelotti, then Deputy Editor, where he said he felt more drawn to Labor than the other side. But that was back then.
Johno told me when he was at Prince of Wales that Tony would never have been treated by the ALP (if he had of joined) like his colleagues had treated him in the Liberal Party.
But given our recent history in the ALP, we cannot be too confident about that.
(Johno, I know, thought that getting rid of Morris Iemma and Kevin Rudd were black days for the ALP).
When Mary (my wife) and I visited Johno after his fall we gave him a 'hand crucifix' — something similar to the below, but more user friendly.
Mary wanted Johno to have something both practical and religious for the days ahead.
We knew his vast reservoir of courage would be required – being mostly bedridden and all that.
Earlier, Mary had held on to that blessed object as she battled a serious illness in 2009.
It had previously belonged to Marion Scarrabelotti, Gary's wife, who had passed from cancer that year. Gary wanted Mary to hold on to a tangible symbol of hope and faith.
I am glad you and the family liked what I wrote in the SMH. I had a battle to get it published. Luke Foley rang the editor to ask that they do the right thing.
I resisted as much as I could the proposed editorial changes.
Just one of significance slipped my notice. At the end with the reference to Johno's and Pauline's children, I referred to them as their "chosen children", a lovely phrase which Archbishop Fisher used too, and was first used in Johno's Maiden Speech (as they used to call them; now the first speech of a MP) in the Legislative Council.
All I remember is that Johno loved his family, was proud that he and Pauline rescued and gave inspiration to kids who needed love.
My mum was adopted and I am grateful to God that the Church encouraged birth rather than abortion, and in those days searched for good homes for those in orphanages.
It is not easy for the adoptee parents or the kids as they grow up wondering about circumstances of their birth.
I cannot know the interior lives of your parent and her siblings but I feel certain that with compassion, love and bravery Pauline and Johno would have helped them all to understand.
Which leaves me to say that without Pauline there would have been no Johno. His ability to serve Church and party, to dedicate his life to family and his faiths would be impossible without her.
Johno wasn't a saint. He admitted mistakes, sometimes regretted he had gossiped some party intrigue, but he was mostly circumspect, a person always trying to do the right thing.
We all make mistakes. I am not sure if he were a saint that he could relate to so many.
Johno for the rest of us was a favourite uncle, scolding sometimes, loving always, wanting to see our best selves. He wanted to see that in himself too and I sense that as he got on in years, he got better and better at being a good man.
Hope that assists.
Thanks,
Michael
Michael Easson to Kathryn Barton
I am now on board my connecting flight.
Whoops I rushed my response. Sorry. I see you are a niece. But all my comments, of course, stand. Thanks.
Michael
Kathryn Barton to Michael Easson
Dear Michael
Thanks so very much for your email. I will make sure Aunty Pauline knows you and Mary (I think she called your wife Louise when we were talking about your obituary…) were mid-way down the cathedral. That wasn't right. You should have been up the front!
Actually let me tell you a funny thing. My brother, Gerard Breen, had trouble being admitted to the cathedral as he wasn't on the 'close family' list. He wasn't on the list because he wasn't sure he could make it. (He's ANSTO's boss of nuclear and mechanical engineering, with 62 engineers in his team.). He was being grilled at the door as the usher ran a finger down the list. "Ah, Peter Breen! Here you are." Gerard said, "Yes, that's me." Peter, of course, as I told Gez later, is an MP.
I know the more user-friendly wooden cross, as we wrapped Dad's fingers around one of those while he was dying and did the same when he was laid out. Beautiful.
If you have your original story, minus the SMH's editing, I'd be very happy if you could share that with me, too. I'm so glad you and Luke Foley intervened as your yarn is THE one spoken about. So well done.
With best wishes, Michael.
Kathryn.
Michael Easson to Kathryn Barton
From: Michael Easson
Sent: Sunday, 20 August 2017 9:11 AM
To: Kathryn Barton
Subject: Re: Johno
I have a daughter Louise who was overseas on Friday and another, Amanda, who was there on Friday.
In the end, with the SMH piece, the only change was the deletion of "chosen". There were other changes that I kept getting put back in.
Incidentally I also asked Peter FitzSimons to help get the article published, even though he is not Catholic or sympathetic; but I thought he would see that something deserved to be published.
I wrote to him:
"Johno Johnson was one of life's characters, a distinctive Sydney identity, much loved across the Labor Party.
"So much so that Barrie Unsworth last Wednesday went unannounced to the Premier's office at Parliament House and asked that Johno get a State funeral. He spoke to the Chief of Staff: "I'm entitled to one. Can he have mine?", he insisted.
"Later in the day as he was cooling his heels in Luke Foley's office, Premier Gladys Berejiklian, to her great credit, rang Barrie to say the Government had agreed to the request.
"Johno was a poor kid from Murwillumbah who became President of the NSW Legislative Council, the first to discard wig and gown.
"For various reasons the State funeral is this coming Friday morning.
"So far not a word on Johno's passing in the SMH. Passing strange."
The journalist I was trying to persuade that I had written a worthy obituary told me what I had written wasn't much good and was "a missed opportunity" to say something interesting.
That's why I got the big guns out to get published.
Much relieved that it read ok to the family.
I look forward to reading the Catholic Weekly when I am back.
Many thanks,
Michael