Modified transcript of a speech given to an ALP history symposium, held in the Auditorium, Trades Hall, Sydney, 3 June 2017.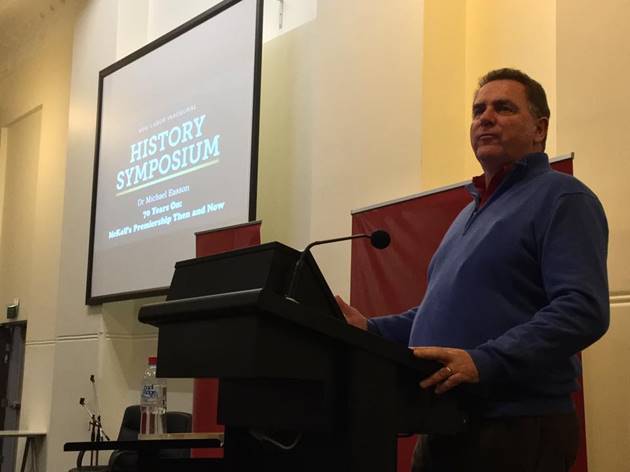 Introduction: John Faulkner:
I cannot give you an update on the lunch I'm afraid. I've just been told to keep going. I can assure you however that if when I ran for General Secretary of the Labor party in 1983, if I'd been victorious, you'd all have a three-course meal! [Audience laughter]
Friends, friends, if you believe that, you'd believe anything. But friends, our next speaker Michael Easson is also someone who's had a lifelong interest and involvement in Labor history and he was Secretary of the New South Wales Labor Council from 1989 to 1994 and after he left the Labor Council has had a very successful business career. He of course is speaking today on Premier William McKell, 'Seventy Years Later: McKell's Premiership Then and Now'. Michael has edited a book on McKell with contributions from I think the most eminent Labor historians in the nation. He himself, Michael, probably not so well known is a person who has a magnificent commitment I think to ensuring the records of the labour movement and its archives are maintained and cherished and has made a great personal commitment to that. So please welcome, Michael Easson. [Audience applause]
Michael Easson:
Thank you very much John and congratulations to the Labor Party in New South Wales for wanting to celebrate our history at this conference. Today I would like to talk about McKell. The title might seem a little odd, 'Seventy Years Later: McKell's Premiership Then and Now', but I want to call attention to the kind of recognition and assessment of McKell over the period since he ceased to be premier seventy years ago in 1947. This year is also the hundredth anniversary of when in 1917 he first became the member for Redfern in the NSW parliament.
McKell is an interesting character for many reasons. One of them is due to the comment attributed to Howard Macmillan at the end of his prime ministership. He was supposedly asked the question: "What were the most significant things that happened in the period that you were in politics?" and supposedly – I am now not sure this is an accurate quote, but it is so good you wish it was said – he responded: "Events, dear boy! Events!" The unpredictability of what happens in public life and political life, sometimes the lively consequences of the unexpected, personalities and their peculiarities, luck, the happenstances of history, are always relevant to any assessment of a political career. In many ways this point is relevant to McKell.
He was born in Pambula, in Bega Valley Shire on the far south coast of New South Wales, in the very year the Labor Party was formed, in 1891. He and his mother, Martha, moved to Redfern in Sydney. His father, Robert Pollock McKell, deserted the family and moved to Kalgoorlie. McKell lived in poverty; his mother worked as a seamstress, and he left school at the age of thirteen. McKell brightly performed at school; he learned some Latin, but he had to go to work, sought out a trade, and was indentured as a boilermaker's assistant at Mort's Dock in Balmain. On weekends he played sports. He was brought up as an Anglican and attended Sunday School at St Paul's, Redfern, where he first James McGowen (1855-1922). He felt that the conditions and the treatment of the young apprentices were appalling. The company wanted to increase the period of indenture from 5 to 6 years. Mother and son moved to Balmain and eventually young McKell became radicalised in the union, the Federated Society of Boilermakers & Iron Shipbuilders of Australia, becoming active in what was called its Industrial section. He sometimes attended the weekly meetings of the Labor Council of NSW; he enrolled in classes run by the Workers' Educational Association. McKell was never a member of the International Workers of the World (IWW), but he was sympathetic to the idea that society desperately needed improvement, and that radical reform was the answer. He despised the system that oppressed him. He might have become a significant union official but for the advent of the ALP split of 1916/17 when so many people in the Labor Party who supported the war effort, and conscription for WWI, left the party. McKell sought pre-selection for Redfern, won, and in 1917 defeated the former Labor premier James McGowen who had first won the seat in 1891 and, from 1910-13 was the first NSW Labor Premier, and widely respected. 
To become a member of parliament, McKell needed to bring down a 'big beast' in the arena of NSW politics, a mentor, friend to the family, and a former Labor legend. It is interesting to look back to his "maiden speech," as they were once called. A member of parliament's first speech is usually heard in respectful silence. But in his case, McKell was interrupted thirteen or fourteen times by different members of the opposition annoyed by his challenges to them on different points of honour associated with the labour movement. This indicated McKell's temperament to go on the front foot. The temper of debate also signalled the constant conservative refrain that Labor was unsafe on security and unpatriotic. McKell was having none of this. Emotions ran high. Holman had hoped to hold Redfern; McKell won with two thirds of the vote; he presented as an annoying upstart. McKell said of McGowen, "I have remained true to what he taught me and I intend to remain true."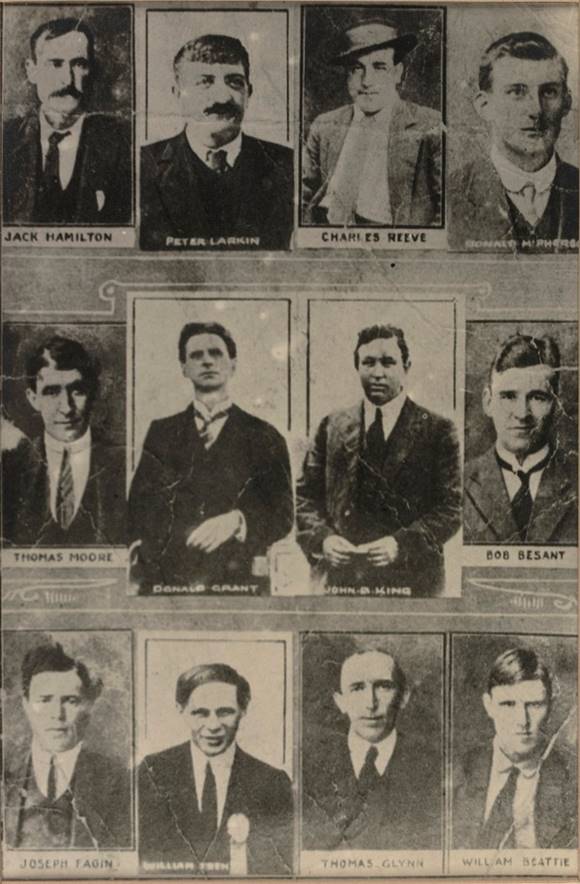 McKell argued that the "Sydney 12", the IWW people arrested on 23 September 1916 and imprisoned thereafter, charged with conspiracy to torch Sydney and for treason under the Crimes Act 1900 (NSW) deserved to have their trial reviewed. They were convicted in the hysteria of the times. Three years later, McKell got his chance as a minister in a Labor government to redress the errors in the convictions of the 12. He contested sectarianism. As a Protestant in a party where nearly all the defections were by non-Catholics, McKell was a counterweight to the claim that Papists had captured the party. McKell attacked William Holman, the NSW Premier, for calling a snap election, and seeking to disenfranchise people by not having them on the roll before the March 1917 election. He was feisty, proud of his Labor roots, combative. For a 25-year-old, McKell was confident in the way that he dealt with the cut and thrust of parliamentary debate. He entered parliament as a thoughtful radical. He quickly adapted to the NSW Labor tradition of seeking political, industrial, and economic reform through the parliament. To civilise capitalism was – and is – the mission of the movement.
With the defeat of Holman at the NSW state election in 1920, the Premier losing his seat in that election – the first held under the multi-member by single transferable vote (Hare Clark) system – McKell moved up the ranks to become a minister, supported by the ex-boilermaker, the pragmatic "practical socialist" Premier John Storey (1869-1921; NSW Premier, 1920-21). Storey campaigned for child endowment, the electrification of the Sydney metropolitan rail network, the completion of the city underground railway, and an end to the bitterness of recent politics. McKell was the last person elected to the ministry in a ballot of Labor MPs and he was appointed Minister for Justice. An interesting ministerial appointment in that administration was that of Greg McGirr (1879-1949) as Minister for Motherhood, as well as Minister for Public Health! The minister had 9 children. Storey, in common with McKell, had worked at Mort's Dock & Engineering Co. Ltd. where his political instinct was also aroused by the dangerous working conditions there. Storey's period in office, however, was short. He died in office of kidney disease and was premier for only a year and 175 days, replaced by James Thomas Dooley (1877-1950; NSW Premier, 1921-22), who was defeated in the April 1922 elections.
McKell studied the law to better equip himself and in 1925, the same year of his admission to the NSW Bar, he became Minister for Justice again in the first government of Jack Lang (1876-1975; NSW Premier, 1925-27; and 1930-32). It is interesting to look back and see that McKell only narrowly achieved ministerial office under the Storey and then Dooley administrations in the early twenties, then under Lang. He had a very precarious relationship with the latter. Indeed, in May 1927 Lang decided to reconstruct his ministry, only wanting to appoint loyalists. On 8 June 1927 McKell was dropped because Lang thought him insufficiently steadfast. McKell tried to be friends, but Lang was a mercurial and difficult leader. Ultimately when Lang was re-elected in 1930, McKell once more narrowly won election to the ministry and served as NSW Minister for Local Government and again became Minister for Justice in 1931.
Clearly, then, McKell led a precarious existence in the parliamentary party as he was distrusted by the dominant Langite forces. Lang led NSW Labor between 1923 and 1939, through twists and turns, and shifts in alignment by many individuals.
It is probably too grand an analogy to make, but Lang was the closest we ever had to a Labor Donald Trump. Like the current US President, Lang was both an inspiring speaker who rallied his supporters and was a vindictive, divisive, a destructive force. In the period of Lang's leadership, the NSW Labor conference in 1926 decided to appoint the leader of the Labor Party. Lang sought to impose his will on the selection of ministers. Gradually, however, Lang lost support in regional and country NSW, where Labor representation had been strong. This was almost diminished entirely with defeats in the elections of 1932, 1935, and 1938. The penny dropped that NSW Labor could not win under his leadership. McKell began to be considered as a thoughtful, interesting, potential leader who, in the portfolios he had held, made a difference. In his period as Minister for Justice, for example, he organised various enquiries that led ultimately to 10 of the IWW 12 being released from prison. A Royal Commission, under Mr. Justice Ewing, found that only the sentence passed on Charles Reeve for ten years should stand; five other sentences were ruled excessive, with the remaining six convictions ruled invalid.
In Lang's 1930 ministry, McKell ministered for local government, and campaigned for a more effective greater Sydney with proposed legislation to extend the boundaries and the responsibilities of the City of Sydney. It was blocked in the NSW upper house. McKell's electoral appeal shone because he was always coming up with good ideas and initiatives. In his travels in 1927 to London, he investigated options about loan raising for the government of New South Wales. He also began to take a deep interest in soil conservation, particularly from 1933 after he purchased a farm near Goulburn, which he gradually built up.
McKell was a sometimes a lonely, even isolated, figure in NSW Labor politics, depending on who was in the parliament, who had the upper hand in the factional shenanigans in the party. As a young person he was very sporty, interested in and playing cricket; he boxed, and played rugby and rugby league. This suggests a gregarious disposition. His political history suggests a figure independently minded, loyal to Labor values, a reformist in the Storey tradition, who did his homework, who was very much traumatised by the leadership of Lang, and the art of staying "politically alive." One thing I learnt from editing a book on McKell in 1988 was to better understand from a Chapter by Don Rawson on 'McKell and Labor Unity' that this eventually occurred in the Labor Party in 1939. Until I read that Chapter it was bewildering to try and follow the various factions and splits in the Labor party in the 1920s and 1930s.
My Father brought me up to believe that Lang and Chifley were the great Labor heroes. It was a shock as a teenager to read and understand that they hated each other's guts and ran candidates against each other. For example, Chifley lost his seat of Macquarie at the 19 December 1931 elections to the United Australia Party candidate, with a Lang Labor candidate, Tony Luchetti (1904-1984) assisting the conservative victory in that electorate. (Ironically, Luchetti succeeded Chifley as the member after the latter's death, serving as the member for Macquarie in the Federal parliament from 1951-1975). In the 1930s Labor fractured in many places, with a communist cell that infiltrated the Labor Party and ultimately became the Hughes-Evans State Labor Party. The party McKell came to lead was a bewildering mix of complications and tendencies, feuds, and resentments. Because he was not from the militant left or a subscriber to the Lang personality cult, because he evinced a moderate persona, he was the least reviled, least antagonistic of the potential future Labor leaders.
In March and April 1939, the Heffron Industrial Labor Party, which operated between 1937-39, won two by-elections (Hurstville and Waverley). Then there was federal intervention, with a unity conference imposed on 26 August 1939. The Langite and Heffron forces thought that they would prevail. Restored at that unity conference was the right of the parliamentary party to select its own leader. Previously, for over a decade, Lang was appointed Leader by conference and by the faction he controlled. But now in 1939 there was the return to the parliamentary party of the responsibility for election of the leader. A ballot occurred: McKell won 13 votes, Lang 12, and Bob Heffron (1890-1978; Premier, 1959-64), the MP for Botany, 7; then in the second round, all Heffron's supporters' preferences went to McKell, and so, in 1939, McKell became the new NSW Labor leader. Elected without being the overwhelming first choice of the parliamentary caucus, McKell was conscious of the fracture points in the coalition that was a previously badly divided labour movement. The Heffron forces thought as the leaders of the fight against Lang, they deserved to win. The Langites very much hated and distrusted anyone opposed to them. McKell set out to win credibility for Labor as a non-strident, non-doctrinaire, practical party. McKell argued that under his leadership, NSW Labor would best complement the national war effort. This chimed with his emphasis on "planning" for success in his campaign. McKell's barrister wig and gown featured in party campaign literature. He seemed safe, sober, sensible, and smart. In the election, McKell pledged:
As against the unanswerable catalogue of futility I have pledged Labor, when elected – as I know it will be – to the following practical constructive programme:-
An all-in war effort, including effective A.R.P. [air raid precaution] organisation and recommissioning of Walsh Island.
Protection of soldiers and citizens (and their families) against profiteers and monopolists.
Vital public works and war industries programme, ensuring employment for all – including our returned fighting men.
Vigorous housing policy, involving effective slum clearance.
Abolition of the wages tax.
A 20-year State-wide plan of water conservation; closer settlement; and establishment of secondary industries in rural areas;
Debt relief for the man on the land.
Reform of the present bankrupt hospital system.
McKell's pitch was to urban, regional, and country voters. Without going into too much detail here in this brief assessment, McKell had a knack for presenting Labor as professionally organised both for the war and for the peace. He was particularly proud of slum clearance, public housing, and the re-establishment of ship-building. The Walsh Island Dockyard and Engineering Works at Newcastle, established by the NSW government in 1913, decommissioned in 1933, and re-formed as The State Dockyard, launched its first vessel in July 1943. By the war's end, two ships for the Royal Australian Navy 22 vessels for the United States and 600 ships were repaired there.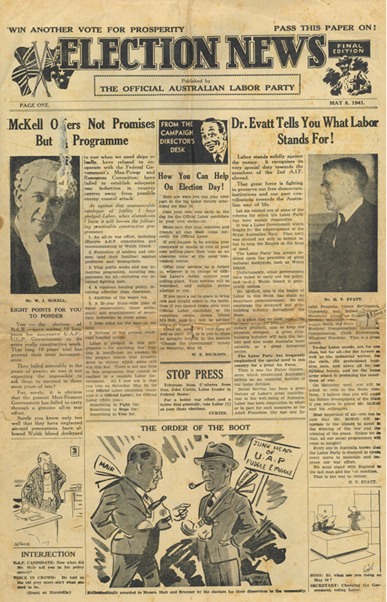 McKell was deeply involved, particularly in country electorates, in selecting electable candidates. There was no organisation in much of regional and rural NSW, as a lot of people who had been involved in the party had melted away. Many were disillusioned by the constant in-fighting. I discovered after I met McKell in 1979 and from our many discussions until he died in 1985, that there was no Labor Party in many parts of the country. Sadly, for other reasons, we are seeing some of that today in most country regions in NSW. McKell had a big role in selecting candidates in the bush who were electable, some not in the party at the time, though Labor supporters. Their selection was very important to the ultimate victory he had in 1941.
McKell's victory in the May 1941 NSW state election created the climate for John Curtin becoming Prime Minister in October 1941.
In May 1941, Labor went from a ram-shackled, divided party to the party of government in NSW, winning twenty seats from the conservatives, who were in disarray and divided. McKell became premier. He was determined to run a cabinet-based government; he listened to people; the atmosphere was such that cabinet members expressed their view. Additionally, with the head of the public service, he wanted to keep tabs on the ministers. He played a driving role in keeping everything under control and ensuring that political debate and policy development occurred. It is interesting that in May 1944 the hard slog, much of it in the dark days of WW2 when we did not know what our future would be, as Marilyn Dodkin mentioned earlier in her contribution to this conference, McKell very effectively led the Labor Party and the government to comfortable re-election in 1944. He was the first Labor Leader in New South Wales to be re-elected in consecutive elections. It is staggering to think it took until 1944 for that to occur.
McKell looked to leave office in 1946 and in the process of going damaged his standing.
I will come back to his performance as premier later, but in talking about McKell then and now, I remember being in St George Young Labor and hearing a striking speech in early 1975, I believe. I was studying for a degree in political science and John McCarthy, a barrister active in the Labor Party all his life, gave a talk on McKell. I vaguely knew him as a name on the NSW Labor Premiers' scoreboard. McCarthy's speech began my fascination.  Bob Carr later shared with me that he too began to understand the McKell legacy from "Macca". In the early 1970s, there was exultation of Lang, partly because Paul Keating, greatly influenced by Lang, championed his readmittance to the ALP in 1971, after a rebuff the year before led by Bill Colbourne (1895-1979) the NSW ALP General Secretary from 1954 to 1969. There was so much romantic sentimentality about Lang's leadership and his dismissal in 1932 as Premier by NSW Governor Game over the repudiation of NSW loan agreements. The awful parts of his record and legacy were overlooked. McKell's significant role was diminished with the "canonisation" of Lang.
Bob Carr interviewed McKell for the NSW State Library and he wrote several articles about him in The Bulletin magazine. Significantly, Neville Wran always considered McKell rather than Lang the model of a thoughtful, progressive, intelligent Labor leader who united the factions. Wran did not need persuasion; he was not led to a reconsideration of the McKell legacy. He knew. Wran often said that the McKell model was the only appropriate one for modern Labor to follow.
McKell was not good at leaving office. In February 1946 he announced that he would relinquish the premiership and would not run for premier at the next election due in 1947. Academic historians such as Ken Turner see this period diminishing his reputation. It took him a year before he finally left. I suspect that this occurred as he weighed up whether he should soldier on. Possibly his apparent indecision was related to the timing of a new post. Prime Minister Chifley had said: "I want you to be Governor-General" and ultimately McKell was appointed to this role in March 1947. In the ballot to succeed him that January, James McGirr won, narrowly beating Heffron by two votes. McKell put down in his parliamentary register "voted for Heffron as my successor" and he kept repeating those words. In Cunneen's biography of McKell, for example, you see he is insistent that he voted for Heffron. McGirr was a mediocre Labor leader, a Langite who only narrowly won re-election in 1950 and was a big contrast to McKell. Many of us who have been involved in politics know that if you tell someone "I am about to leave" and it gets out, you are politically dead, and if you take a year to do it, that certainly undermines your reputation. 
When Governor-General, there was a great deal of disgust in Labor circles when McKell granted Prime Minister Robert Menzies a double dissolution election in 1951. More than a few Labor people said "this is a betrayal." They argued that as Governor-General, he should have held up Menzies' request; he should have humiliated him by delaying giving the prime minister a quick answer to a dissolution of the parliament. (Menzies wanted a double dissolution, an election for the House of Representatives and the Senate, as he believed the upper chamber was frustrating the programme of the government.) McKell was vilified in parts by the labour movement for his decision.
Interestingly, from 1975 onwards, after Gough Whitlam was dismissed from office by Sir John Kerr, the idea of a Governor-General accepting the advice of his prime minister had a great deal more clarity, authority, and credibility than it appeared to some back in 1951.
McKell accepted a knighthood in November 1951. As he previously opposed imperial honours, he was open to criticism. But as when Governor General, he felt: "Why should I be the only one?" not to be so honoured. In his view, this was related to Labor legitimacy. In parts of the movement, it certainly did him damage. Some extravagant taunts were made about him having been captured by the establishment.
After he retired as Governor-General in 1953, he led a relatively solitary life, serving on various company boards. He certainly was not celebrated at Labor Party conferences or accorded folkloric hero status. Neither would he want that. Very often the least exulted Labor figures are the most successful, the greatest failures given the most homage. But from the mid-1970s onwards, a re-reckoning was underway. Barrie Unsworth played a major role in restoring McKell's regard by giving him a Labor Council Scroll of Honour at the 110th anniversary celebrations of the Labor Council in 1981. Barrie was then head of the Labor Council of New South Wales; he visited McKell at his office in Double Bay for a cup of tea. Respect was overdue. There is an interesting photo if I can call that up to the screen.  In 1981 Barrie organised a gala dinner at the Sydney Town Hall, where the commemorative programme highlighted McKell. Later, when Minister for Transport in 1984, Unsworth organised McKell to drop in to see him. There you can see on that screen Unsworth's then senior political adviser, Michael Egan, Barrie Unsworth, McKell, and a younger version of me. We were all very interested in rehabilitating him. Wran in 1982 gave the first McKell lecture (proposed and organised by my brother, Shane Easson, then the NSW ALP head office researcher, with the then ALP General-Secretary, as was his wont, taking the credit), environmental prizes in his name were awarded from 1984 onwards, and there was a significant reassessment of McKell's record and achievements by the party.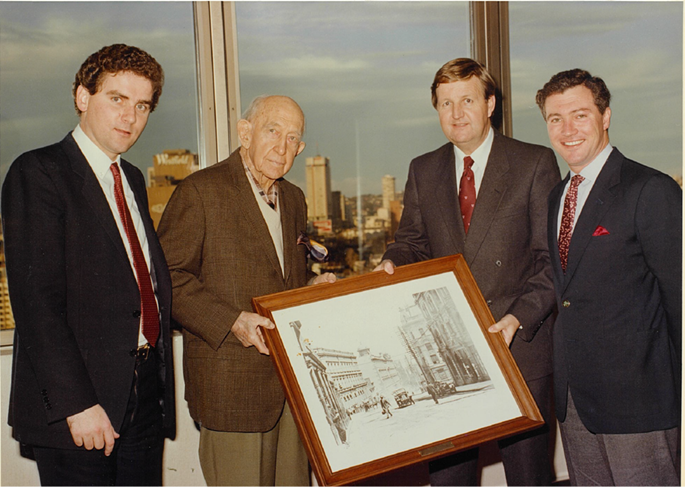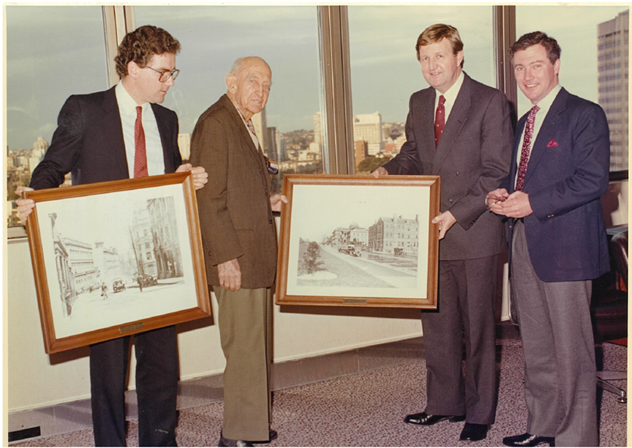 One of those things that speak to our time, where McKell was particularly important in his, is soil and environmental conservation. In 1941, when he was premier, he spent ten days on horseback travelling around Mount Kosciuszko observing the soil degradation that had occurred due to grazing. In 1944, he enacted legislation to create the Kosciuszko State Park, now the national park, and he also near Dubbo created very large protected, wetland conservation areas. He was very interested soil management, conservation, and what today would be called sustainable agriculture. Early in his premiership, he released papers on the Tennessee Valley Authority, on soil conservation, and what we can learn from some of the better practices in parts of the United States, as well as reflecting on what we should be doing in Australia. A lot of that research he did himself.
As premier, he was known for an impressive record including miners' pensions. He felt strongly that silicosis was a big problem with miners that had not been sufficiently monitored, assessed, or compensated for. Besides miners' pensions, McKell's reforms included legislation to provide for the creation of the NSW Housing Commission, tougher occupational health and safety provisions, the re-establishment of the Government Insurance Office, compulsory third party insurance for motor vehicles, improvement to workers compensation – including travel to and from work, increased legal aid, greater protection of consumers from exploitation, an increase of two weeks annual leave, the creation of the Joint Coal Board, and so forth. He is an example of a creative policy maker and practical politician who was interested in thinking about what reforms should occur, pondering about how to respect various strands of opinion within the party in formulating a programme for action, and an example of an idealist who achieved very significant practical reforms. Today it seems that we are all McKellites. Wran's celebration of McKell's model was also exemplified by Bob Carr's tribute to his role and guidance in how he operated as Premier. Luke Foley, the current leader, has talked about McKell being the big, important model of how Labor should govern. If we are all McKellites today, I do want to note, however, that this means different things to different people.
If I could just very briefly dwell on one of the great achievements of McKell: governance of our party. Because in the 1930s, and in the 1920s too, we had a nightmare of conflict between industrial and political Labor. In contrast, McKell instituted regular consultation between the party office, the trade union movement, and himself as premier, mainly through his delegate, Reg Downing (1904-1994; Member of the NSW Legislative Council, 1940-1972) to ensure the movement operated effectively. McKell gave respect to the role of each part of the movement, understood the need to meaningfully consult, listen, and wherever possible act in harmony. Managing the Labor Party and managing an ALP government are not separate things, they are integral to the success of both. A progressive, electable, Labor government needs to be and seen to be responsible for governing unfettered by trade union control. That does not mean a government unchecked or undisciplined by the appropriate, thoughtful interventions of the union movement. Because all Labor governments need to keep their roots firmly within the movement they come from. But any government needs to appear to be – and be – governing in the interests of all, and the master of its own fate. Labor governments are answerable to the party, but the machine is there to ensure protection to the government of the day, so that there is regular consultation between the parts, and common-sense guiding outcomes.
Mutual respect, give and take, in a word, compromise, is the art of governing our party and its institutions. To a large degree, that was tipped upside down in 2008. There are many who would point the blame to distinct parts of the movement. The truth is that we are all to blame for what happened. We threw away the advantage available from the massive majority Labor won in the state election victory of 2007.  As a result of the split in the movement that occurred over electricity privatisation, we forgot about the McKell model of compromise, give and take, respect for different constituencies of the party. Though not as bad as previous part upheavals, no MPs defected, the party did not split into competing Labor parties, much of the membership drifted away, however, embarrassed, uncomfortable, ashamed about the turmoil. This is an echo of the mess of the 1930s.
My topic, McKell's premiership then and now, is about reflecting on his battle to be taken seriously, his efforts to forge policy, why he emerged through the ruck in 1939 to become leader, how was elected as premier, how he implemented Labor principles as NSW Premier, and arguably led the most significant reform government we have ever had. McKell in government created momentum and a distinct Labor style that sustained the ALP in NSW in the decades subsequently, as Labor kept being re-elected. No doubt, at our peril we forgot important parts of our history with the crisis that occurred in 2008. The party is still reeling from the consequences.
I am very grateful for the opportunity to speak today and hopefully stimulate further interest in the career of a very interesting man.
Thank you. [Audience applause]
Narrator:
Do we have any questions in mind?
Audience member:
You were talking about McKell at the beginning of his career, and you were talking about Holman and McGowen and so on, umm did he, did McKell even know he was quite a young radical etc., did he get caught up in the conscription debates as indeed other people did in the Labor Party at that time?
Michael Easson:
I have to admit that I have the 'flu and normally I'm as deaf as a beetle, and I think today I'm as deaf as a centipede.
Narrator:
McKell's engagement with conscription, Michael
Easson:
He was opposed to conscription and felt that both conscription and jingoist intolerance towards those opposed to the War was to deny of the free spirit of Australian justice, including respect for contesting views. I am not sure if McKell fully opposed the war. Many Labor figures had conflicted perspectives. One argument centred on the staggering numbers of Australians who volunteered to fight in World War One: 416,809 Australians enlisted for service, representing 38.7% of the male population aged 18 to 44. Why pollute the ranks with people forced to go? There was the strong view that conscription was unnecessary. Yet Federal Labor had championed compulsory national service under Prime Minister Andrew Fisher (1862-1928; Prime Minister, 1910-13, 1914-15), even before the Huns crossed into Belgium in early August 1914, provoking Great Britain to enter the war.
(This background is interesting: Field Marshal Kitchener, after a visit to Australia and the writing of a report on defence readiness persuaded the Fisher government to institute a system of compulsory military training for all males aged between 12 and 26 from 1 January 1911. Compulsory training and compulsory conscription for overseas theatres of combat are two different things, however.)
McKell, I think mildly supported the War, opposed conscription, thought war profiteering was a genuine problem, believed the sectarian undertones in the conscription debate were deeply troubling, and felt the arrest of extremists in the IWW probably concocted. That is why he very fiercely supported the position of the party.
(On the sectarian issue, many Irish-Catholics believed that Prime Minister Hughes was doing Britain's bidding. In January 1916, following passage of the UK Military Service Act, conscription with limited exemptions applied in England, Scotland, and Wales. Because of the fraught situation in Ireland, the Act was never applied there. Conscription here might help sustain the case for conscription in Great Britain, including Ireland. Incidentally, although Archbishop Mannix in Melbourne opposed and campaigned against conscription, the pious, nervous Archbishop of Sydney, Michael Kelly, announced that he was in favour. Most of his flock voted the other way. His Grace feared sectarian consequences.)
Narrator:
Anything else anyone? If not, everyone please say thank you [Audience Applause].
Postscript (2020)
That morning I got off a plane from Dallas, my ears were blocked, and in the weeks beforehand I had limited ability to prepare.
What is reproduced here was checked against the transcript to be faithful to what was said on the day – and embellished beyond what I had prepared. I had hoped that the book of the conference papers promised by the then NSW ALP General Secretary, Kaila Murnain, might be published. An eternal optimist, I see this as now unlikely.
A more rounded presentation might have mentioned the historians Professor Ken Turner (1928-2018), Professor Jim Hagan (1929–2009), McKell's biographer Dr Chris Cunneen, and former NSW Parliamentary Librarian Dr David Clune, as important to the research that led to a revival of interest in McKell's career. Many others could also have been referenced, but I was not wanting to present an academic, well-researched paper. (I just did not have the time for that.)
Following the NSW ALP fortunes in the period McKell was an MP requires a near encyclopaedic knowledge. There were so many splits, swaps of allegiance, expulsions, disillusion, and unfathomable nastiness. All this co-incided with words, actions, and belief in the noblest principles of human endeavour.
For example, notwithstanding his one-seat majority, the NSW Labor Party executive on 13 January 1921 rebuked a sick Premier Storey for inadequate performance by his government. Throughout the 1920s, various MPs, including former leaders, were expelled. Dooley, the former Premier, fell out with the dominant Australian Workers Union faction and was expelled from the party in February 1923, though he was reinstated by the NSW Labor Party annual conference later in the same year. Then in the early 1930s, he fell out with Lang, lost Labor preselection for Bathurst, and stood unsuccessfully as an independent Labor candidate. The acting Leader of the Opposition for a period in 1923, Greg McGirr, resigned from the ALP later that year. Jack Bailey (1871-1947), the leader of the AWU faction, a regional MP from 1918-1925, who ruthlessly used his powers bossing Storey, humiliating Dooley & McGirr, was himself expelled in 1924 from the Labor Party in connection with a ballot box scandal. Albert Charles Willis (1876-1954), the miners' leader, rival to the AWU, and one time One Big Union advocate, and guild socialist-influenced radical, was expelled from the ALP in 1919, re-joined in 1922, became NSW ALP President, 1923-31, assisting Lang, was expelled in 1933, was active in National Labor thereafter. The "Trades Hall Reds", centred on Jock Garden (1882-1968), who helped set up the first communist party in Australia in 1920, wanted to infiltrate the ALP which, however, banned communists from joining, made his peace with Lang in 1926, applied to re-join the ALP, which he finally did in 1929, supported the 'Lang Plan' to 'end' the Great Depression, won the Federal seat of Cook for the ALP in 1934, fell out with Lang, was expelled in 1936, sought Labor unity between the state and Federal parties, re-contested Cook in 1940, lost to the Lang candidate, and so on.
On the left, the De Leon-influenced Socialist Labor Party had success in 1920 with its candidate Percy Brookfield (1875-1921) winning election as MP for Sturt, covering Broken Hill. In February 1921 he formed the Industrial Labor Party. After wrestling with a deranged attacker, he died of wounds in March 1921.
Lang at different points drove out dissenters, split from official Labor, and ran a "Lang is Greater than Lenin" machine, and even in 1940, during the War, indulged in another split, with most of "his" Federal MPs re-joining a united Labor party in support of Curtin. The Australian Labor Party (Non-Communist), the Lang breakaway, operated from 1940 to 1941, with seven ALP members defecting until reconciling with Federal leader John Curtin.
Earlier, the independently left-leaning Industrial Labor Party, centred on strong union, including the Labor Council's, support, was led by Bob Heffron in 1937-9. This had echoes of an earlier time, with this party presenting itself as fighting for industrial militancy and trade union independence free of the political (Lang) machine. As stated in my speech, they re-united with the other "Labor parties" in NSW in 1939.

Then there was the State Labor Party (Hughes-Evans), with its communist core, which split from official Labor in 1940. This split occurred after Federal ALP intervention in reaction to the "Hands Off Russia" resolution of the NSW ALP conference in March 1940. Neutralists and communist sympathisers, including some double-ticket-holders (including Dr Lloyd Ross in 1940 before he "saw the light") convinced the delegates to go along with the line that the War was an imperialist war. Jack Hughes and Walter Evans, President and General Secretary of the NSW ALP at the time were dismissed from office in August 1940. They were secret Communist Party of Australia (CPA) members. With the CPA declared illegal in June 1940, after the fall of France, many of its key operatives and double-ticket holders (including then Clerks' Union leader and Labor Council President Jack Hughes) ran candidates under the banner of "State Labor" in the September 1940 Federal, May 1941 NSW state, and the August 1943 Federal elections. In 1944 the party voted to merge with a newly legalised CPA.
McKell pulled a rabbit out of the hat in 1941 – victory! As Don Rawson noted in 'McKell and Labor Unity': "…his leadership during the 1940s was an important element in establishing the stable alliance of forces within the labour movement which proved so durable long after he had left parliament." The memory and lessons of earlier splits and divisions kept NSW Labor mostly whole in 1955-1957, when the party was badly splitting in other states. McKell deserves credit for bringing stability to the previously uncertain shifts in the tectonic plates of NSW factional and personal forces. 
It was so much to our cost that the stable alliance between unions, machine, and parliamentary leadership was rent asunder in 2008.