Published as edited under the heading 'John Whelan Was a Battler to the End', Sydney Morning Herald, 26 October 2015, http://www.smh.com.au/comment/obituaries/john-whelan-was-a-battler-to-the-end-20151023-gkgusm.html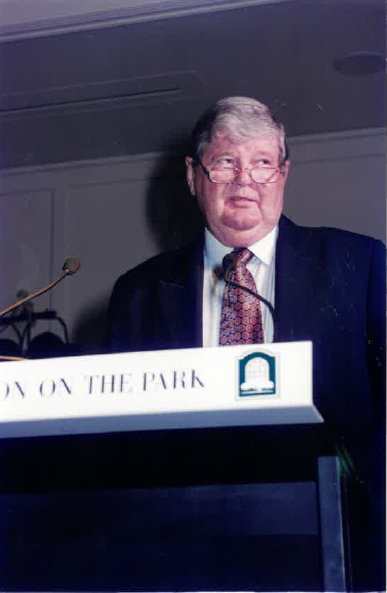 John Joseph Whelan, unionist, police officer, man of many careers and service, raconteur, family man, was born June 9, 1934, and passed away peacefully after a determined battle with Alzheimer's, on Sunday August 16, 2015, aged 81.
The third of seven children, son of Mary and John Whelan of Ashbury in Sydney's inner west, he was born into an Irish Australian family tested by poverty, sustained by hard work and tireless optimism.
From the earliest age, family and friends recall his humour and sense of fun, with a smile capable of defusing tension.
Leaving school at age 13 after the death of his father, he tried his hand at all manner of jobs – such as selling pencils and race books to the punters at Canterbury racecourse. His brother Paul, later a Minister in the Wran government, cut the pencils in two, sharpened them and doubled the earning power from the pencil supply.
With brother Michael on horseback, brother Kevin dubbed chief engineer, young John as head of marketing, the Whelan Brothers Ashbury Dung Run was launched, exploiting an opportunity in the final days of horse-drawn transportation in Sydney
The run doubled up as the milk run, the ice run, and the paper run.
Physically strong, John played all sports, most noticeably, rugby league.
How often his people would remind him of those tries and goals playing for West Magpies at Pratten Park. He would respond with stories about that field goal in extra time kicked from the sin bin, the conversion kicked from the sideline at an angle so acute that the ball got stuck between the goalposts!
After training for the police force in Canberra, he topped up a policeman's pay with a second job washing cars for AVIS [the car rental company]. The next day he was protecting dignitaries, including a US President and British Royalty.
He also doubled up as 'Lord John of Sydney' in local wrestling bouts, taking on all comers in friendly jousts for charity, at the Police Boys' Clubs.
His successful wooing of Dutch immigrant Clara Oostermeyer led to their marriage in 1965 and a wonderful and gentle family life.
In 1971 during the Woden Valley floods, John saved many lives, tying himself by cable to a tree and swimming in strong currents to save children and women. A telegram arrived from then Prime Minister William McMahon announcing he had won the Queen's Commendation Medal for Brave Conduct.
In Canberra he rose to police detective sergeant. But the danger and consequent fear of leaving his family to fend for themselves meant he returned to Sydney for other pursuits.
His brother Michael stood as the ALP candidate for Parramatta at the famous 'Galston' by-election in 1973 and narrowly lost.
The Whelan family saw the Labor movement as part of their story, part of a trinity of Church, West Magpies and Labor.
On Australia Day 1992, he was awarded the Medal of the Order of Australia for service to social welfare, particularly in fund raising for the San Miguel Centre, a Catholic charity that looked after orphaned kids placed in their care.
Secretary of the Commercial Travelers' Union from the 1980s, John was elected as Vice President of the Labor Council of NSW in March 1989. His union was amalgamated with the Storemen & Packers' Union to form the National Union of Workers.
John Whelan had a happy disposition, but guided by a strong moral compass and possessed of a sharp mind and good judgment.
The early 1990s were a tumultuous time in the unions – amalgamation, award restructuring, industrial relations attacks by conservatives, debates about enterprise bargaining, the search for contemporary relevance of unions.
John's strength, independence and respect for others, made him a unanimous choice for Labor Council President in 1996, a post he held to 2000.
He served on the NSW State Parole Board for a decade and was a member of various superannuation boards, including as Chair of the NSW Energy Superannuation Scheme.
John loved Irish music, movies, music and song. He swept Clara through the dance hall.
His family remembers him for his goodness and wisdom, his stories, card and scrabble nights, sense of social justice, cricket games on the sand, bodysurfing at Terrigal, teaching them to be brave and to have a go with a smile.
Alzheimer's was a debilitating disease, particularly at the end. In the Herald in March last year he wrote on "Living and Loving and Laughing with Alzheimer's". He had just been diagnosed, describing a harrowing experience for family and friends. He wrote: "I mourn the loss of the basic cognitive skills I used as a police detective sergeant, then unionist and member of various boards, listening, analysing and responding – these skills were my tools of trade."
He urged sufferers to talk about their experiences, to swallow their pride, to understand they needed care, to be patient and, most of all, to define their goals – daily, weekly, to live as long and as well as you can. This gives purpose.
The old campaigner was fighting his last major battle, wrestling with an invincible foe, but gloriously defiant.
Clara and his family cared for him with such devotion right until the end.
A Mass of Catholic burial was offered at St. Mary's Cathedral, on August 21, 2015. In lieu of floral tributes his family asked then, as now, for donations to Alzheimer's Australia at: fightdementia.org.au
He is survived by his wife Clara, children John, Kathleen, Carolyn and Peter, their spouses, and grandchildren.
Note on publication:
Michael Easson with John, Kathleen, Carolyn and Peter Whelan.