Review of Tracey Aubin's book Peter Costello, A Biography, written in October 1996.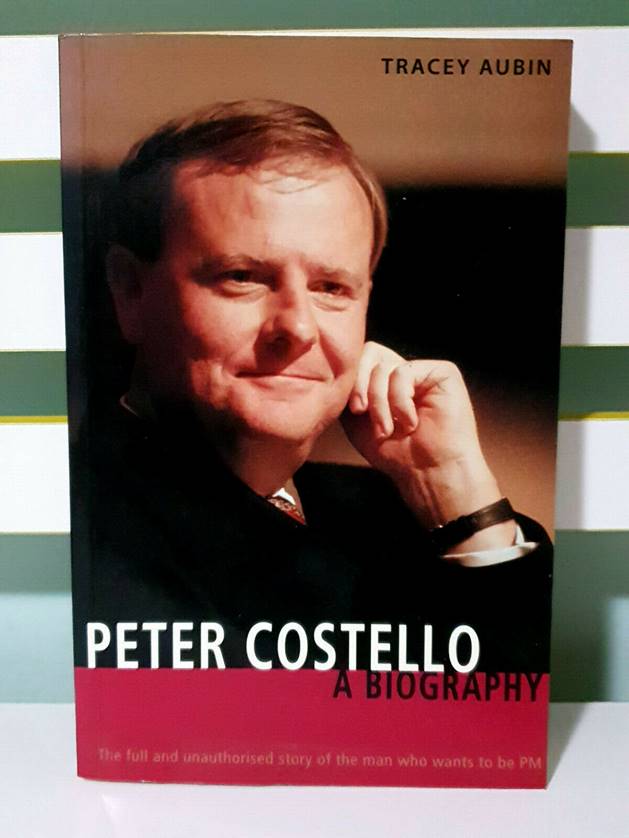 Early next century Peter Costello is likely to be Australia's Prime Minister. What sort of leader will he be? Tracey Aubin's unauthorised biography attempts to answer that question by looking backwards, at his development and the issues that he wrestled with in emerging as Deputy Leader of the Liberal Party of Australia, the Coalition government's Treasurer and their most lethal parliamentary performer.
In reading the book there's a good deal unknown. As Aubin remarks, "…some voters complain that they really do not really know Costello, or what he stands for, or whether he is genuine." Moreover, and more disturbingly, research indicates that in the public's mind there's a negative Keating echo, a streak of nastiness without the big picture.
The author attempts to unravel the mystery by searching for, examining and evaluating the evidence. Her book heavily relies on primary sources. Aubin has interviewed many of Costello's past and present acquaintances, including former school friends. She has accomplished a thorough job of sourcing fresh material, although the subject is unlikely to be thrilled by the revelation that in primary school Costello impressed in a school play as Lady MacDuff.
The first chapter on the strict, evangelical upbringing in a high achieving, Baptist school teacher family (of Essendon football fanatics) is illuminating. It's here that Costello honed considerable skills in Christian apologetics, recalling Biblical passages off by heart, becoming an active teenage evangelist. All the Costello children excelled at school, fiercely debated issues at home, developed a social conscience and were taught that you should stand up for your beliefs.
At university, studying Arts/Law, Costello was actively involved in the Monash University Evangelical Union and gradually became involved in student politics, propelled by a view that a good Christian should be socially engaged. He was fervently interested in which party a Christian should join. In those early, formative days, Costello was involved in soup kitchens for the poor, legal aid for prisoners, playing Aussie rules for the local university team, student politics, studying, proselytising. It was a full agenda.
Student politics saw him blooded into a tougher, more thoughtful operator. He learnt to forge alliances, nuanced his speeches to appeal to different audiences, excel in delivery and develop punchy, memorable one liners.
Costello's most significant and long lasting political friendship – that with Michael Kroger – subsequently his mentor and ally in the Liberal Party, was formed in the crucible of Monash University student politics.
It was not, however, then inevitable that Costello would join the Liberals. In the middle and late 1970s, many of the university campuses and consequently the Australian Union of Students were dominated by the lunatic fringe of the far left, Trotskyists, Maoists and communists. The most active and organised in the fight against them were the Jewish students (appalled by AUS's anti-Semitic attacks on Zionism as racism and AUS's uncritical support for the PLO), their allies, and the moderate Labor students. Eventually a loose coalition of those elements, the Liberal students, some of the Democratic Clubs (linked to Bob Santamaria's National Civic Council) and independently aligned students broke the back of AUS.
Over the last decade, especially since his election as an MP in the 1990 election, Costello has played down his flirtation with the ALP. The 'attended never inhaled' line has been Costello's explanation.
The Aubin biography makes clear that Costello's interest in the ALP was intense, makes clear why and explains why the ALP was discarded. Costello became particularly close to Michael Danby, the Jewish ALP activist at Melbourne University and chief author of the newsletter The Real AUS. Danby is now the Labor MP for Melbourne Ports. Both Costello and Danby were bashed by student opponents. Costello's best allies in the struggle to destroy the neo-Stalinists in AUS were the right wing Labor students, most of whom are still loyal to the memories of friendship from those days. Costello became interested in social democratic ideas. Eventually Costello rejected Labor, arguably from a liberal perspective. This came after several years of activity, including becoming President of the Social Democrat Students, door knocking in a union election, attending Young Labor meetings (though never officially joining the ALP), going to Sydney to attend several weekend Social Democrat Schools (organised by the NSW ALP Right), briefly contemplating a union career with the Ironworkers' union, getting to know Bob Hawke at the end of his period as ACTU President.
Although Costello appears to be embarrassed by this background, he shouldn't be. He is not the only Howard government Minister to have once voted for or supported Labor. It is presumably a powerful point to say that in searchingly evaluating which party he should join, he settled on the Liberals. This was not an opportunistic decision, even if actually joining in 1980 was impulsive at the time. This is Aubin's point: "the weight of evidence suggests that his convictions were genuine and he thought deeply about issues before adopting a position."
Intriguingly the issue Costello declares was the crucial factor was the question of compulsory unionism. He could not cop it. His student allies fractured over the reform versus disaffiliate from AUS argument. Costello came to favour the heresy of non-compulsory unionism. He felt that the analogies with compulsory unionism in the workforce were weak and bad arguments anyway. His Baptist, dissenting upbringing was a factor. He did not favour compulsory anything. Nowadays, twenty years later, hardly anyone in the leading echelons of the ALP favours compulsory unionism. Times change. As Talleyrand once said: "With treason it's all a matter of timing." Positions shift. What was once an article of faith becomes an historical, discarded notion.
No politician believes anything is certain in the political process. For now, however, as Aubin says in the conclusion of her book: "Ultimately the chances of Costello succeeding Howard and becoming Prime Minister are high. The omens are good and the planets appear to be lining up in his favour. Whether or not he becomes Prime Minister will be a matter of destiny and numbers; whether he is a good one will be up to him."
Postscript (2015)
Sadly, Tracey Aubin (1963-2002) died far too young. A vivacious, sharp personality who lit a room, she struggled for years trying to have children. She believed after a drink driving charge in Canberra that her plans for adoption with her husband would now also prove barren. Her life ended deliberately, a reminder to search for despair in others, and to provide reassurance and love.
Mary Easson (when Mary Alexander) and I knew Peter at different points.
Mary once made a personal explanation in the Parliament about Costello, whom we both separately knew at the time he was in political 'formation'. Here is an explanation from the House of Representatives Hansard on Monday, 6 June 1994, p. 1433:
Mrs EASSON —I wish to make a personal explanation.
Mr SPEAKER —Do you claim to have been misrepresented?
Mrs EASSON —I do.
Mr SPEAKER —Please proceed.
Mrs EASSON —In an article entitled "Where the boys are" in the Australian Magazine is quoted a conversation between me and Peter Costello, now the member for Higgins, concerning his courtship of Tanya Coleman, now his wife. I am reported as saying: "'Peter, promise me one thing. Promise me you won't marry a Liberal.' He said, 'Oh Mary, I'd never do that.' I rang him up when I heard about their engagement and reminded him." This quote is totally untrue. Tanya Costello is a first-class lady and I have never raised any objection to the selection of the spouse of the member for Higgins and I certainly commend him on his choice. The accurate quote should read, "I said, 'Peter, promise me that you won't join the Liberal Party.' He said, 'Oh Mary, I'd never do that.' I rang him up when I found out he had joined and reminded him."