Election Statement, published with other student candidates seeking election from the University of Sydney to the Australian Union of Students' (AUS) Conference, published in Honi Soit, newspaper of the Sydney University Students' Representative Council, October 1977, p. 18.
Nominator: Jeremy Jones
Seconder: Ron Grunstein
Curriculum Vitae
Member, Beverly Hills ALP Branch, 1974-1976
Treasurer, St George Young Labor Association, 1975
President, Hurstville ALP State Electorate Council, 1975
NSW Young Labor Council Executive Member, 1975-
Snr Vice President UNSW ALP Club, 1976
Delegate NSW ALP State Conference, 1977
Member, Caringbah Branch ALP, 1976-
Supporter of the Coalition to Reform AUS, 1977
Member, S.U. Law Society, 1977
Policy Statement
I was appalled when I heard the debates at the recent AUS [Australian Union of Students] Special Conference. Student politics in AUS seems to be incessant warfare between competing revolutionaries who spend most of their time libelling each other as heretics. The Babel of empty slogans – "a living wage for all students", etc. – which have been paraded as excuses for education policies have ruined the effectiveness of AUS to lobby governments on behalf of tertiary students. If elected I will argue for a liberal, means tested TEAS [tertiary education allowance scheme] which would be indexed according to rises in the cost of living. Moreover, I would argue that the government set up a review board, including student representatives and teachers at tertiary institutions, to act as an appeal board for students contesting decisions of the Education Department concerning their eligibility to receive an allowance.
Unfortunately, some of the candidates for AUS Council only seek to perpetuate the undemocratic structure of AUS. I was successful at the State Conference of the ALP in moving a motion supporting the principle of "direct elections" to elect the office-bearers of AUS which was overwhelmingly carried. I believe that my position was vindicated at the lunch-time meeting at Sydney University earlier this year [where, by a vote of hands at a public meeting on the Library Lawn, a vote was resoundingly carried in support of direct elections]. If elected I will continue to press the case for reform of the AUS constitution.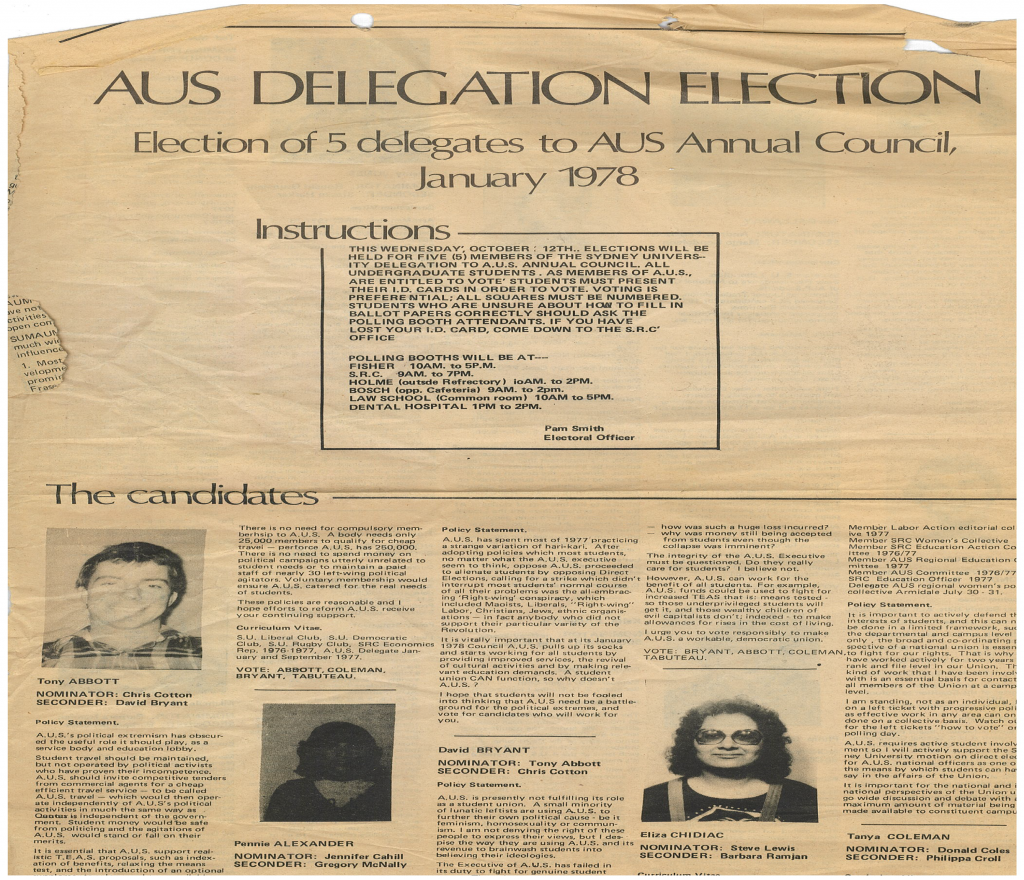 Postscript (2015)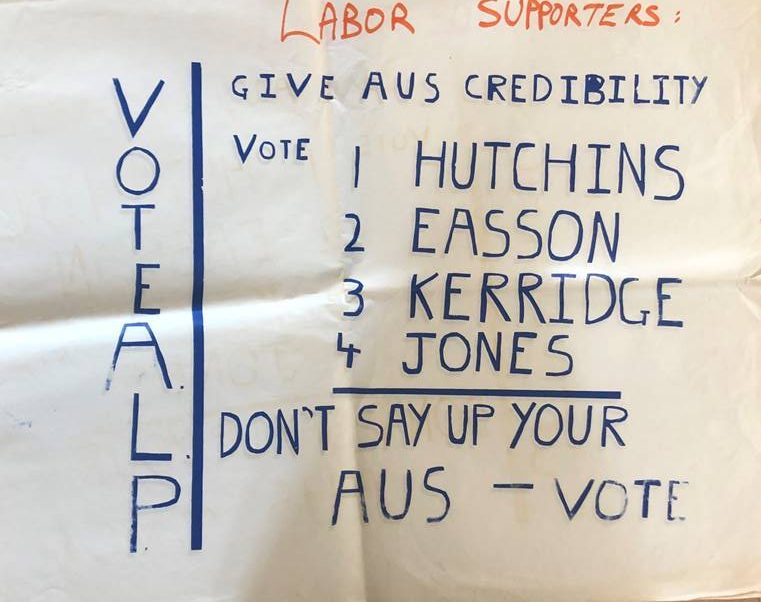 Elections were held on 12 October 1977 and there were five candidates elected – in order, Jeremy Jones, Ross Kerridge, Stephen Hutchins, myself, and Tony Abbott. The first four were then members of the ALP and were on a joint ticket. Though not immediately preferenced by our ticket, Tony Abbott was ranked ahead of the far left candidates. Sandra Wall née Nori, alone of the candidates on the Sydney University Labour Club how-to-vote ticket, was preferenced ahead of Abbott. I saw her as mainstream ALP left.
On the Labour Club ticket, the No. 1 candidate was Sandra Wall nee Nori, whom everyone liked (whom the ALP Right supported as President of the Club in elections in March that year). No 2 was Jonathan West, then active in the Trotskyist Socialist Youth Alliance (and much later National Director of the Wilderness Society, Adviser to ALP Environment Minister Barry Cohen, Associate Professor at the Harvard Business School and Professor of Innovation at the University of Tasmania) and Ian Gallaway, a particularly factionally-driven individual (later an industrial officer with various unions) who moved to expel me from the Labour Club. In those days the Club was proud of its "broad Left" credentials and its membership which included, much to the chagrin of social democrats, communists and Trots.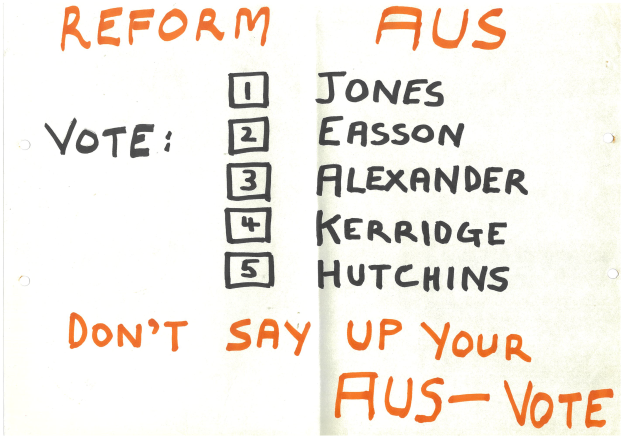 In mid-1977, my expulsion from the Labour Club at Sydney was decided. Earlier in the year I tried to take over the club by running a ticket with Steve Harker and Stephen Hutchins, but we were narrowly defeated. The winning, far left coalition included communists and Trotskyists whom I believed had no place in a Club whose alignment was supposedly to the ALP.
Without notice or warning and in my absence, I was expelled on trumped up grounds.
(Because I was enrolled doing subjects at both UNSW and Sydney and was also a member of the UNSW ALP Club, which I had co-founded with Michael Lee, the Sydney Uni leftists unilaterally decided you cannot be a member of more than one "Labor" club in metropolitan Sydney and so they expelled me. Luckily they had no access to a Gulag).
This annoyed me a bit and I linked up with the Australian Union of Jewish Students (AUJS) to fight for election to the AUS Conference.
As the Left on campus was virulently anti-Israel, directing preference to the Labour Club was not an option. We called ourselves ALP Social Democrats (and later just Labor Social Democrats after some complaints). Far down our preference list, we put Tony Abbott and the Democrat Club candidates ahead of 4 of the 5 Labour Club candidates in our flow of preferences.
The "winning" how-to-vote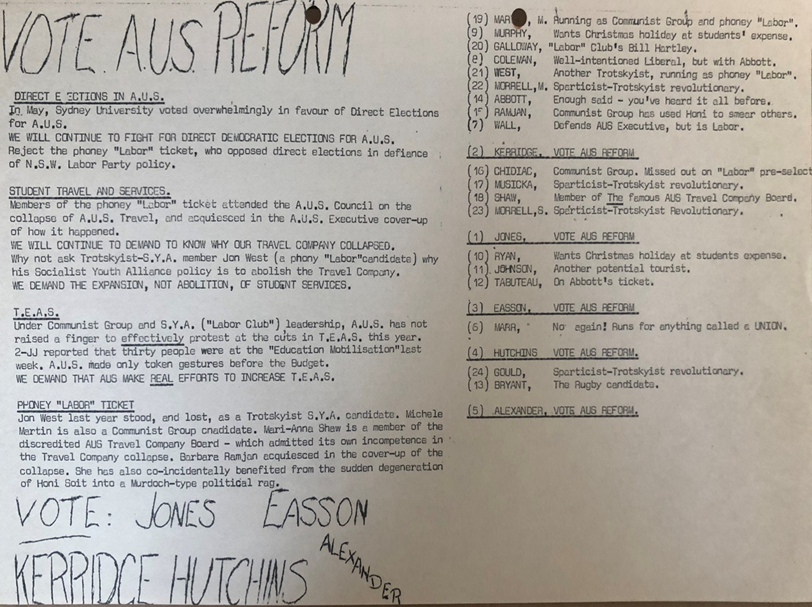 During the campaign we produced a leaflet which I wrote, though authorised by Steve Harker, complaining about the "wild men and women of the left." There was also a letter Honi Soit refused to publish.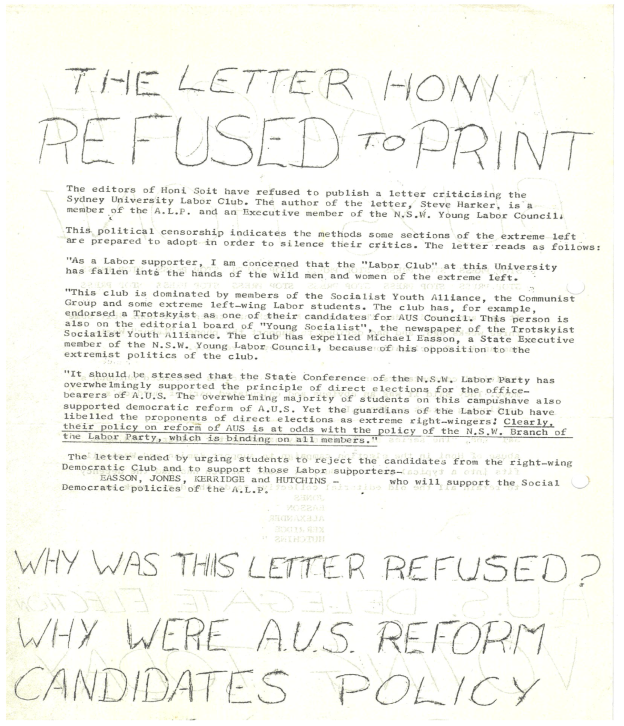 Along with everyone else, I published an election statement in Honi Soit which Peter Costello, then a student activist at Monash University, and others read. It was a reason he wanted to meet me. Relevant copies of this issue of Honi are missing from Sydney University's archives and the State Library. But I kept a clipping of certain parts of the paper.
But my candidature and election statement aroused the ire of Laurie Ferguson who wrote a scathing letter to the editor of Honi.

It might be worth mentioning (in the light of what Ferguson wrote) that at the NSW ALP Conference on the June long weekend in 1977, I successfully moved a resolution to support 'direct elections' to AUS leadership positions. I argued that the National Civic Council (NCC) – and communist – aligned forces hated direct elections, but the ALP should support the campaign. Cliff Dolan, later ACTU President, then national secretary of the Electrical Trades Union, and a member of the University Council of the Australian National University, opposed my position at Conference. I was then just a student, one of the leaders of the Right in Young Labor, and who had recently with Bob Carr founded Labor Friends of Israel. Essentially I was a nobody. Barrie Unsworth spoke to me about the university issues and AUS, perhaps the first time I had met him. John Ducker was uneasy about the resolution, especially with Dolan's opposition. But Unsworth insisted we back it – and so in the debate the Right stood firm and the resolution was carried. This despite Dolan's objections. Privately I argued that this would give moral support to Costello and Danby and others I hoped to consolidate into the ALP.
A consequence of this battle is that I came to the attention of Unsworth who supported me to take over from Bob Carr as Education and Publicity Officer of the Labor Council.
In the Sydney University election, our ticket got 4 (out of 5) elected and Abbott was also elected after a drawn out count, on preferences.