A draft of views concerning trade union training, circulated to NSW and national moderate unions in April 1993.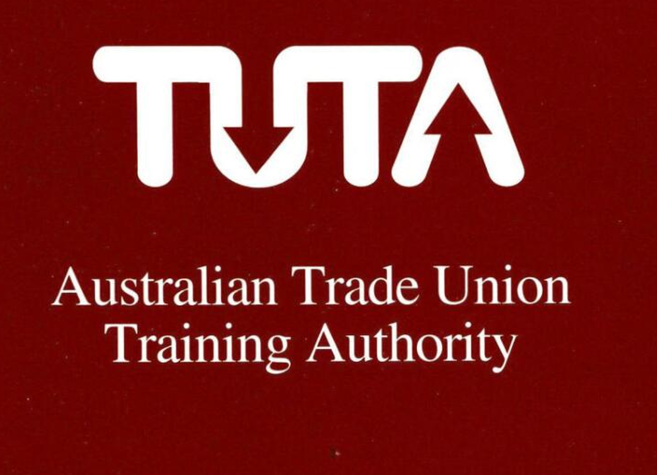 Background Note on the Formation of TUTA

Some of the early history of trade union training in Australia is covered in an article by Peter Mathews in an article in the Journal of Industrial Relations in 1966.

Organisations like the Victorian Labor College and the Workers Education Association (especially in NSW and South Australia), we're consistently involved in this field from the first quarter of the century. Some universities, most state labor councils and unions allocated resources in this area, as well as Departments of Labour and Industry at the state and federal areas.

The Trade Union Training Authority was established in 1975 as an initiative of the Whitlam government.

In 1975-76, the Trade Union Training College in Wodonga was constructed (and named after a former Minister for Labour, Clyde Cameron) and training facilities rented in all capital cities and some regional centres.

Originally, the Whitlam government argued that industrial relations would improve with the training of shop stewards and union officials. A corollary of that argument was that the Federal government should support the public interest in better industrial relations through funding TUTA. Just as governments are involved in allocating resources for TAFE and universities, the training of apprentices and professionals, so should governments allocate resources for trade union training. With the expansion of resources to management education in the 1980s, this argument emphasised that government had a role in ensuring a more highly skilled workforce, through the development of workers from shop steward to senior levels.

TUTA and the Fraser Government

Soon after legislation was enacted and the practical establishment of TUTA was in hand, the Whitlam government lost office and TUTA faced the scrutiny of a new conservative government led by Malcolm Fraser.

Without going into too much detail about those times, it is fair to observe that in the period between 1975-1983 TUTA considerably expanded its activities, funding base and the number of trainers.

Amendments to TUTA's legislation confirmed its role as a statutory authority with responsibilities for the training of shop stewards to understand the industrial relations environment, to be better able to develop negotiation skills and to understand their responsibilities concerning awards and agreements. Controls were in place to check that TUTA did not engage in partisan and political activities.

The central boards of TUTA, including the Australian Council and the State Advisory Councils were organised to include business as well as trade union, TAFE and community representation.

Towards the end of the Fraser government, much was made about "razor gangs" and cuts in funding. But whatever the government's budgeting priorities, TUTA was managed with a view that it could be a useful agent in improving industrial relations. In large part, the attitudes of Tony Street and Ian MacPhee (both former Ministers for Industrial Relations) as well as Ted Heagney (TUTA National Director) ensured that TUTA did fairly well in the Fraser period.

TUTA and the Hawke Years

With Labor's re-election to government in 1983 at first much remained the same, except for more funding in the 1983/84 budget.

As the Accords and wage negotiations developed, TUTA's responsibilities also began to change. Some of the details of those changes are summarised in an article on trade union education by Jenny George published in the book What Should Unions Do? (1992).

At the end of this period these things were in place:

– TUTA's statutory authority status was reconfirmed;

– TAFE representatives on advisory boards were dropped, although several employer representatives and community representatives were retained on the Australia Council;

– State Advisory Boards (as earlier recognised in legislation) were abolished;

– the Australian Council's role was strengthened to manage the authority, rather than just overview its responsibilities.

– TUTA's role in developing curriculum resources expanded with the general expansion of resources; this role included the production of videos, publications, handouts and guides to bargaining.

– increasingly, from 1987, with the two-tier wage system, TUTA played a major role in explaining the Accords and training shop stewards in productivity bargaining and award negotiations.

– TUTA postal courses scrapped in 1991.

– from 1990, specific industry trainers were allocated to particular unions and/or to co-ordinate training in particular industry sectors. Such trainers were appointed in consultation with the national offices of unions concerned.

– TUTA garnered extra funds (apart from annual Federal Budget outlays) through partial cost recovery course fees, and charges on employers for the use of TUTA resources.

– the focus on industry and award restructuring training led TUTA to exit the basic occupational health and safety training area (something taken up by the ACTU and state branches [i.e., such as the Labor Council of NSW]).

The Consequences of TUTA
Over the period 1975-1993 these major consequences of TUTA might be ascertained:
– a massive increase in resources was allocated from less than 2 million in 1976 to over 11 million in 1993;
– some other providers of trade union training (e.g., the WEA) have exited the field;
– an enormous expansion in trade union training leave arrangements occurred, with nearly every award and agreement providing some provision for such leave. (Significantly, TUTA;'s regulatory role was strengthened in that most awards provide that approved trade union training leave is that organised by TUTA or approved by TUTA).
– The basic job representative courses (the mainstay of TUTA's business) enabled unionists in various industries to mix, share their experiences and, even if it sounds quaint, develop a sense of trade union solidarity;
– The focus on industry training has enabled a greater focus on practical outcomes, such as award restructuring and enterprise specific changes;
– TUTA also has played a major role in allocating resources to
womens'
ethnic
regional and rural
aboriginal
disability
areas, thereby increasing the trade union movement's relevance, sensitivity and activities among those groups of workers.
NSW and Trade Union Training
These activities can be summarised as the major activities in NSW in 1993 with respect to trade union training:
TUTA organises courses out of its Sydney, Wollongong, Newcastle and Canberra centres.
The Labor Council's Occupational Health and Safety Training Centre now handles all basic delegate training.
The Labor Council also organises specialist Labour Law and Industrial Relations courses, which are tailored for union officials. Those courses are accredited with the University of Technology, Sydney.
Most public sector unions organise their own training courses and employ training officers. Most of this is organised in conjunction with TUTA.
In the private sector, especially now, unions are highly reliant on TUTA for trade union training resources.
In addition, various university courses in labour relations are relevant, including the University of Sydney's Labour Law (Tuesday night) lecture course.
Some Criticisms
Some of the major criticisms of TUTA are:-
– TUTA never lifted its horizons above fairly basic skills development; it was not ambitious enough in its attempts to develop training opportunities for Australian workers;
– The award restructuring process as well as associated change in the workplace have passed TUTA by. Some of the trainers are not skilled enough to adapt. Hence best practice Australian Manufacturing Council (AMC) efforts in this area filled the gap. Some of these criticisms are joined with assertions that TUTA, in part, is (at least in some states) a graveyard of former union officials past their prime;
– The public sector bureaucracy approach of some within TUTA, including the various red tape restrictions imposed by Canberra, handicaps TUTA's ability to be more flexible;
– The Clyde Cameron College is badly located and expensive to maintain;
– The $11,000,000 (on 1993 figures) in resources allocated to TUTA could be better spent; sometimes associated with this view is the argument that there has been a confusion between means and ends in considering the place of TUTA: i.e., TUTA is a means to achieving a better skilled, motivated trade union shop steward/union delegate pool and union movement. Is TUTA always to be the sole or primary or best means to achieve that end?
– It is agreed that with the formation of 19 large union groupings, the increasing focus of TUTA in the industry training field and the associated specialisation of TUTA trainers, that TUTA should place much more resources directly with unions, many of whom now run their own training courses;
– TUTA has not kept pace with developments in management education. Is it just co-incidence and of little significance that with the burgeoning of management schools all over the country in the 1980s that TUTA's linkages with such institutions and personnel is slight?
TUTA and the New Liberals

On March 13th 1993 TUTA faced two prospects. First, the re-election of the Keating government and the opportunity to reassess the future and resources required for trade union training. Or, second, the election of a Hewson government which would have ceased budget allocations to TUTA from the August 1993 Budget and, probably concurrently would have sold off the Clyde Cameron College to the highest bidder.

In view of the attitude of the Federal Opposition that TUTA should face the sword, this must be taken into account in assessing the long term requirements of trade union training. With the confirmation of John Howard as Industrial Relations Shadow Minister, this is hardly likely to change in the foreseeable future.

The recent threat of a change of government highlighted the insecure funding and structure base of TUTA. An organisation funded on a yearly basis is obviously in a vulnerable position.

ACTU Review

At the March [1993] ACTU Executive meeting the ACTU Officers put forward the view that there needed to be a considered review of TUTA and the activities associated with trade union training. The meeting adopted this resolution:-

"ACTU Executive resolves that in accordance with the philosophy of:
* devolution of responsibility to unions
* commitment to provision of quality accredited trade union training
* securing a more stable future for trade union training

to establish a Committee to negotiate with the government regarding implementation of changed trade union training arrangements allowing for input by the Trade Union Training Authority, Public Service Union (PSU) and educational expertise/consultants regarding the structural outcomes and future of TUTA staff.

In considering this matter, the Committee will consider with government an agreement to fund trade union training through a non-statutory organisation owned by the union movement.

The ACTU proposes that the government give a long-term commitment to funding of trade union training.

The Committee will also consider:
1. The future of Clyde Cameron College;
2. Ramifications for staff if TUTA becomes a non-statutory authority; and,
3. The role and operation of an alternative union training institution committed to the delivery of accredited training.

The Committee comprising Bill Kelty, Jennie George, Jim Maher, Michael Easson, George Campbell, Peter Robson, Anna Booth, Dawson Petie and the Executive Officer of TUTA, to report to the May Executive meeting."

The ACTU also noted that the TUTA library (previously located in Wodonga) would merge with the ACTU and that an Industrial Relations Information Service as an ACTU/TUTA joint venture would be formed with the responsibility of:
– Library and associated resources;
– Video conference facilities;
– Research
Labor Council and the TUTA Review

The Labor Council is represented through the Secretary, Michael Easson, on the ACTU Review Committee. Soon after the ACTU Executive adopted a position to set up such a Committee, the Labor Council resolved:-

"Labor Council resolves to convene a meeting of affiliates to discuss the future of trade union training and the Federal government's role in this area.

In doing so, Council notes:-

a) the ACTU Executive decision and the review of trade union training options due for the May ACTU Executive meeting.

b) the need for a trade union training system which takes into account:-
– state, regional and industry needs;
– award, legislative and regulatory arrangements recognising the role of TUTA;
– curriculum, accreditation and coordination issues;
– needs of workers with special needs – e.g., disability programme;
– high level specialist courses, such as the Labor Council's Law course;
– general programmes, including general industry courses, specific women and ethnic oriented courses;
– occupational health and safety training.

c) the desirability of a more secure funding and organisational base for trade union training than is presently the case;

Council also notes that the ACTU and TUTA libraries and information resources will be merged and proposes that any such Sydney annex or information centre coexist or merge with the Labor Council's library and information data base."

Options

The rest of this paper will address options related to the immediate future of trade union training in Australia. Options will be briefly canvassed concerning:-
1. Core Objectives of Trade Union Training
2. Statutory Authority Model and Long Term Funding
3. TUEA model
4. Clyde Cameron College
5. Equity and Access Considerations
6. Curriculum Development and Accreditation
7. Role of State Labor Council
8. TUTA Library and Resources
9. Video Conference facilities
10. Research Assistance

Core Objectives of Trade Union Training

It is hardly logical or practical to consider the role of TUTA without addressing the prior issue of what should be the union movement's objectives with respect to trade union training. In part, objectives will vary, particularly depending on the level of training to be provided.

This core objective is worth supporting:

"Trade union training of Union delegates is aimed at cultivating and developing the skills and knowledge of delegates so that they are able:-
– to be familiar with and handle meeting procedures;
– to articulate trade union policies and objectives;
– to effectively negotiate with employers on grievance and enterprise implementation arrangements;
– assist with the retention and recruitment of trade union members;
– to effectively liaise with their union on significant issues."

In addition, the union movement will have a variety of (sometimes) competing and overlapping priorities in allocating resources to the trade union training field, including:
– specialist information seminars (for example, what the new Accord means; the future of direct bargaining; is a national workers compensation system workable, etc.) usually tailored to union officials and senior union delegates.
– industry and enterprise specific training (for example, explaining the industry enterprise bargaining framework, developments in the industry or enterprise affecting its viability, best practice comparisons — in workplace organisations, industrial relations and other areas. Negotiating an enterprise agreement) usually tailored to union delegates.
– general delegates' courses — traditionally known as Jop Rep 1 and Job Rep 2 courses which focus on general skills (for example, covering how to run a meeting, negotiations, how to read/understand an award or agreement, employee services, latest industrial relation developments).
– distance learning courses (such as postal courses).

Sometimes joint training is organised (usually with union delegates and supervisory and middle management) where this facilitates workplace changes.

Statutory Authority Model and Long Term Funding

Whether or not TUTA remains as a statutory authority depends on what it does what are alternatives.

Probably the strongest argument in favour of TUTAis that it is more justifiable in the public arena to fund a statutory authority supported by a national board with a tripartite and senior representation, to undertake trade union training.

Against this view is that this won't stop the conservatives, soon after a change in government, to dismember TUTA.

If one of the crucial considerations with TUTA is its long term funding, it is legally a much more stronger position to have a contract between a private company and the government as against a statutory authority and the government covering a 3, 5 or 10 year period.

However the real strength of such an arrangement should not be exaggerated or simplified.

Let's say the Liberals were elected in 1996 and decided to explore how to wipe out Federal government assistance to trade union training and one of the then facts is a ten year contract between the government and TUTA, then a private company owned by the union movement, and/or individual unions to provide $11,000,000 worth of training on an annual basis.

Should the government just renege on its contractual obligations the probable consequence would be that some compensation would be possible. It is likely to be considerably less than 10 years x $11 million and might only be twelve months compensation. The amount would be dependent on the kind of the service and other arrangements spelt out in the contract.

Other, protective options might be with respect to rental arrangements. If the ACTU has a 5-year rental agreement with TUTA for the facilities it utilises in Melbourne, this is likely to be substantially compensation-able if the government wanted to cancel things. Also a three-year funding arrangement similar to the triennial funding of the universities is another option.

In any event, whatever the creative things might be done with a web of contractural arrangements between the government, statutory authorities and/or private trade union training institutions, at the end of the day if the government does not want to pay, the money will soon run out.

TUEA model

After the election of the Lange government in New Zealand in 1984, the Labor government commissioned a review of trade union training which led to the formation of the Trade Union Education Authority (TUEA).

The Report of the review mentioned the TUTA modes (centralised government control of trade union training) as a possible option but, instead rejected this approach in favour of:
– direct funding of unions for trade union education.
– TUEA to operate training facilities that might be utilised by trade unions for their courses.
– TUEA to assess and accredit courses.
– TUEA to engage a pool of staff seconded and/or contracted with unions to perform trade union training courses.
Some people in New Zealand argued that this model encouraged greater trade union "ownership" of training courses and activities.
Whatever the merits of this approach, it out not be forgotten that TUEA collapsed after the election of the Bolger government with the withdrawal of funding to TUEA in 1991. TUEA was funded on an annual basis and therefore immediately was wiped out with no funding in the Budget allocations.

Clyde Cameron College

There is a lot of sentimental attachment to the Clyde Cameron College, the pre-eminent standing icon of trade union training in Australia.

(I well remember my first visit and marvelling at the architecture. One thing I noticed were the huge cement buckets full of pebbles and the metal chains leading from the roof into the buckets. I was told that when it rains the water runs down the chains into the bucket and the pebbles filter the water as it drains away. The only problem was when it rains the water refused to play its part — splashing everywhere off the roof and only some of it trickled down the chains. I wondered whether this was symbolic).

The question to ask about Clyde Cameron College is what are the residential facilities that TUTA requires and how does the College fit into the picture.

Interestingly, it might be noted that in the first half of TUTA's life, residential courses (e.g., Job Rep II courses) were organised in the major capital cities; but this ceased from the mid-1980s in order to prop up the College — thereby adding to the overall program, meal and travel expenses.

In my view the College is poorly located — inconvenient time get to, expensive to maintain and there are better alternatives.

I suggest that:-
i) Clyde Cameron College be sold or transferred to another government Department or education institution (e.g., Charles Sturt University)
ii) the proceeds be utilised to set up residential facilities in Melbourne and Sydney. (The latter could be located, for example, at Currawong or at Macquarie University's Labor Management Studies Centre).
iii) there might be a long-term lease between the government and with non-government institutions (such as Currawong or Macquarie University) for residential trade union facilities.

Equity and Access Considerations

It would be a retrograde development if in the re-organisation of trade union training responsibility to individual unions equity and access considerations were down-graded.

This could be avoided by TUTA ensuring that courses meet specific need in the:
– ethnic
– aboriginal
– rural & provincial
– women's
– disability
areas.

Curriculum Development and Accreditation

TUTA's statutory responsibilities should be redefined so that TUTA:
– considers bids from unions and other training providers to provide specific courses.
– determined budget and program priorities, including equity considerations
– accredits providers and courses
– assists with core curriculum development
– allocates funds (say, 90% of its budget).

Role of State Labor Councils

State Labor Councils could consider setting up their own training facilities.

Whether or not this is worthwhile is dependent on the capacities of the individual Council.

In the Labor Council of NSW case, an independent training area could be established with focuses on:-
– all occupational health & safety training courses
– job representative I, II and III courses
– individual union training requirements as required
– specialist courses (e.g., specific women's as well as disability courses)

It should be noted that state unions are frequently in the best position to judge training priorities and that with the devolution of responsibilities in unions, this must be an important consideration. Obviously, however, the needs, capacities and desires of particular unions will vary considerably.

The implication of this recommendation is that the bulk of TUTA training in NSW could be carried out by such a body.

Various photos of Clyde Cameron College:

Postscript (2019)

I found this paper in one of my files in the Noel Butlin Archives at the Australian National University. A cover note sent in April 1993 to the leaders of moderate, national unions proposed a discussion later that month on various topics including union restructure, award changes and the future of the Trade Union Training Authority. On TUTA, my note said: "TUTA (a draft discussion paper appears underleaf. It is something that will be recast for a Labor Council meeting and, in part, focuses on NSW implications. Nonetheless it might help the discussion to have this material."
Clearly, the paper at the end was meant to cover topics such as TUTA library & resources, video conference facilities, and research assistance — topics foreshadowed as "covered" in the balance of the document.
Presumably, therefore, this was a draft document and is only partially reproduced here. I assume that a "Conclusion" was also part of the paper.
I do not recall whether there was a new draft or completed paper or what happened with the ideas contained herein.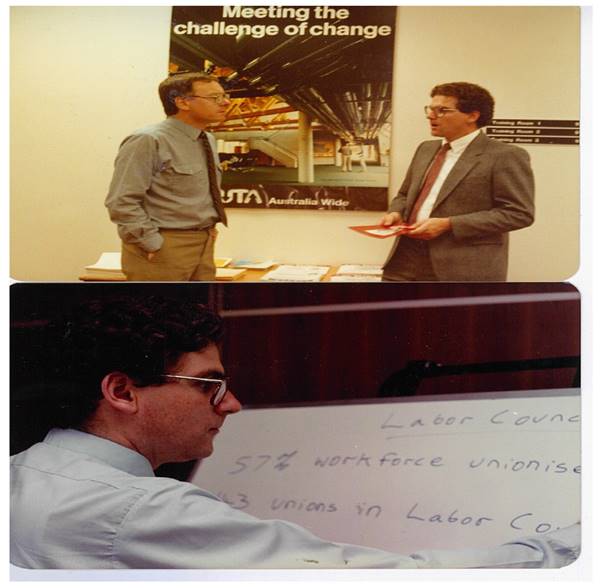 One person I got to know through TUTA was its first National Director, Ted Heagney (1920-1996), who I respected. He was appointed by the Fraser government (by Minister for Industrial Relations Tony Street).
The Labor Council through oral history historian Richard Raxworthy conducted various interviews with past and present interesting and/or 'significant' union leaders and officials. I wrote most of the questions and Ted was one of the more interesting characters.
Ted was a former official of the Australian Railways Unions in Victoria (elected on the ALP Industrial Group ticket in 1953) and later national head of the research department of the Federated Ironworkers Association, then a Commissioner of the Conciliation and Arbitration Commission. He collected many labour movement books and pamphlets (many of which he gifted to me) and had interesting perspectives on those he knew and some legends he had heard about.
No doubt the Liberals considered him a 'safe choice' and he tried to ensure 'balance' within TUTA (excluding or limiting extremes on left and right). He added employers to the national advisory board and in important respects he laid foundations for a secure future.
Instead, after he left, the Liberal National parties became more overtly hostile – in part a consequence of the Accords, which were agreements between the ALP & the ACTU, which the conservatives thought had the impact of even more closely aligning unions to the ALP. Under John Howard's leadership, and in the period he was Shadow Industrial Relations spokesman under Dr John Hewson, the Liberals moved to a more 'de-regulationist' position on industrial relations matters which, much later, came to 'fruition' in the Workplace Relations Amendment (Work Choices) Act 2005 – another topic entirely.
The upshot was that the Opposition promised to, and the incoming Howard government in 1996, abolished TUTA.
The ACTU also showed ambivalence to the concept of trade union training, proposing government grants to the larger unions, and favouring occupational health and safety training at union and state labor council levels.
A criticism of TUTA was whether it was sufficiently robust, interesting, and strategic in prompting leaders to re-evaluate and refine their activities and purpose. The training of shop stewards, basic meeting procedure, etc. were mostly done well.
It might be fairly said that TUTA reflected some of the limitations of the movement it hoped to serve.