Published in Rhapsody, publication of the Australia Israel Cultural Exchange (AICE), Issue 8, July-September 2009.
The odds were stacked against the inaugural Australia Israel Leadership Forum, an AICE initiative that took place in Jerusalem in June.
After all, trade between Israel and Australia is miniscule, investment is negligible and tourism in either direction is minor, aside from Israeli soldiers on a post-army sojourn in Australia and Aussie pilgrims paying homage in the Holy Land.
Yet in spite of all this, the two-day conference was an overwhelming success. History is replete with countless milestones that helped lay the foundations for the robust relationship that exists today – from the Aussie diggers who fought in World War I against the Ottomans to the 'Rats of Tobruk' who stopped the Nazis in north Africa, from Doc Evatt's support for Israel's independence at the United Nations in 1947-48 to the special forces who neutralised Saddam Hussein's scud missiles that were directed at Israel in 2003.
It is axiomatic to say that Israel is a real place; but it is also an idea that most Australians support.
This cannot and should not be taken for granted. The next generation needs to be won over. Complacency is the enemy. Fond and fuzzy memories of the past are not enough to sustain this relationship into the future.
This is why dialogue on multiple levels – social cultural, political, economic, diplomatic, and so on – is critical to strengthening and broadening the bilateral relationship.
Issues discussed at the Forum included wealth based on advanced technology, water, education, the challenges of multiculturalism – the list goes on.
Significantly, the participants on both sides willed the Forum to succeed. Israel is not just another modern, multicultural country like Canada from whom Australia might profit by exchanging ideas.
Many of those attending the Forum were excited by the discussion and debate. They were also glad to be part of a new initiative.
Although all fledgling ideas are fragile, there seems little doubt that the Australia Israel Leadership Forum will augment the foundations laid down by the ANZACs and help ensure the next generation is not complacent about the importance of this unique alliance.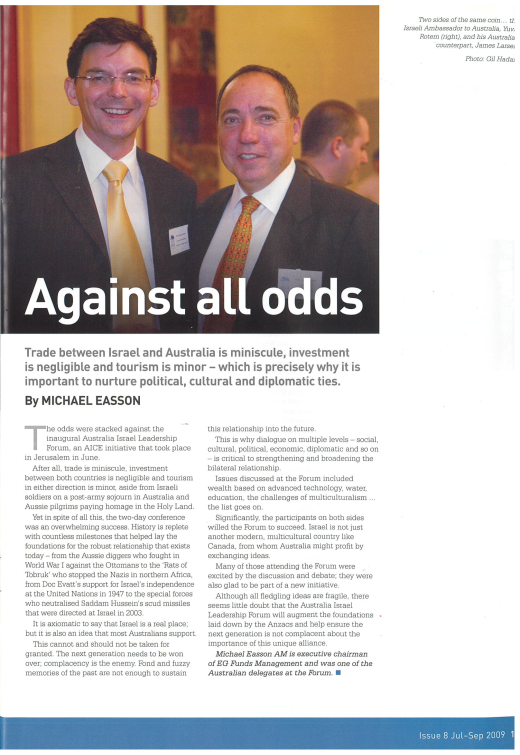 Postscript (2015)
I was at this Forum primarily as the spouse of Mary Easson, the co-convenor, and in support of the other co-convenor, Albert Dadon, the Moroccan-born business, cultural, and ideas entrepreneur who had long ago made Australia home with his Australian-born wife Debbie. Her family, through parents Marc and Eva Besen, also supported Dadon's initiative with the Forum. It was Dadon's brainchild.
Two observers who actively participated were Labour MP John Spellar (1947- ) and the toff-sounding Rt Hon James Arbuthnot MP (1952- ), a conservative MP, Chair of the Defence Select Committee of the House of Commons (to 2014) – later from 2015, a life peer in the House of Lords, elevated to Baron Arbuthnot of Edrom.
Rough Notes:
Israel 2009
First Day, Dinner, Friday 19 June
Shabbat Dinner with Rabbi Michael Melchior (1954- ), former MK and Cabinet Minister: jokey, happy, Orthodox Judaism lite, obviously keen to return to political fray.
Sat next to Gilian Helfgott, the (much older) wife of concert pianist David Helfgott. I am only vaguely aware of the film Shine, which I have not seen in full. General rule to shy away from films dealing with mental illness. She explained that David "hates these sorts of events". This probably means all social occasions. Said he was taking a bath. On the presumption that I was expected to know much about her, I asked about the film – was it accurate? She said she was really pleased.
Now they live at a farm at the Promised Land, a village near Bellingen, in the lush, slightly mountainous countryside in north east NSW.
She mentioned that David's preparation for tomorrow's concert is routine: right now he is taking a bath. He will take tomorrow easy, up early, will swim, then sleep in the afternoon, then get ready: "At 62, he is as fit as a fiddle, with the fitness of someone in his twenties". Apparently performs up to 50 times a year, looking good in "a vivid, red, Russian shirt that he wears to concerts". Sounds like she has been immensely loyal, supportive, and energetic in supporting & driving her husband.
Saturday, 20 June
Nothing open. Shabbat rules rigorously enforced in orthodox Jerusalem.
Took a taxi to American Colony Hotel, in the Arab quarter. Sheridan called it the PLO Hotel. Bookshop open. Picked up a few books on Iran.
Evening concert performance by Helfgott at the Symphony Hall, the Jerusalem Theatre: as I had not seen the movie or heard his music before, no expectations.
Feverish, sometimes light, feathered playing. Then grunting like Quasimodo, sing song; austistic.
Sunday, 21 June
Visit to Negev desert area.
Visited Ber-Sheva Memorial at Pratt Park, opened in April 2008. Then Ben Gurion University (for a few lectures on security).
Avi Dichter, MK, former security chief, met us at Sderot, close to Gaza, which has been constantly shelled, post Israeli withdrawl from Gaza.
Opening night of Australian film festival. Fell asleep. A fillum on combined Iraeli-Palestinian Aussie Rules team; worthy idea but sounded a bit too contrived. Why not football (soccer)?
Monday, 22 June
Over breakfast heard Ronni Shaked, Senior Correspondent on Palestinian Affairs, Yedihot Ahronot, speak on recent developments. No new insights.
Trip to Ramallah too crowded. Mary went. Instead, relaxed, gym and secondhand book hunt.
Big dinner at the King David Hotel for the launch of the Australia-Israel Leadership Forum.
Tuesday 23 June
Breakfast briefing with Efraim Halevy, immediate past head of Mossad – extremely erudite, the pick of the visit, so far.
Then visit to Israeli Supreme Court.
Then Yad-VaShem
Australia is a country whose major security challenge is who leaked a fabricated email
T.W. White, Australia's delegate to the Evian Conference (France, 1938): "Under the circumstances, Australia cannot do more, for it will be appreciated that in a young country manpower from the source from which most of its citizens have sprung is preferred, while undue privileges cannot be given to one particular class of non-British subjects without injustices to others.
"It will no doubt be appreciated also that as we have no real racial problem, we are not desirous of importing one by encouraging any scheme of large-scale foreign migration . . . I hope that the conference will find a solution of this tragic world problem."