Published on LinkedIn on 23 November 2018, https://www.linkedin.com/pulse/thank-you-michael-dwyer-asfa-life-member-michael-easson.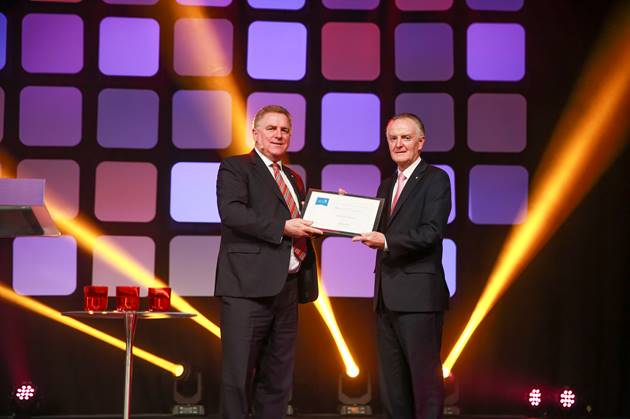 As Independent Chair of the Association of Superannuation Funds of Australia (ASFA), it was fantastic to acknowledge the massive contribution to the superannuation sector of Michael Dwyer, the retiring CEO of First State Super, by awarding him ASFA Life Membership. This is my speech from the ASFA conference in Adelaide:
Good morning everyone. Thank you everyone for making this Conference a great success…
I now have the pleasure of making a Life Member Award. This is ASFA's highest award.
And only awarded to individuals whose contribution to our industry is consistent, sustained and outstanding – to both ASFA and the superannuation industry as a whole.
This year, I am delighted to announce that the award goes to Michael Dwyer AM.
I have known Michael for over thirty years and watched his career, rising to the leadership of one of Australia's largest superannuation funds. Not just rising. Creating. I'll explain in a moment.
As we all know from Michael's Key Note Address at the ASFA Conference yesterday, Michael is a thought leader. He is a champion of never forgetting where we came from, who we represent and why, if you do not engender & deserve trust, you have nothing.
His whole life exemplifies his faith that there is no person ever born who is unimportant.
Michael's interest in the superannuation sector began with his working in the Department of Industrial Relations in Canberra, in developing traineeships, in a period that coincided with the inception of the modern system of Australian super, to now.
Prior to First State Super, Michael's background included 5 years as Marketing Manager for the NSW State Authorities Superannuation Board and 10 years as General Manager and Fund Secretary at Asset Super.
In 2004 he won appointment after a competitive interview process as CEO of First State Super when the fund had 400,000 members and $9 billion under management.
Today, there is over $90 billion in funds managed on behalf of 800,000 members and clients.
Under Michael's leadership, the fund grew, achieving many historic milestones including public offer status in 2006 and the merger with Health Super in 2011.
In that same year, 7 years ago, Michael became a Member of the Order of Australia for services to superannuation and his work with UNHCR, the UN's refugee support agency.
His dedication on behalf of all those people scattered across the globe – whom many want to forget – is one of many things that make him an exceptional person.
Michael received an outstanding industry service award from Selecting Super in 2008 and the ASFA Distinguished Service Award in 2012. He also received FEAL's prestigious Fund Executive of the Year award in the same year.
He became a Fellow of ASFA in 2002.
Along with being a Director of ASFA and a member of various Board Committees, he has been a member of the ASFA Policy Committee, the Member Services Committee, ASFA Conference Committees and Keynote Advisory Groups over numerous years and has been a Chair of the NSW Executive Committee.
"I don't care how much you know until I know how much you care."
What I like about Michael is that he puts members at the centre of everything.
As we saw yesterday, the logo of First State Super is centred on a person – the "i" in First, the "Sam" character represented by that FSS motif – which is in their meeting rooms, their stationary, a little ubiquitous statue that effectively says – "remember why we are here."
Within ASFA, as you might expect from a co-founder of FEAL, Michael has taken a deep interest in education, serving as Chair of the ASFA Education and Professional Accreditation Review Committee.
His industry experience, encouragement and wisdom are invaluable. So many people in this audience are beneficiaries of his wise counsel.
Importantly for ASFA is his passion for doing the right thing and his influence in the broader super community.
Yesterday, in commenting on his journey in the super industry, Michael repeated that great line: "I don't care how much you know until I know how much you care." I call on Michael to come to the stage to receive life membership of ASFA.